With technology being such an integral part of our daily lives, it's no surprise that children want to own their own devices. Smartphones can be beneficial for both parents and kids, and every parent needs to decide on an individual basis whether it's time to entrust their child with one. Here are 5 things to do before giving a smartphone to your child:
Consider their age and their maturity level
There's no right age to hand a device over to your child. It comes down to their maturity level, and only you know if they're ready to handle the responsibility of owning and using a smartphone. Consider their personality, as well. If they tend to spend a lot of time on a tablet or laptop computer at home, you can probably expect them to spend a lot of time on their mobile device. You don't want to replace one piece of technology with another, and that's where the next consideration comes into play.
Create a contract and set ground rules
Before you allow your child to have their own phone, you need to create a contract and lay out the ground rules for using it. Include details like how much time they are permitted to use it each day for things other than making or answering calls and responding to messages. Make your expectations clear, and tell them what punishments they'll face for breaking the rules. It may include taking the phone away for a period of time, limiting their usage, or revoking other privileges.
Set up parental controls
The very first thing that parents should do after buying their child a smartphone is set up the parental controls us. Download and install a phone tracking app that will easily allow you to keep tabs on your child's location, as well as their activity on the device. It will give you peace of mind and greater control over the material that they can access on their device.
Show them how to use it
Take the time to show your child how to use the basic functions on a smartphone. You can use your own device to let them practice sending a text message, accessing approved apps, and making a phone call. After you set up the parental controls on their new phone, let them play around with the functions and show them how the family tracker app will work.
Related: Should parents take away cell phones at night?
Talk about responsibility
The best way to communicate with your child is by talking to them openly and honestly every day. Discuss the responsibility that comes with owning and using a mobile device. Not only is it important because it's an expensive device, but also for their safety. Explain to them that you do trust them enough to give them the smartphone, and you don't want them to let you down. Let them know that demonstrating responsibility is the key to maintaining your trust and continuing to be allowed to use the device. A smartphone is beneficial for parents and kids, so encourage them to engage in responsible behavior.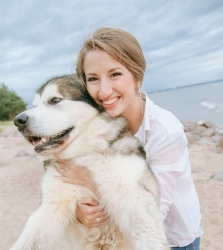 Latest posts by Lauren May
(see all)