With the hustle and bustle of the holiday season, most of us will quickly reach the week before Christmas only to realize that there are still gifts left to be purchased. Don't fret… we've all been there before. For those of you who have fallen amongst this category, we've compiled a few tips to keep in mind while completing your last minute shopping.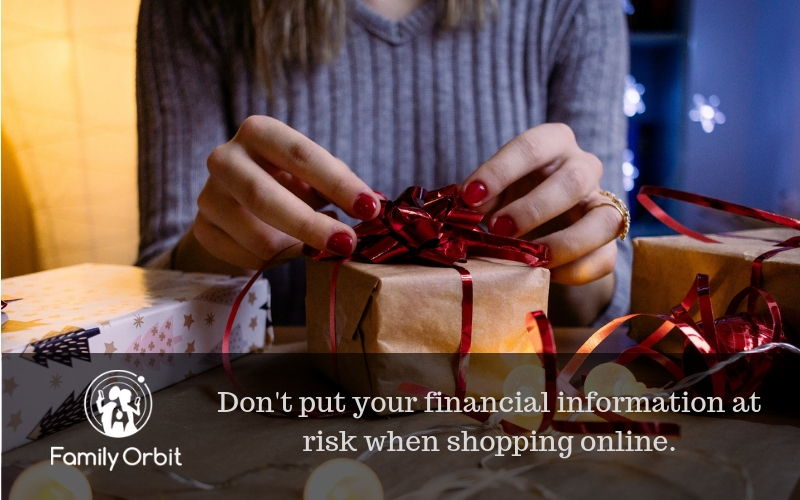 5 Strategies for Safer Online Shopping
One of the best ways to complete your last minute shopping is also one of this year's biggest trends: shop online and pick up in store. Several stores are offering last minute deals online with pickup as late as Christmas Eve night in select stores. This option is certainly convenient for many busy parents, but can also put your financial and personal information at risk. Always take the following precautions when shopping online.
Update your browser – Install the most recent version of your favorite browser to ensure any vulnerabilities in the software are patched.
Shop on secure websites – look for "https://" at the beginning of a URL. The addition of an "S" denotes the page is secured to encrypt and transfer the exchanges of personal data.
Don't fall for scams – If you're sent a suspicious email from an online retailer, delivery company, or subscription account, don't interact with them. You should avoid emails that ask you to sign on and share personal credentials. When in doubt, find the customer service information of the alleged sender, and ask if the email is authentic. Beyond avoiding ticks and crazy deals, you should also disable automatic renewals or subscriptions in order to avoid unexpected charges.
Avoid public wifi networks -It's possible a cybercriminal could be monitoring public wifi networks. With criminals targeting popular hotspots in cafes, libraries, and airports, users could be sharing their information unknowingly. Therefore, when on the go or in a pinch to use a public network, encrypt your connection and use a Virtual Private Network.
Review your bank statements and credit card bills – don't be caught off guard by unauthorized purchases or credit inquiries. If your information was compromised, it's possible a cybercriminal could utilize the stolen data to harm your financial wellbeing. Checking your statements and bills regularly, especially after receiving a package, is the best way to avoid surprises and unauthorized activity.
Popular Devices- 2018
Still looking for a few ideas? There are many popular devices trending this season that your loved ones are sure to love.

Smartphones and Wearable Technology -Looking to purchase the iPhone Xs, Xr, or the accompanying Apple Watch? Be careful, as many fake online retailers claim to sell authentic Apple products, attracting shoppers with outlandish offers. A good rule of thumb is to avoid shopping with unknown retailers. If using a site like eBay, check the credibility rating of the seller and their return policy on the item before bidding.

Gaming Consoles – Chances are, your child has been playing or asking for a specific game/console. With hundreds of unique gaming experiences, the Nintendo Switch, PS4 Pro, and Xbox One X are attractive to children, teens, and adults of all ages. However, if popular games like Fortnite, Call of Duty, and The Legend of Zelda are on the list, be sure to consult and follow the ESRB recommendations and content safety rating before purchasing.

Computers/Tablets – Have you been researching your next computer or tablet purchase? Then you've probably been waiting for the last minute holiday deals. Tech retailers both physical and online, go all out during the holidays to offer exclusive discounts on last year's stock of electronics. If you're lucky enough, you can find discounts in-store. However, when shopping online, it's best to be wary. Before clicking buy, check the site's security, search the reviews, and when in doubt- bail out. No device or deal is worth having your information stolen over.

Smart Home Devices – On the list of many shoppers this year are the increasingly popular smart home devices like Google Home and Nest smart controls. These electronics make it easy to browse the web, control home functions, and even share reminders. However, with all the packages being delivered this holiday season, you may want to consider purchasing a Ring video doorbell– as it's an especially practical tool for those who rely on shipping!
Tips for Securing your New Electronics
As a parent, it's important to make sure that the device you are gifting your child(ren) are safe for their usage. Keep them protected from potential internet dangers by preparing the device ahead of wrapping it.
Startup – Before gifting, start up the device for the first time following on-screen instructions. If the device comes equipped with parental controls, enable them and lock the settings using a master password.
Setup – Install approved apps, enable advanced privacy and password protection, and download parental control software if not present on the device.
Maintenance – Update devices regularly and enable automatic updates and advise the user to monitor for and tell you about any unusual activity or device prompts.
Digital Hygiene – Practice safe browsing and downloading. Online accounts, passwords, and browsing activity could be vulnerable if you're not careful. Regularly update your account passwords, delete cookies, disable autofill, and avoid interacting with unknown sites and downloads, as they could contain a virus.
4 Top Tech Tips for Parents and Guardians
Establish Screen-Free Time – It's important to set limitations and encourage your child to go outside and play. Kids need time to just be kids without the distraction of technology. It's important for their development to receive daily physical and mental exercise.
Create a Family Tech Plan – The best way to establish this is to have a sit-down discussion with your family to develop a cell phone contract that everyone can agree upon.
Set a Good Example – Children follow by example. Teach them healthy internet habits by following them yourselves. Limit your own screen time by participating in family activities that everyone will enjoy such as a board game night or participating in an outdoor activity together such as sledding.
Encourage Open Communication – Let your child know that you are always available to listen to any issues they may be facing online. If issues such as cyberbullying or online predators should come about it's important that your child feels comfortable enough to ask for your advice in navigating these problems.
What are your top tips for online shopping this holiday season? Share with us in the comment below.