How to Put Parental Controls on iPad
Children may be exposed to risks such as internet addiction, online predators, cyber bullying, and exposure to adult content, among others. It's thus crucial for parents to take personal control to monitor and shield children from potential risks that are detrimental to the child's development.
Parental controls help protect children from inappropriate content through restricting access to particular content that is not suitable for their age. There are various ways to use parental controls from configuring parental controls using inbuilt restrictions or using parental control apps. The iPad has customized parental controls that enable you to disable various features.
Setting iPad Parental Control
1. Enable restrictions
The first way to set up parental control on an iPad is by setting up a code.
Step1. Launch the Settings app on the iPad
Step2.  Tap on the General Settings
Step3. Scroll down to Find Restrictions
Step4.  Tap on Enable Restrictions
You will be required to create a passcode for restriction. This password is the one that you will use to adjust and disable restrictions. The password should be different from the one used to unlock the iPad. It's important to use a passcode you can remember to avoid having to erase the device in case you forget.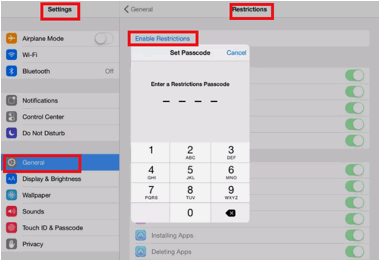 2. Select apps to allow
After setting the passcode, you can disable the apps that you feel are inappropriate for your child. These apps are usually active by default. To disable the apps, slide the green button from right to left. Such apps include the camera, Siri, safari browser and airdrop.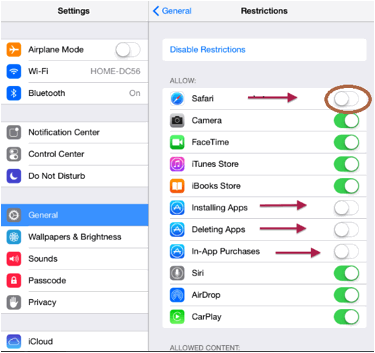 3. Disable in-app purchases, downloads and third part installation
After blocking apps, your child can still have access to other apps. You can disable installing and deleting of apps as well as in-app purchases. These options can be accessed by clicking on settings > restrictions and swipe on the installing apps or in-app purchases button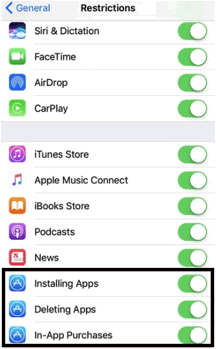 4.   Set content restrictions
This feature enables you to restrict content for various categories such as movies, music, Tv shows, websites, books and Siri.
To configure, simply tap on settings>restrictions>allowed content. You can choose one from the different categories and review each separately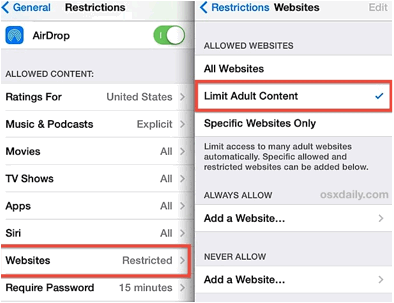 From here, you can restrict the following content:
Rating: Select the country to get the content rating appropriate for that region
Music: Block explicit media by tapping on websites and selecting the right option.
Movies: You can allow movies with specific ratings that are suitable for your child to watch disallow or enable all movies.
TV shows: You can disallow all TV shows or select specific ones that are suitable for the age of the child.
Books –This section enables you to disallow explicit sexual content. Slide the green button to grey to disable.
Apps: Select the appropriate apps that your child can download. You can set age limits for the apps.
Websites: Filter content to restrict access to adult content, limit all websites or add specific sites as well as block certain websites.
Siri: You can disallow explicit language as well as web search content
5.  Change the privacy setting
The privacy settings enable you to control which apps have access to information stored on the iPad. You can prevent sharing of location, prevent apps from accessing contacts, calendar, and photos as well as prevent sharing of data through Bluetooth among others. To allow changes to privacy setting, select settings>restrictions>privacy and click on each category to make the changes.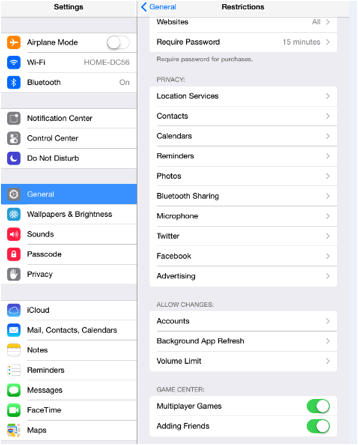 From the` allow changes' section of the restrictions, you can restrict your child from adjusting other changes from accounts, cellular data use, volume limit, background app refresh and TV provider.
The last section is the game center which enables you to disallow multiplayer games, adding friends or screen recording.
Family Orbit; The Best Parental Control App
Family Orbit is the best and most comprehensive parental control app, app blocker and GPS locator that can help parents to set limits on the content their child can access and to monitor their phone activities and location. It integrates a perfect blend of features in one app to meet all parental controls needs, making it very easy to use. Its main features include:
· Monitor phone usage
· Geofencing
· Limit screen time
· App block
· Web filtering and monitoring
· Speeding alerts
· Monitor address book
· Monitor social media activity
If you worry about your child safety as well as emotional and physiological development, Family Orbit is the ideal app to install for iPads.