How to Put Parental Controls on Android
Android phones and tablets are a source of entertainment and education to children. However, they might also be a source of inappropriate content that can have negative impacts on the children. As a parent, it's crucial to protect children from undesirable content before handing over a smartphone.
Devices running on Android 4.3 and above come with a set of basic parental controls that you can set up to restrict the inappropriate content. Ways through which you can set up parental controls include restricting profile, filtering content on Google Play store, restricting app purchase, and use of parental control apps.
Setting up a Restricted Profile
This feature involves creating a restricted account for your children and you being the primary account user. You can limit the number of features for the kid's account and have control over activities they engage.
1. Open the Settings menu on the Android device. The icon is located on the home screen.  Simply tap on it to open the entire settings menu.    
2. Scroll down and select Users.  You will locate an option where you can add new users to the device.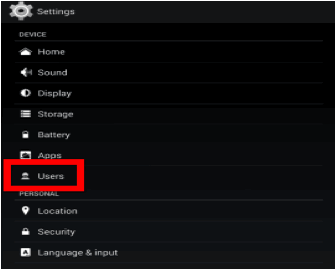 3. Tap on the Add user or profile and choose Restricted profile

4. Set up a passcode. When you click on the restricted profile, you will be prompted to add a passcode in case you don't have one. This can either be a PIN, pattern or password.
5. Tap on the Settings icon adjacent to the New profile and name it
6. Select the apps to allow on the profile. A list of apps available on the phone will appear which are inaccessible by default. Tap the toggle button on for the apps that you want to allow. There is also a settings icon that if you click on it will allow apps to use location information.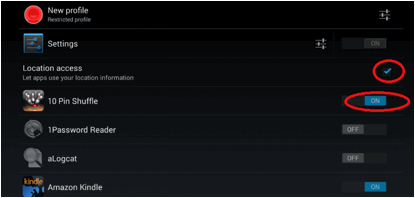 7. Exit the settings menu. The lock screen will show user names. Select the restricted profile account. The kids can now access their account with only the apps you have allowed while your account will be protected with a passcode.
Setting up Parental Controls on Google Play Store
Google play store has options that restrict content for downloads which are usually set off by default.
1. Launch the Google Play store app on the device and tap it to open.
2. At the top, you will find a three lined icon. Tap on it to open and select Settings.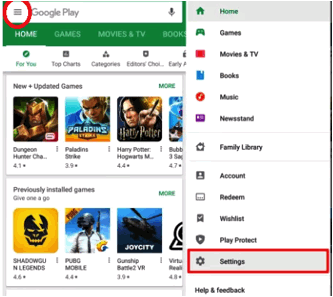 3. Select User control from the setting menu. You will find Parental controls menu. Tap on it and slide the button on to enable it.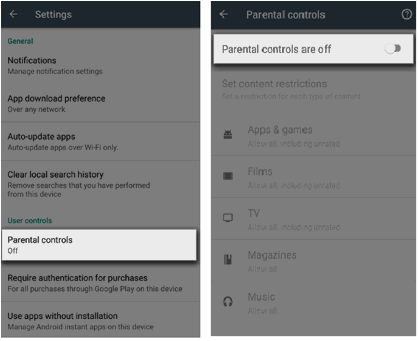 4. Set up a pin. You will have to set up a pin that you can use to adjust the parental controls settings.
5. Set up the parental restrictions.  There are five different categories that you can set restrictions on. Select each category differently and set up maturity level for each. Tap on the rating preferred to set. You can also disable downloads and purchase of explicit materials
Setting up App Purchase Controls
1. Click on Google Play settings
2. Scroll down to the Require authentication for purchases
3. Select how you want Google to require authentication for app purchases.
You can also restrict app from other stores. Open settings> security and disallow downloading of apps from other sources.
Use of parental Controls Software
Parental controls apps enable parents to control what their children can access. They come with a wide variety of features to help manage kid's devices.
Best control app for your Android; Family Orbit
Family Orbit parental control app enables parents to monitor and control of their kids phone activities. It is a combination of unique features and controls, all in one app - you can view your child's location, block apps, and track their phone's activities, and so much more. Once the app is installed in the child's device you can be able to:
· Track your child's location
· Limit screen time
· Monitor phone usage
· Block apps
· Filter websites
· Track texts and calls