A teenager obtaining their driver's license is like a rite of passage and is indeed one of the most exciting ties of their life. But to a parent, it is usually a source of worry. With the high addiction of teenagers to their smartphones, they are at risk of getting into accidents due to distracted driving. And coupled with the irresponsible drivers that are everywhere on our roads, parents have a right to worry.
Distracted Driving among Teens
Many factors can lead to distraction while driving, for instance, eating while driving, making calls, texting, or social media. Unfortunately, teenagers have the highest probability of getting into such accidents due to their love for these activities.
Statistically, teen drivers have more accidents than older, more experienced drivers due to distracted driving and particularly as a result of cell phone use while driving. According to the US cell phone and driving statistics, in the year 2017, distracted driving caused the death of 3166 people out of a total of 34247 distracted driving accidents. Cell phone-distracted young drivers caused almost half of these road accidents.
These statistics show that teen accidents are more likely to occur by four times adults' crushes. Out of all these accidents, 21% of them were caused by cell phone distraction. The bigger the number of teens in the same car with a teen driver, the higher the likelihood of a road crash. Surprisingly, even though over 90% of them acknowledge the dangers of distracted driving, over 30% of them don't mind doing it anyway.
Most of these distracted driving habits relatively increase as the teen approaches their early twenties. When this negative trend is not mitigated at an early stage, people get used to these habits, and they may even increase as they gain more driving experience. Therefore, we might end up with a society full of careless drivers.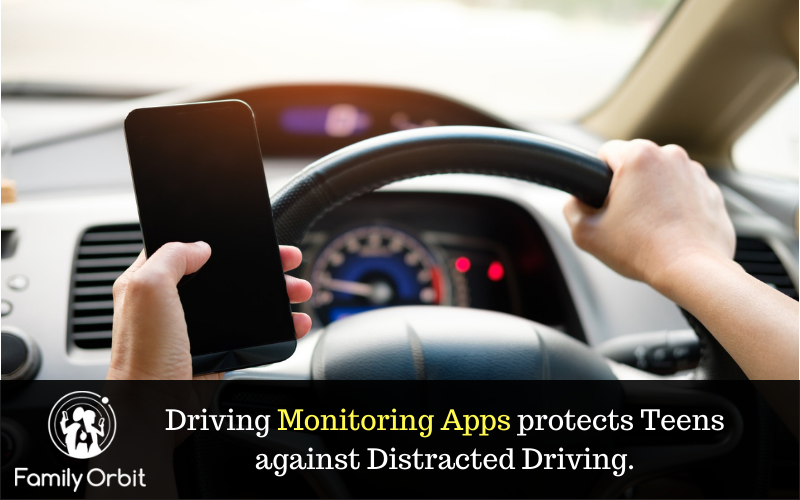 What Parents Can Do to Protect their Teen Drivers from Distracted Driving
Parents can help keep their teens safe on the road by enlightening them on the risks associated with distracted driving and giving them safe driving tips. However, while you can teach your kid a lot about safe driving, you can't foresee every situation they might come across out there, nor can you be with them on every trip. Luckily, you can use a driving app to monitor your kid and help them drive safely.
In this article, we explain how driving monitoring apps can help protect teens against distracted driving.
How Driving Monitoring Apps protect Teens against Distracted Driving
With the advancement of technology, driving monitoring apps have become very resourceful in helping keep teenagers safe on the road. They are designed to monitor your young driver's activities while driving, thereby protecting your teen driver and giving you peace of mind. These apps reduce the likelihood of your teen texting behind the wheel, over speeding, and can also help in emergency situations. Some are designed to encourage safe driving, while others completely block the use of cell phones while driving.
Driving Monitoring Apps and How they Protect against Distracted Driving
Life Saver
Life Saver is a driving app that works by completely blocking the use of cell phones behind the wheel. The app forbids texting and other notifications but allows the use of navigation maps and phone calls only. It is activated before the start of the journey and allows you to monitor the driving habits of your teen driver.
Mojo
Mojo is a driving app designed to motivate and encourage safe driving. It provides a scoreboard where drivers compete against each other, climb levels, and then earn prizes for distraction-free driving. It collects data by first establishing whether the user of the phone is the driver. This is done by a sensor that categorizes distracted driving into swiping & typing, handheld calls, and hands-free calls. This data is then used to give a score for distraction-free driving, which then provides the driver with a chance to spin and win prizes.
AT & T Drive Mode
This is a free driving app for both iPhone and Android devices. The app automatically turns on when your teen is driving and notifies you if the kid turns it off or disables some safety features. It silences all text message notifications to ensure there are no distractions.
TrueMotion Family Safe Driving App
This app enables you to virtually tag along your teen's trips, monitoring their driving habits. With the app, you'll be able to see their location and how they got there. You will also be able to create a boundary around where the child is allowed to drive, the speed they can drive, and the time they need to be home. If the teen breaks any of the rules, you receive a notification immediately. Additionally, the app grades each trip to help you see how your teen driver progresses.
Cellcontrol
This consists of a small device that you mount on the car's windshield and an app that you load on your teen's smartphone. The tool lets you control what your teen can and cannot do on their phone while behind the wheel. Therefore, you can disable social media apps, text messages, messaging apps, and more while the car is in motion.
Conclusion
The apps above are just a few examples of some of the best driving monitoring apps which are designed to help protect against distracted driving in their own unique ways. However, the best app you can choose to help keep your young driver safe on the road is Family Orbit. With this app, you can monitor the speed and location of the driver as well as their phone activities. The app has amazing features which include:
Real-Time Family Locator – Check instantly where your young driver is at any moment
Location History – View every place your kid has visited
Geofence – Be alerted when the kid arrives or leaves a virtual perimeter that you have created for them
Panic – This gives your kids a quick way of letting you know in case of an emergency
Try the 7-Day Free Trial Today!