We can all relate to losing something valuable and wishing there was a way to track its location from our phone, especially since many of Apple and Google Maps' features have opened our eyes to mobile location tracking! Apple's AirTags seem to be the answer to this wish, attachable to easily-lost items and tracked through the Find My App!
The question is, how to share AirTag with family members?
What is AirTag?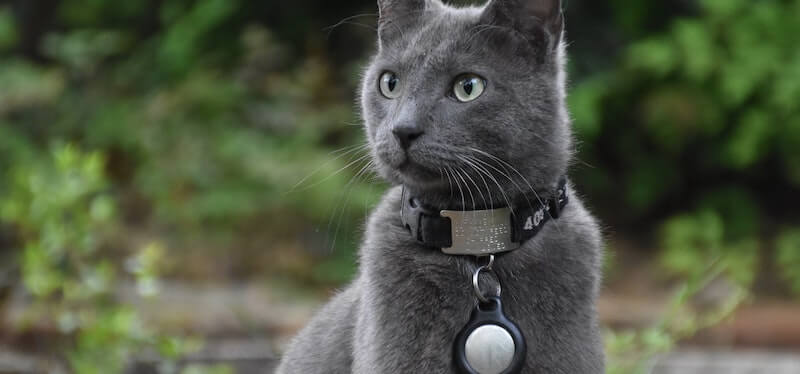 An AirTag is a type of technological, smart object that was developed and created by Apple to serve as a tracking device. AirTags are small, around 1.25 inches in diameter, and only 0.31 inches thick. This makes it easy to travel with and carry around since it also weighs less than an ounce.
The ideal use of an AirTag is to attach it to an everyday item that is frequently misplaced. In fact, AirTags were first created to help you find your keys! The way it works is that AirTags will connect to Apple's Find My app.
The Find My App allows you to track any Apple devices connected to it; this used to be limited to your phone or iPad or iPod Touch, but AirTags can help you find basically anything they are attached to! You'll be able to see, using the FindMy app on your iOS devices, where in the world the AirTag location is.
However, your use of AirTags is limited to only you.
Can You Share AirTag With Family?
Unfortunately, you can't share the AirTag location with your family. It only works for one Apple ID at a time.
AirTags are truly a genius device; by attaching the AirTag to any object, such as keys, bags, or even a pair of non-Apple devices, like headphones, you can instantly find out where those objects are using your Find My app. The Find My app was initially used to see where phones in your Family were using something called "Family Sharing."
Apple's family sharing feature works as follows: as long as someone is part of the Family Sharing Group, and clicks on the "Share My Location" switch, anyone else in the Family Sharing Group has access to the location of their devices through the Find My App.
This does not extend to sharing locations of AirTags with family members, sadly. Even if members of your Family Sharing Group try to open their Find My app and search for your AirTag, it will not be displayed as an option. This is because AirTags can only be tracked through the Find My feature using the one Apple ID they are assigned to.
Alternate Method to Share Your iPhone Location with Your Family

If you are looking to share your iPhone locations with your family, don't worry! It is still possible to do so, despite the lack of being able to use your AirTag for more than one person.
As previously mentioned, the Family Sharing feature works for any of these devices except for the AirTag. All you need to do is set up Family Sharing on your device. First, open up your Mac, iPhone, iPad, or iPod Touch to the Find My App. After this, click on the tab marked "People." Finally, double-tap on a family member's name and toggle on "Share My Location."
We'll give you a look at how to share location using the "Find My" app below, and we'll also show you a how-to guide for a few alternatives, such as WhatsApp and Google Maps.
Share Location with the "Find My" app
If you have a device like the iPadOS 16, any iOS 16 device, or even a device that is more updated than these, you can choose which specific family members to engage in location sharing with.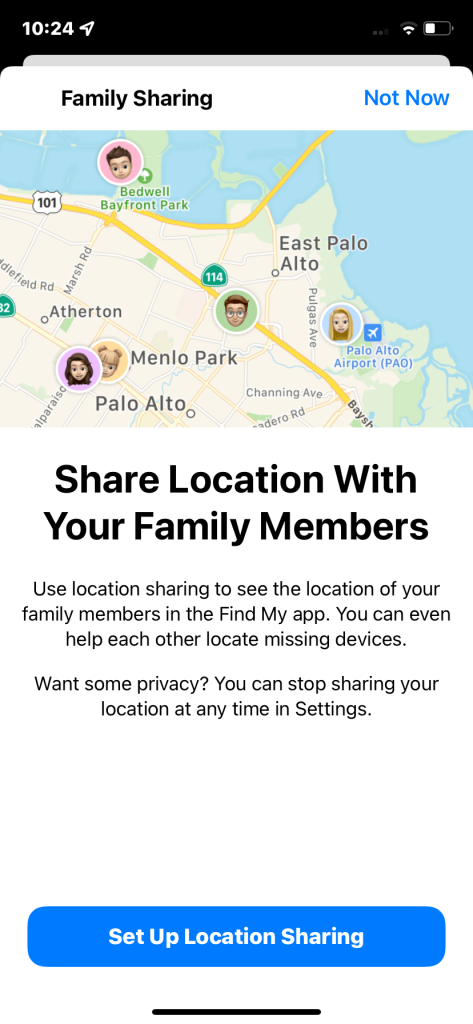 Go into your Settings app, click on the "Family" section, then click "Location Sharing." After this, tap the family members you'd like to share with under "Share Your Location With."
If, however, you are using an earlier version of an iOS device, you'll have no option to filter through which people in your Family Sharing group get to see your devices: it is all or nothing!
Share Location with "Google Maps"
Maybe you've decided that using the Find My Feature on an iOS device isn't for you or doesn't apply to your devices. In this case, you can still participate in location sharing using Google Maps!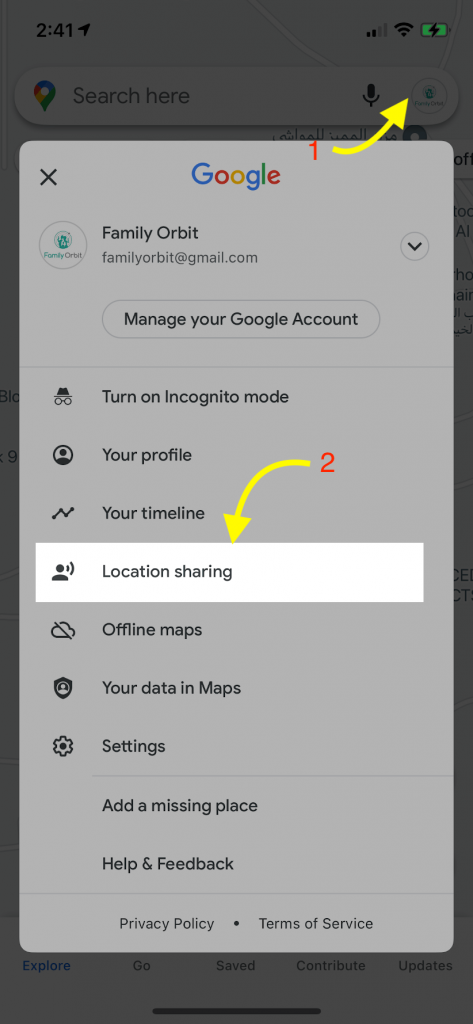 First, add the Gmail of the person you'd like to share your location with into Google Contacts. Then, open up the Google Maps app. Be sure you're signed in! After this is finished, tap on your initials, or your profile picture to open up the "Location Sharing" section. Then click the head-and-plus icon, which is the "New Share" feature.
Now all that there is left to do is to choose how long you'd like Google Maps to share your location with this person; be sure Google Maps has access to Contacts! To finish up, simply click "Share."
Share Location with "WhatsApp"
To begin location sharing with "WhatsApp", there are two different methods depending on which mobile device you're using.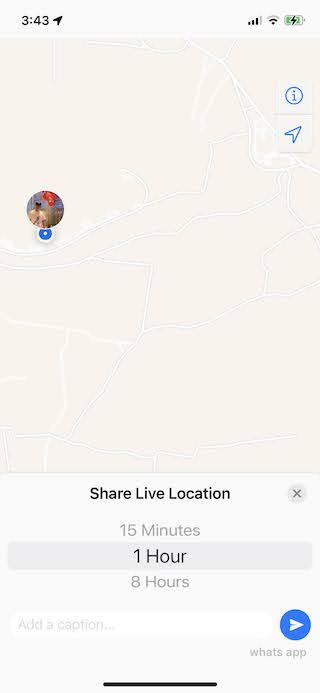 If you are using an iOS device like an iPhone or an iPad, open the WhatsApp chat for the person you want to share your location with. Then, tap on the plus icon at the left, bottom corner of the screen. Click on "Location" from the pop-up window. Next, click "Send Your Current Location." It's as simple as that!
If you're using an Android or other non-apple device, first open the conversation window. Next, tap the icon for attachments and select "Location." You'll be able to share your live location from here, after selecting how long you would like the location tracking feature to last.
Family Orbit – Family GPS Tracking App
Honestly, although AirTags is a great idea and many find the location-sharing utilities listed above useful, the truth is, they are limited and far from the best family tracking app you can find. Instead, we recommend Family Orbit.
Family Orbit is a cross-platform tracking service, meaning you do not have to rely on just one type of mobile service using Family Orbit. You'll also be able to see long records of location history, instead of picking a short amount of time to observe a real-time location, which is all the Find My or WhatsApp services have to offer.
Not only that, but you'll be able to set up alerts for when a family member reaches a location, as well as when they've exited that same location. This app is particularly useful between parents and children, with parental controls and features that are specifically designed to help you keep your child safe.
Truthfully though, Family Orbit is useful for members of the family across all ages.
Features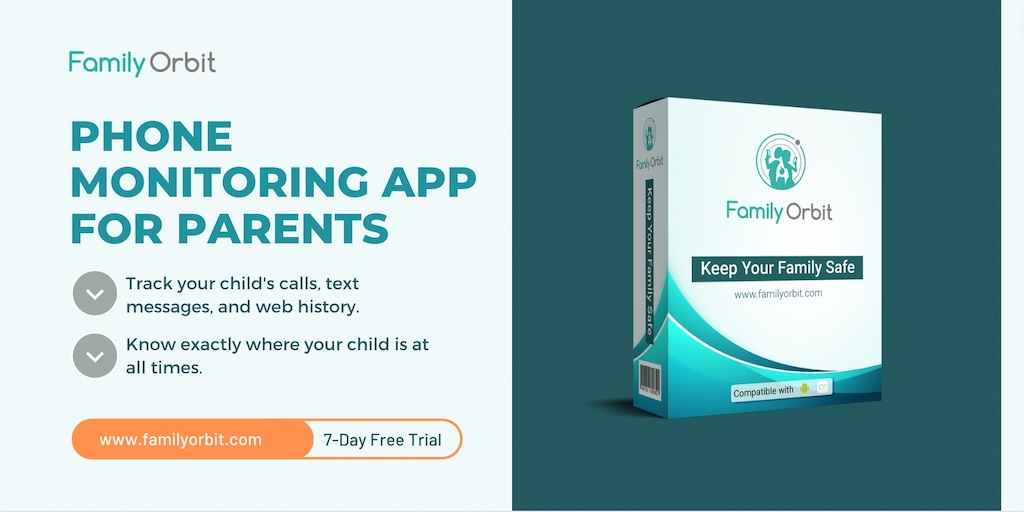 The features of Family Orbit are as follows:
Location viewing – This essentially allows you to see where any member of the family is in real-time.
Location history – Not only can you track location in real-time, but you can see what the past history of any given family member's location has been!
Calendars and Contacts – You will also have access, not only to locations but to plans and even the friends your family members have in their contacts.
Photo and Video Surveillance – Family Orbit also allows parents to see what media in the form of videos and photos are being shared by their child.
Website History – In addition to tracking previous locations, parents can also track what a child has surfed the internet searching for!
Cross-Platform Chat Surveillance – Using Family Orbit, a parent can keep an eye on chats not only with the mobile device's main messaging app but also any additional in-app chats. These include KiK and WhatsApp, as well as many others.
Pros/Cons
Family Orbit is a great app, but let's take a look at the benefits as well as the downsides to owning it.
Pros:
Child Safety – Safety alerts in caring for a child are incredibly important. After all, monitoring not only how a child uses their phone and their freedom, but also who is communicating with your child, is a great way to keep them from some of the dangers the internet has.
No Need for Jailbreaking – Some who try to use other services to monitor an Apple device has to "jailbreak" the device in order to have full access to the features. With Family Orbit, this is certainly not the case.
Watch From Afar – Instead of having to open a child's device in person, Family Orbit allows for monitoring from any location where WiFi is accessible, any time, any place!
No Installation App – An app is necessary for parents, but the app does not have to be installed or existing on a child's phone. This means Family Orbit is not accessible to the child, either for deletion or tampering. You can engage in family sharing without having to worry about a member of your family causing ineffective use of the app.
Multiple Device Monitoring – Using Family Orbit, much like family sharing, you can monitor not just one device, but many!
Cons:
Even though Family Orbit is a great device, it does have a few downsides. Though these don't make it any less efficient than the above-mentioned family-sharing feature types we discussed, let's go over them anyway.
Multiple Licenses Needed – If you do have more than one family member, or several apple devices, you will need a license for Family Orbit for each. Though it can be a pain to have to pay for this many licenses for multiple apple devices, it is the safest way to use the service.
Password and Apple ID needed – When trying to utilize this family-sharing-like feature, you will need all of the necessary family members to tell you their ID and their Password before you can attach Family Orbit. This is equivalent to apple's family-sharing setup. Once you do have the Apple ID, you'll have access to precision-finding technology!
Pricing
The pricing for Family Orbit is certainly fair, considering the fact that all you need is a family member's Apple ID and access to their iPhone or any other apple device only once for setup, and then you'll have the best family share device around!
Family Orbit costs a total of $19.95 each month. For this, you can monitor a grand total of five devices, with no limitations on support remotely for absolutely free!
The apple AirTags are great for finding car keys or even locating your dog by attaching them to a dog's collar. However, apple's services cannot provide you with the history of other family members' locations. To make matters worse, AirTags can only be tracked using the Apple ID they are assigned to, so family sharing is almost non-existent.
Instead, we recommend using Family Orbit. It is not only more versatile for child safety, but it has more features in general. Purchase Family Orbit for just $19.95 a month as soon as possible!
FAQs about AirTags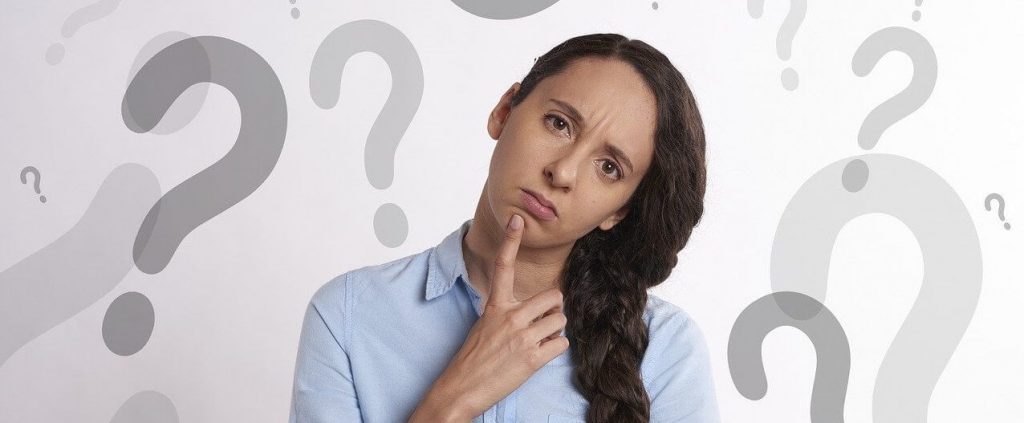 How do I share AirTags with family members?
AirTags are exclusive devices associated with a single owner…
Air tags are devices that can be described as exclusive. They only work for a single person. You can attach them to your car keys and find that object by searching for your Airtag's location from your Apple watches or other apple devices. However, nobody else in your family can see your Airtag's location.
As previously mentioned, sharing Airtags with family members is impossible; they only pair to one Apple ID at a time. Anyone else in your family group will be unable to access that information from any other device.
Can you pair an AirTag to two phones?
Technically, yes, you can pair an AirTag to two phones, but only if those two iPhones use the same Apple ID. If you want to connect the same AirTag to a different phone than you initially started with, which has a different Apple ID, and track the Airtag's location from there, you'll have to manually reset the whole device and log into it with your Apple ID.
The same reset will have to be accomplished if you give the airtag to someone else.
Can I use AirTag to track my child?
Technically you could potentially use AirTag to track your child, as long as the AirTag attached itself to the child's person. However, this is not a fool-proof way to track a child, since the child could notice the container or Airtag cover and get rid of it.
Can an AirTag's Location be Shared?
No, an AirTag's location can't be shared with any other members of a family. If you want to share access with someone else, you will need to invest in a different family-sharing feature, like Family Orbit.
How can I track my child's iPhone without them knowing?
If you want to track your child's iPhone without them knowing, the best practice would be to purchase a more versatile safety service like Family Orbit. This way, you can not only see the location of three other family members, but have access to much more of their mobile life, including their use of Apple Music, the history of their location, and much more.
Conclusion
To sum it all up, AirTags may be one of the leading devices in tracking since apple announced its use in keeping the location of easily lost items like car keys in mind. Using a far-reaching Bluetooth range and the Find My service, tracking an Airtag's location is the same as tracking the location of whatever the Airtag cover is attached to!
However, the downsides to AirTags can't be ignored. A family group is not able to see the location of an AirTag, meaning Airtag owners are the only ones capable of using them effectively. Currently, apple plans no improvements to help you share air tags with family.
That being said, where Apple has failed to make Airtags useful for sharing, Family Orbit has not! This service can track not only mobile locations the same way Apple does but can allow many more features to keep friends or family safe. It does this with reasonable pricing and far fewer privacy concerns than the ones associated with Airtags.
For this reason, we think that although AirTags was a pretty good idea, Family Orbit is worth far more for your hard-earned money. Purchase Family Orbit today!
Best Cell Phone Monitoring App
1,11,895 people have signed up.
Monitor Calls & Text Messages

View Photos and Videos

Location Tracking & Geofence

Monitor WhatsApp & Kik

Detect & Alert for Inappropriate Activities

Monitor Websites Visited

Compatible with Android and iOS