2017 was a busy year for Google Maps. Google added many new features to their celebrated Maps, including real-time traffic data, local reviews for nearby restaurants, and the ability to drop a pin to find where you parked your car. Most parents are familiar with these functions of Google Maps. You probably use them in your day-to-day life, when you drive the kids to extracurricular sports activities or when you're looking for a weekend treat for the family at a local restaurant.
However, you may not realize that Google Maps also introduced a unique functionality in 2017, which can assist countless parents of teens: Location sharing. Indeed, the app enables users to share where they are with their selected and trusted contacts in real-time. As a parent who is often concerned about your child's whereabouts in town, the location-sharing feature could make your life a lot easier. The feature has been inbuilt in Google Maps since its first release in 2017, so there's no need to download anything new to your phone. Here's a brief overview of how to track your child's cell phone on Google Maps when you are worried about their location.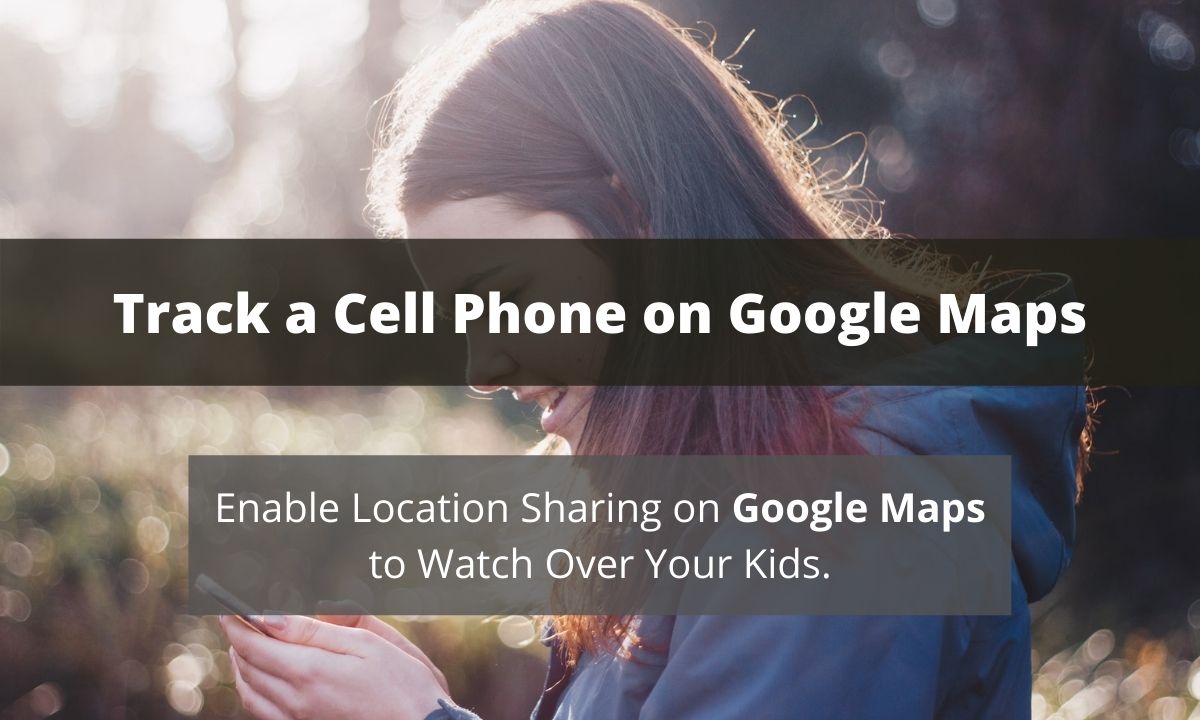 How to Enable Location Sharing on Google Maps App in iOS?
First of all, it's important to understand that Google values user experience. As a result, when the team developed the tracking cell phone location Google Map feature, they ensured that it would be available for both iOS and Android devices.
You are probably aware that all iPhone models now come with the Apple map app pre-installed. However, most American parents have already installed Google Maps on their iPhones by default. It's one of the most popular mapping applications in the U.S. Most people rely on Google Maps for navigation. When you drive your child to a sleepover party with their friends, for example, you use the mapping tool to find your way in town. The good news is that you don't need to install anything else to the existing app to unlock the location sharing function.
It can be an awkward conversation to have with your child. However, it is a good idea to establish a trust base by sharing your location with them first. Open Google Maps on your iPhone. You need to make sure that you've turned on the location services on your app. To check this, go to the settings menu and select the application. Select Allow Location Access. You will see three categories:
Never

While Using the App

Always
To ensure that you and your child can see each other's location in real-time, you need to choose "Always".
You also want to make sure that you are using the latest updated version of the app. Typically, the app updates itself automatically on your iPhone. However, if you have turned off automatic updates, you need to update the app manually. Go to Settings and check all pending updates for your applications. Select Google Maps; this will ensure the app can find your location easily.
Once you are certain that the app can identify your exact location, you should see a map of your surroundings when you open Google Maps. Tap on your profile icon in the top-right and select Location Sharing.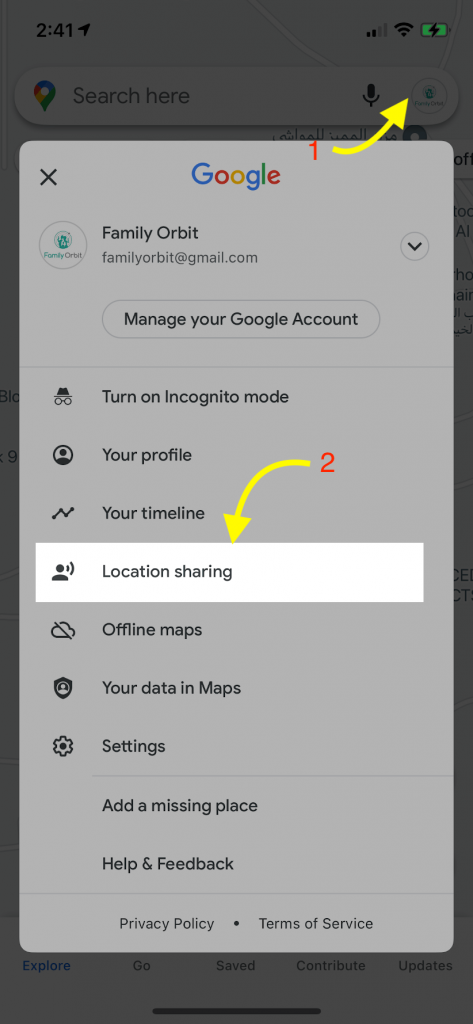 Now tap on New Share and choose whether you want to share the location for an hour, or until you turn this off. Tap on the contacts from the bottom list to begin sharing the location with the user.

Now you can view the contacts who are sharing the location with you, as well the one you are sharing the location to and you can disable the sharing anytime.
You can test it with your child to make sure they understand how to use the feature. You can share with them where you are when you are running errands during the day. They can also practice pinning their location when they are at school or a friend's house. It can become a useful tool when they are lost.
How to Enable Location Sharing on Google Maps App in Android?
Let's start with the good news first: Google Maps is pre-installed on every Android device. In other words, even if you don't need the app on a day-to-day basis, you don't need to worry about downloading it. It's already on your phone. However, you still want to check your settings for Google Maps. Typically, the app has access to your location by default. But it's worth checking that you've enabled full access. Head to settings, select location, app permission, and then Maps. In Google Maps, make sure the location access is set on "Allow all the time". This option will unlock the full features of Maps on your device.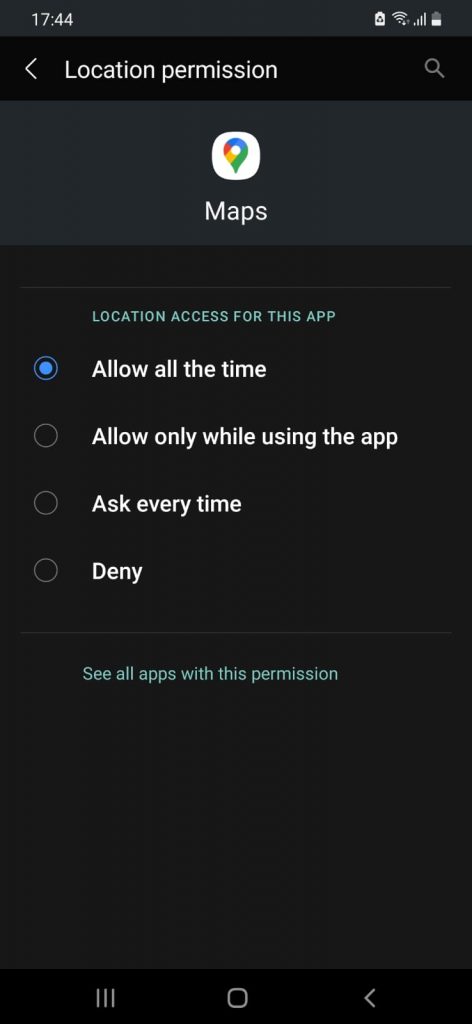 With this feature, tracking cell phone location on Google Maps becomes a simple task. It's worth mentioning that you can still share your location even if you and your child use different phones. Location sharing via Google Maps doesn't require both of you to use iPhones or Android models. However, the process is different if the contact has a Google account — which is more frequent for Android users.
If you and your child have a Google account, you can find the location sharing feature directly into Google Maps. Tap the burger menu on top to make the options visible once you've reached your location. Select Location sharing and then get started.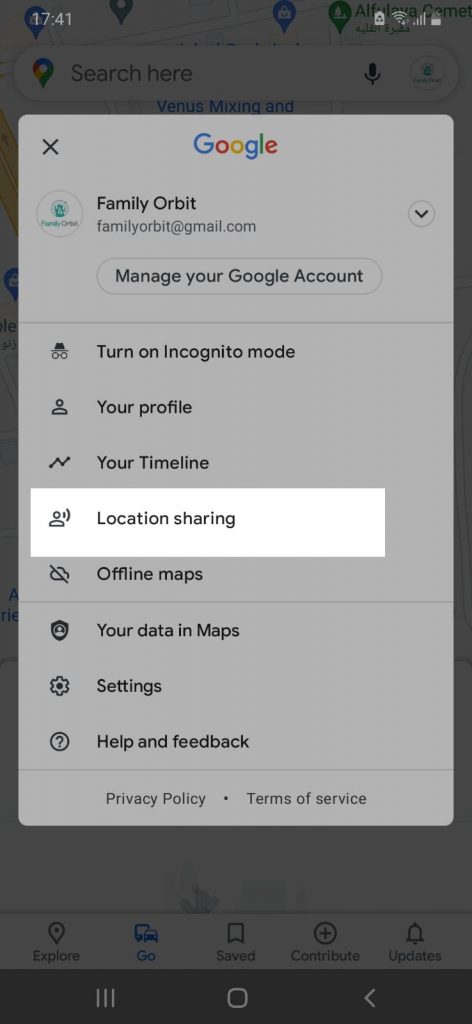 Once you select this function, you can choose for how long you wish to share your location. You can select an amount of time by using the + and – buttons. The location link will be active for the time that you've previously selected. 
How to Track Location on Google Maps with Family Orbit? 
Using Google Maps to track your child's location is an option that is only available if your child chooses to share their location via the Google Maps features. However, if they do not use the location sharing option, you have other alternatives to follow their movements and ensure they are safe. Family Orbit offers a unique family locator functionality, enabling tracking cell phone location on Google Maps in real-time. 
When you set up your Family Orbit account, you get to enable GPS tracking in real-time, which means that you can open the map and see where your child's phone is, even if they have not sent a location-sharing link. This unique feature comes with location history. If you are worried about your child's location, accessing the history of their movements on the map can ease your mind and help you understand their situation.
Additionally, location tracking brings an essential feature for parents who worry about their children accessing dangerous locations. You can create a safe zone for your child, which could include their school, their favorite playgrounds, and their friends' homes. If your child steps outside of the safe boundary, Family Orbit sends a notification to your phone. This allows you to take action when and if it's needed. 
How to Track a Cell Phone Number on Google Map with Reverse Lookup?
Number Tracker Pro is one of the preferred tools for anxious parents. It offers the best way to proceed to Google Maps cell phone tracking using only a phone number. As a parent, if you have not yet a monitoring app to check on your child, or if they have not turned on the location sharing feature, you can use Number Tracker Pro. The tool enables you to research the location of phone numbers using Reverse Phone Lookup functions. For example, if your child's phone runs out of battery and is with a friend, you can search the friend's number to track their movements. Similarly, if your child receives suspicious phone calls, you can also track the caller's location. 
In conclusion, there's no shortage of options to make the most of Google maps tracking, whether your child uses location-sharing features or not. Discussing Google Maps functions with your child can ensure they get the right reflexes when they are in danger or lost. The best option to prevent any risk is Family Orbit, as the solution stands out with its real-time GPS tracking and geographical safe zone settings. Parents who want to gain peace of mind with independent teenagers rely on Family Orbit to keep their children safe without impacting their freedom. It's not just about tracking their locations but about being able to react quickly and effectively should anything happen. Additionally, the solution lets you place parental controls on your child's device, which ensures they don't see anything unsafe you wouldn't want them to see. If you are ready to consider tech solutions to keep your child safe, make sure to sign up for a free trial of Family Orbit.