Indeed, there are several reasons why one would want to track a cell phone. For example, in the case of a stolen phone or misplacement, tracking would help to recover the phone. In other cases, parents may want to track and monitor their kids, and at times, you may receive calls from unknown numbers.
Today tracking cell phones has been made easy by the use of tracking apps. In most cases, you usually install a tracking app on the phone you wish to track – but thanks to technology, you can actually track a phone number instantly using the right tools.
Amidst a sea of websites offering free phone number tracking online, finding user-friendly and effective options can be challenging. Here, we've compiled a list of tried-and-tested platforms to make your search easier.
Number Tracker – Phone Locator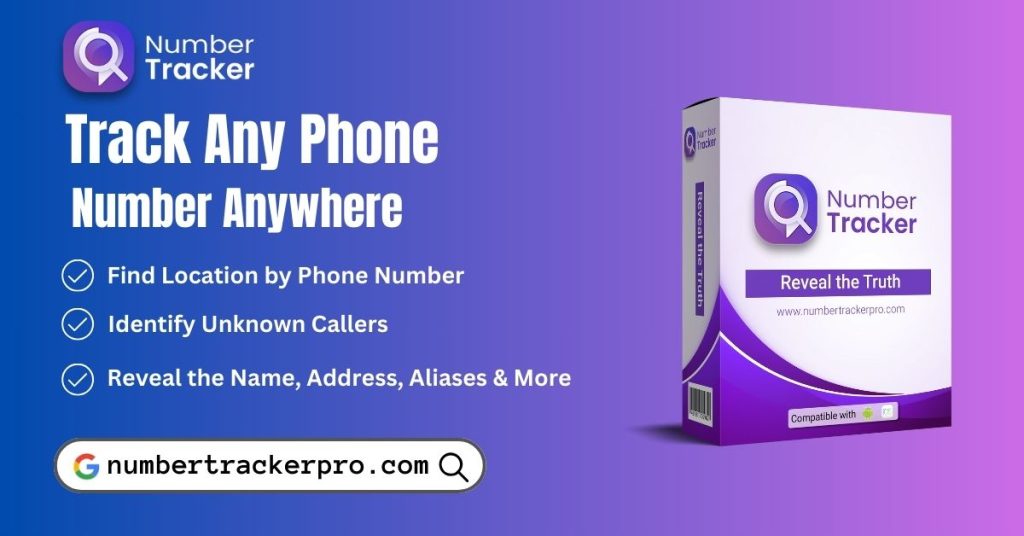 The main reason why thousands of people all across the globe love this phone tracker is because it works worldwide. This means the device that you need to find can be located anywhere. The tracker also works with all mobile network operators, so it's a truly universal tool.
Key Features
Phone Lookup – This feature allows you to find detailed personal information from the person's phone number.
People Finder – Type in the state, city, and name of the person to find detailed information about your target.
Real-Time Tracker – Find the live location of the phone number.
Benefits
From only the phone number, you can easily find the person's full name, current postal address, date of birth, income, and even relationship status
The tracker allows you to find detailed information about the person, even if you don't have their phone number
You will be able to find the live phone's location
You wouldn't have to deal with any network blockades
Search anonymously without revealing your identity
Can be used worldwide and with any phone number
No need to install a phone monitoring app on the target device
Cons
You would have to receive location permission from the person that you're trying to track using the Real Time Tracker feature
The information gained from the mobile tracker cannot be used for employment purposes
The phone tracker service is not free
Pricing
There are two different plans that you can take advantage of when using the location tracking services.
10 Credits – $9.95 ($1 per search)
Up to 10 Reverse Phone Lookup
Up to 5 Live GPS Tracker Requests
Up to 10 Background Search
50 Credits – $29.95 ($0.52 per search)
Up to 50 Reverse Phone Lookup
Up to 25 Live GPS Tracker Requests
Up to 50 Background Search
Use the phone tracker anywhere anytime, and cancel the plan whenever you feel like it.
In case you're planning on performing quite a few searches, we would recommend getting the 50 credits plan as the cost per search, in such a case, would be a lot lower.
All you would have to do to get started is sign up and choose the category that works best for you. Start tracking immediately without having to spend your time downloading apps or software!
---
Family Orbit – Phone Monitoring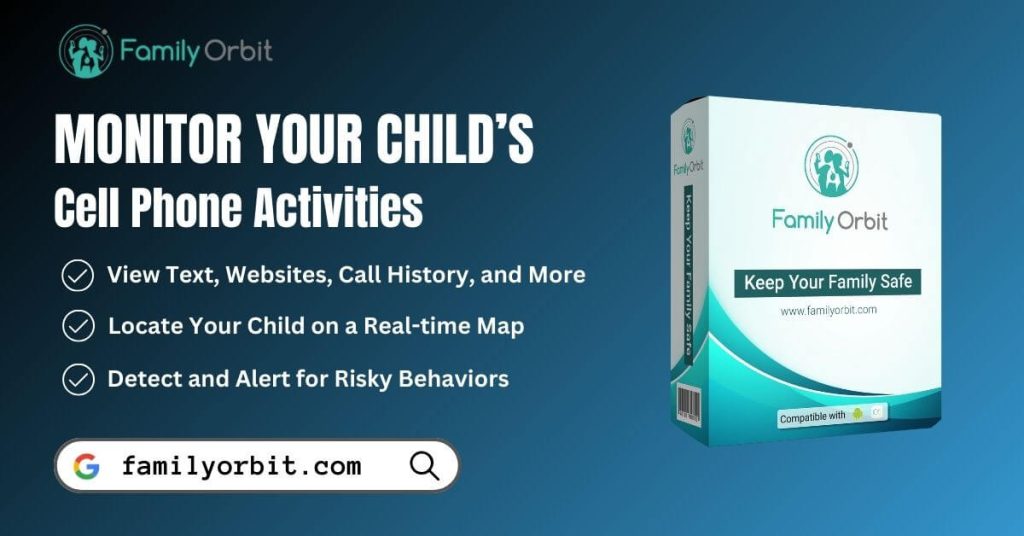 This tool is the perfect family locator and parental control app that will help you protect your kid from cyber threats and see exactly what apps your child enters.
Key Features
Some of the most popular features of this phone tracker app include:
GPS location tracking
Text and call logger
Website Activity
Real-time alerts
Activity timeline
Access to photos and videos
Benefits
The family locator is an amazing tool that can help protect your child from cyberbullying. It can also help make sure that your kid never gets to experience the dark side of the web
You'll have one account for the entire family
Whether you're used to getting all your apps from the Google Play Store or your family has only iOS devices, that doesn't matter. Family Orbit provides parental control solutions to all platforms.
You will immediately get notified if your child gets outside your geographically safe zones
Cons
Family Orbit has a visible presence on the cell phone which means that your kid will know that you're using a location tracker
The tool has to be installed on the target device. Parents can monitor their cell phones from the online panel, and, ideally, they would also have to download the app on their devices. All that might take some time.
Pricing
Family Orbit offers three different payment plans. All of them include the same features, but if you decide to pay for a few months or a whole year at once, you will get a better deal.
You can choose to be billed $19.95 monthly, $39.95 quarterly (one month costs $13.32), or $89.95 annually (one month costs $7.49).
By the way, you can always take advantage of the free trial period.
You might not be able to find a better family locator. This app can end up playing a vital role in your child's safety, and spending an extra $8-$20 per month to ensure that your kid is safe is undoubtedly worth it.
---
CocoLookup – Phone Lookup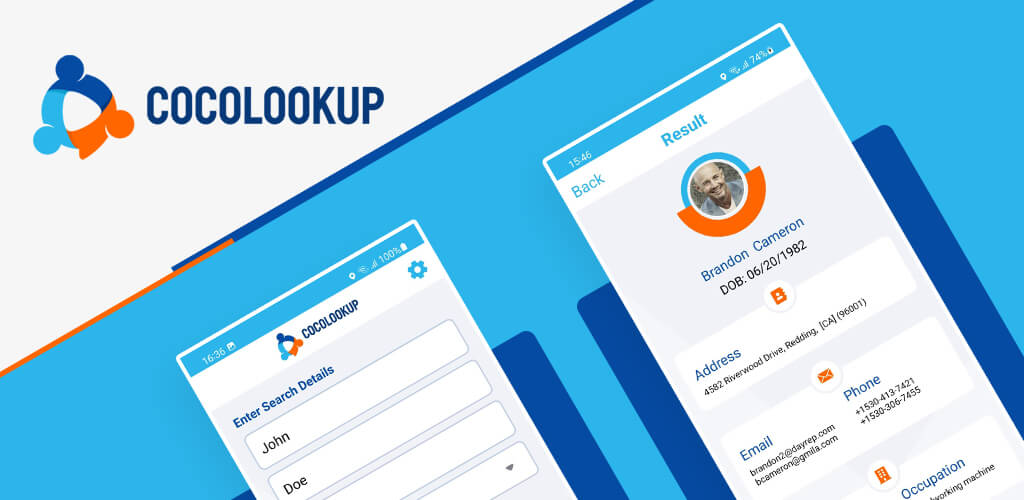 CocoLookup uses cutting-edge technology to help you manage data from over a billion (!) public records. With the help of this phone tracker, you can not only find out who's calling you, but also find your childhood friends, connect with potential home sellers, and a lot more.
Key Features
Phone Lookup
This feature can help figure out who's the owner of the phone number that has been calling you. You will also discover the owner's contact information, including his or her full address, job profile, date of birth, and relatives.
People Search
Use the first and last name of the target to verify their identity. The feature allows you to confirm someone's education, employment history, criminal record, and plenty of other activities from their past.
Address Search
Know only a person's address? The address search can help you identify the current and previous owners of the house, the contact info of the owner, and his or her phone number and email address.
Email Search
Find out a lot of information about the owner of the email, including any associated domains, phone numbers, and occupations.
Benefits
You wouldn't have to spend your precious time trying to figure out who is calling you or who this email or address belongs to. Simply type in the information that you already know and you'll discover all the necessary personal data by taking advantage of one out of many features.
The tool will get updated automatically as soon as new information gets added.
The company has an incredibly large database, so you can rest assured that the information provided is the most accurate in the industry.
Cons
This particular tool does not allow you to find the phone's location. That's why it can't be used for finding lost phones, for example.
The tracker app allows you to start monitoring only the people who are located in the United States.
CocoLookup is a phone tracking app, so you would have to download an app (it works with both iOS devices and Android devices).
Pricing
CocoLookup is a free app, but it features a credit-based system, meaning that you will pay only for the information that you need. The pricing options vary greatly and will depend on whether you'd prefer to get only a fraction of the info about the person or their full personal profile.
This phone tracking app is truly amazing as it allows you to use the information that you already have. Whether that's only an email or even a street name – you will very soon be able to find exactly what you're looking for. But don't just take our word for it, download the user-friendly phone tracker right now!
---
GeoPhone – Phone Tracker by Number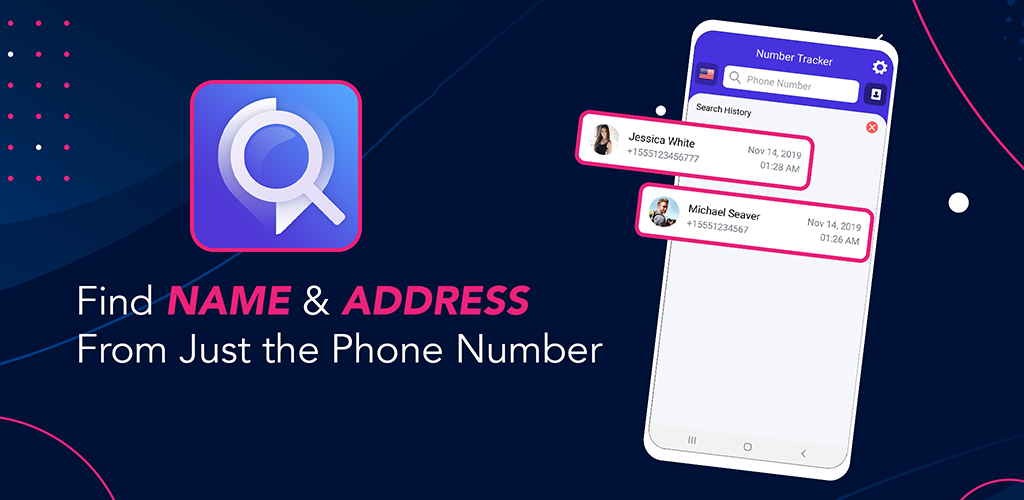 Geo Phone Tracker is a location tracker that allows you to discover the location of anyone by simply using their cell phone number. Whether you want to locate your kid's phone or find out where your other family members are, you can easily do that with this amazing location-tracking service.
Key Features
The main feature of the tool is finding the cell phone location. The GPS tracking service allows you to get the exact location of the cell phone via email.
All you would have to do is create an account and send a location request. Scannero will send a text message to the target device and voila – you have the live location of your child's phone.
Benefits
You don't need to install a phone tracker app to find out the cell phone location. Just open the web version of the browser of your choice (of course, you would have to make sure that you're connected to the Wi-Fi).
The scanner can locate any mobile number, no matter what network the target uses.
The tool will need only about 2 minutes to figure out the cell phone location.
Scanner works on Android devices and iOS devices and with any operating system.
Cons
You would have to know the phone number, to use this location service.
The monitored phone needs to be connected to the internet and have a SIM card to track location.
Pricing
You can immediately type in a cell phone number and see the city where its owner is for free. If you need to find out the exact GPS location, you will be asked to sign up.
You will pay only $0.89 for 1 trial day, and if you'd like to continue using the mobile number tracker after that, you will have to pay $49.80 per month (you can cancel anytime). That's an amazing price considering that you'll be able to find unlimited GPS locations.
Geo Phone Tracker is the perfect location tracker that allows you to track more than one device for a fixed monthly price. If you're tired of parental control apps or you're looking for a tool that can help you quickly find the cell phone location – look no further!
---
Mobile Spy – Cell Phone Spy
Mobile Spy is an impressive smartphone monitoring software that allows you to not only find out the cell phone location but also view the live screen. The latter means that you can easily see the incoming and outgoing calls, browser history, and the most popular social networks preferred by the cell phone user.
Key Features
Mobile Spy gives you practically full access to the target phone. The software always works in background mode which allows you to get access to the most up-to-date information 24/7.
With Mobile Spy, you can:
Monitor text messages
Track phone location
Monitor videos and photos
Send SMS commands to the target phone
Remotely block any app, and a lot more!
This is the first ever software to monitor iPhone, iPad, and Android devices, by the way. Since 2007, Mobile Spy has matured into the most trustworthy cell phone monitoring application available, so you shouldn't expect anything less from it.
Benefits
24/7 live chat support for Mobile Spy users.
You can monitor up to 3 devices.
Even the information that has been deleted from the history of the browser will get sent to you.
You can see the actual screen of the device (updated every 90 seconds).
Any carrier (domestic or international) is compatible with the software as long as it offers unrestricted Internet access.
A simple installation process.
Cons
The software requires an Internet connection, to work its magic.
You have to legally own the smartphone that you intend to oversee and you should have access to it to install the software.
Some of the features are available only to Premium users.
Pricing
There are two different licenses for you to choose from
Basic – $49.97 for 3 months
Premium – $64.97 for 3 months
You'll have access to 24/7 live chat, application blocking, all the apps installed, social media and messages, call information, GPS location, and a lot more.
Premium users get everything that the 'basic' license has to offer, as well as access to the Live Control Panel and an instant GPS Map.
Mobile Spy is the ultimate phone tracker app that allows you to see not only the cell phone location but also everything that is going on on the screen. The monitoring app is, basically, an all-in-one software that includes an app blocker, a live location tracker, screen time monitoring, and so much more.
If you have any concerns about your employee's or child's potential misuse of the cell phone, this is the exact software that will either dispel your concerns or prove that you were right.
---
Best 3 Free Methods to Find Location by Phone Number
Google Timeline
You can use Google Timeline for free location tracking. Though the feature is marketed as a 'personal map' that should help you remember routes you've taken, it can be used to find the approximate GPS location of your device.
To do that, you would have to:
1. Open Google Maps on our computer or tablet.
2. Sign in with the same (!) Google Account that you use on your cell phone.
3. Click 'menu', then 'timeline', and choose the date.
4. To find the places that someone with your phone has visited recently, click 'menu', 'your places', and 'visited'.
Do bear in mind that to use Google Maps for location tracking, you would have to have access to the Google ID of the smartphone. This can also work if the person whom you want to track will exclusively share their location with you on Google Maps using location sharing.
iCloud
Apple users can take advantage of quite a few helpful features of Find My, but you would first have to activate the service on every separate device.
1. Go to 'settings', 'your name', and 'Find Me'.
2. Tap 'Find My (device)' and turn the setting on.
After the feature has been activated, you can locate your missing devices by either going to the iCloud website on your computer or using the Find My app on another device. If the devices are not connected to the same iCloud, you might still be able to use the app as a location tracker if the other Apple user shares their location with you via the family sharing or Find My Friends option.
Through the Find My app or the iCloud website, you can get directions to the other device, put it in lost mode, or even remotely erase some of the data.
Free Carrier Lookup
Finally, you may have the option to at least find the carrier or the service provider details using the various free carrier lookup service providers like this one from Number Tracker Pro.
Our Top 2 Picks for Phone Tracking Software
Number Tracker
You're already familiar with this website, as it's one of the best phone tracker apps mentioned above. However, it also consistently ranks as a top online website that allows you to track the location of any phone number within seconds.
Key features of this platform include the ability to track any phone number with just one click, real-time location tracking, and the ability to see call logs and messages.
One of the biggest benefits of Number Tracker Pro is its reliability. Reportedly, it constantly updates and records the location of the phone number, ensuring you receive accurate information. Another benefit is the ability to track the location of your phone in case it gets lost or stolen.
Some of the pros of Number Tracker Pro include its:
User-friendly interface
Real-time tracking
Accurate location details
Some cons of the platform include the need for an internet connection and the lack of advanced features like geofencing.
It's free to create an account with Number Tracker Pro. However, you must purchase credits to use its advanced features.
Family Orbit
Family Orbit is one of the most accurate and reliable tools for tracking the real-time location of a device. It allows you to track a cell phone using a real-time map that shows you where your loved ones are.
The app has some fantastic features like the Geofence, which is a virtual boundary that you set up for your child and notifies you whenever the boundary is crossed. Family Orbit also saves the location history of a cell phone, allowing you to see all the places the person you're tracking has visited.
Besides location tracking, the app also helps you monitor and control phone activities such as text messages, photos, videos, website browsing, and more, making it a perfect parental control app.
Here are some of its other features:
Call and SMS tracker
Web filtering
Monitor photos
Monitor data usage
Monitor address book & calendar
Lock and unlock the device
FAQs
Is It Legal to Use Phone Tracker Apps?
Legal device tracking is allowed for reasons such as employer monitoring, parental control, and law enforcement.
It is illegal to use a location tracker and other apps for stalking, hacking, and spying, so make sure to bear that in mind.
When it comes to data privacy, reputable phone tracker apps have advanced security measures which means that all the information that you're going to acquire through the target device will stay private.
Can I Track Someone's Phone Without Their Permission?
Though you are legally allowed to install a location tracker on a smartphone that belongs to you, you might want to tell your employee or child that you have done that to avoid any future conflicts.
What Should I Consider Before Tracking Phone Location?
All GPS location-sharing apps and software should be used responsibly, and, ideally, you should first get the permission of the second person to install an app or special software that will be tracking his or her location and cell phone activity.
To Sum Up
The best phone tracker apps mentioned above can easily help you locate your loved ones or protect your children from cyberbullying, for example. The powerful tools can easily help you take the safety of your kids to another level or find out whether your employees are doing what they are paid for or not.
All the above free cell phone tracking apps will do a good job of tracking a cell phone using the number. Therefore, you'll be able to easily know the whereabouts of your family, friends, and employees. Some of them will also reveal basic information about the owner. If you want more accurate details, the Family Orbit app stands out as the best. Family Orbit will not only help you locate a phone but also monitor and control all the phone activities of a person. Therefore, if you're a parent you must try this amazing app.
Best Cell Phone Monitoring App
135,495 people have signed up.
Monitor Calls & Text Messages

View Photos and Videos

Location Tracking & Geofence

Monitor WhatsApp & Kik

Detect & Alert for Inappropriate Activities

Monitor Websites Visited

Compatible with Android and iOS