As a loving parent, keeping your children safe online is an ongoing priority. While you already know about Facebook and Instagram, you might not be too familiar with the TikTok App. Don't worry; you're not alone. Nonetheless, the fact that it is a platform primarily aimed at a youth demographic, it's about time that you got to grips with the media App.
The big question on every parent's lip revolved around whether TikTok is safe for kids to use. Here's everything you need to know about the media App, particularly from a safety perspective.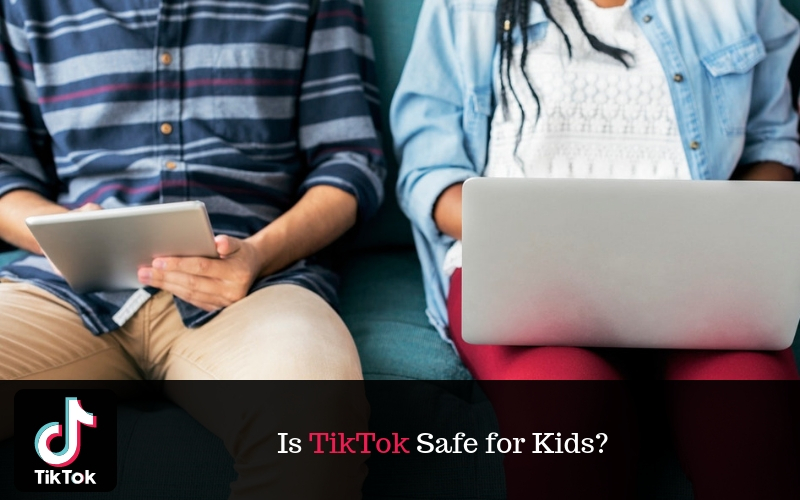 What Is TikTok?
TikTok is a leading short video creation and sharing platform that focuses primarily on the idea of music and lip syncing but also allows other types of short videos in much the same way that Vine used to do. Prank videos, comedy shorts, and challenge style content are all popular solutions.
It is available on iOS and Android devices while you may have also heard it referred to as musical.ly, which is a similar App that TikTok merged with in November 2017 following ByteDance's acquisition of its competitor.
The TikTok App is very popular in China and Europe, as well as here in the United States, although it is available in over 150 countries and 75 languages too. Users can create and upload short (3-15 seconds) music videos and short (3-60 seconds) looping videos. The App passed the 500 million global users mark in 2018, and continues to grow at a rapid rate.
As a social platform, users can also create profiles, view videos created by other users, follow their friends, and leave comments. The App is used by famous social media stars like Jabob Sartorius (20+ million followers) and Loren Gray (30+ million followers), which shows the scope and popularity of the media sharing application.
While TikTok was created with good intentions, allowing users to connect with their friends and social stars in a fun and creative manner, the fact that it revolves around visual media should encourage all parents to take note of the threats.
TikTok's Groundbreaking Fine
While TikTok is rated as a 13+, but it is clearly marketed at a youth audience. Given that most youngsters now have smartphones and tablets long before they turn 13, thousands of pre-teens have the App downloaded to their devices.
Furthermore, ByteDance was found guilty of breaking the Children's Online Privacy Protection Act by collecting information of minors and failing to seek age verification or shut down accounts of users under 13. As a direct result of breaking the Privacy Protection law Coppa, the FTC hit the developer with a record $5.7 million fine in February 2019.
TikTok responded by removing all accounts created by pre-teens while also launching a new child-friendly 'kids only' version of the App. In this version, kids can still record content but are restricted from uploading it. Other restrictions include not having profiles or access to direct messaging and commenting. Users of the kids' version can still watch videos as usual.
TikTok Threats That Parents Must Know About
The introduction of the kids only mode certainly makes the TikTok App a safer platform for pre-teens, but parents should still be aware of the potential dangers. Firstly, there are still a number of issues that need to be considered when letting your youngsters use the App. Secondly, kids are very tech-savvy and may find ways to set up accounts on the full version of the application.
Perhaps more tellingly, your kids don't suddenly become invulnerable to online threats when they turn 13. While you naturally want to give your young teen a little independence, it's still important to know about the various dangers along with what can be done to solve those problems. Here are the biggest issues to consider:
Addiction
Every parent knows that technology and smartphone Apps have the potential to be addictive. While TikTok is no different to other platforms, all parents should pay attention to how their children are using the App.
TikTok has taken positive steps by introducing an anti-addiction feature, which encourages users (of all ages) to take regular breaks from the App after 90 minutes. Nonetheless, parents will want to monitor their child's screen time.
In-App Purchases
If your child is using the kids only version, you won't need to worry. However, users on the full TikTok platform can send and receive payments as gifts, ranging from $5 to $50. This is a feature that many of the biggest users love because it can earn them money. Sadly, if your teen's account is linked to your credit card, this could put you at risk.
The best way to overcome this is to disable the feature from the parent settings within your child's smartphone or tablet device. Do this to block in-App purchases to make TikTok safer for your teens and for yourself.
Inappropriate Content
Using the TikTok App is about watching video content as much as it is about recording and sharing it. Unfortunately, this can lead to users being subjected to inappropriate content from adult users and other children alike.
TikTok has taken positive steps regarding censorship and removing inappropriate content, largely because the Chinese government created a list of 100 types of banned content. However, some inappropriate content can still slip through the net, even if only on a temporary basis. This can include:
Swearing and explicit language, particularly relating to music videos.

Drug and alcohol usage.

Self-harm videos.

Sexualized content, including inappropriate content from kids.

Dangerous challenges that encourage users to copy.

And more.
While it's virtually impossible to sit next to your child and watch everything they do, monitoring the type of content they view is vital. Moreover, you should keep in touch with the latest news on scary content like the Momo challenge and encourage your kids to speak to you about anything inappropriate they see on the platform.
One of the best ways to reduce the threats, however, is to go into the account settings and click Restricted Mode, which will automatically filter the majority of inappropriate content.
TikTok Privacy Concerns For Users
While the above issues require your attention, the bulk of any potential problems with TikTok revolve largely around privacy concerns. The kids only feature does remove many of those fears, but it's still important to know about the issues – not least because your pre-teens will reach 13 before you know it.
When creating a profile on TikTok, the default settings mean that the profile is public to anyone. This is so that users can rack up as many views as possible, gaining popularity. As a parent, though, you'd rather that they stay connected exclusively to their real-life friends, at least when it comes to sharing.
The Dangers Of A Public Profile
Having a public profile can potentially open the door to a range of different online threats, all of which have the potential to cause major problems for your child. Whether those dangers are physical or emotional, prevention is the best form of protection, which is why you need to know about the dangers of a public profile.
Here are the biggest concerns to look out for:
Cyberbullying – when a profile is public, people can send nasty messages either as direct comments or private messages.

Inappropriate suggestions – these could range from sexualised suggestions to encouragement to self-harm.

Adult content – people could send content (or links to content) that you do not want your teen gaining access to.

Grooming – predators are aware of TikTok's demographic, and will look to capitalize by targeting public profiles.

Bribing – other users may send threats of releasing privately shared videos, and demand money or favors to stop it.
While all of these issues are pretty serious, you can take action against them with increased privacy.
How To Make Your Profile Private
If you want your child's profile to remain private and open only to their friends, there are a number of things you can do:
Turn on the private account feature by navigating to the Privacy and Settings page from the top right list.

Restrict interactions (such as comments) on the profile by setting the Duet, React, and Send Me Messages tools to either Friends or Off.

Turn off the Allow Download tab to prevent content being unknowingly downloaded and shared.
It is worth noting, however, that the basic profile information such as the username and bio will still be visible to the public. So, you should ensure that your child avoids disclosing any personal details in these areas.
The Final Verdict
When first launched, TikTok (and musical.ly) were very open to abuse while the data protection facilities weren't great either. However, they have stepped up their game, especially with pre-teen accounts to make it a far safer platform than ever before. In truth, as long as your child isn't creating and sharing inappropriate content, the dangers are far less than on other social platforms.
As a responsible parent, your job is to teach your child about the dangers, monitor their usage, and set rules regarding privacy. Do these things, and TikTok can be enjoyed in the manner in which it is designed.
You can block TikTok app or monitor the photos and videos your child takes on their smartphone with Family Orbit.
Please note: TikTok name and logo is trademark of the TikTok Company.