If you have kids, then you will know how important it is to keep them safe and to make sure that you are always monitoring their internet connectivity. Unfortunately, this is easier said than done. Devices make it easier than ever for kids to stay connected, but at the same time, it makes it easier for them to get into trouble as well. You may never know if your child is talking to someone they shouldn't be until it's too late, and by this point, the damage has been done. If you want to stop this, then there are things that you can do to try and make sure that you monitor their texts online.
Why Should You Monitor Your Child's Texts Online?
It's so important that you monitor your child's texts online. If you don't, then you may not be able to safeguard them against some of the dangers listed below.
Text Messages from People they Don't Know
One of the main reasons why you should try and monitor your children's phones is so you know who they are texting and whether or not they are receiving any kind of inappropriate messages. Sexting is a prime example, and although you may not think that your child would take part in this willingly, peer pressure is a very powerful thing. By tracking your child's phone, you can help them to avoid situations like this by giving them the advice and protection they need.
Accessing Inappropriate Content
You can find almost any kind of information you want online. You can even access adult content. As a parent, it's important that you are aware of this, and that you adopt various measures to make sure that any inappropriate sites are blocked on the PCs that your kids have access to. Making sure that this is the case with their phone is also important as it may be that their friends are sending them inappropriate links.
Cyber Bullying
Kids nowadays are becoming victims of cyberbullying. If you want to stop this from happening to your child, then monitoring their phone is one of the best things you can do. You can step in when you see your child's mental health is being harmed and you can also help them to know what to do if they do find themselves in a situation such as this.
Predators
Unfortunately, there are people out there who have malicious intentions. They are able to utilize technology to their advantage so that they can exploit the vulnerabilities of others. As a parent, it is possible for you to protect your child by constantly checking their phone to see who they are getting messages off. You don't need to ask your child for their phone all the time either, as you can use online software to read your child's texts.
3 Ways to View Text Messages on Android Online
Do you want a quick and convenient way to view your child's messages online? If so, then you can find out everything you need to know right here.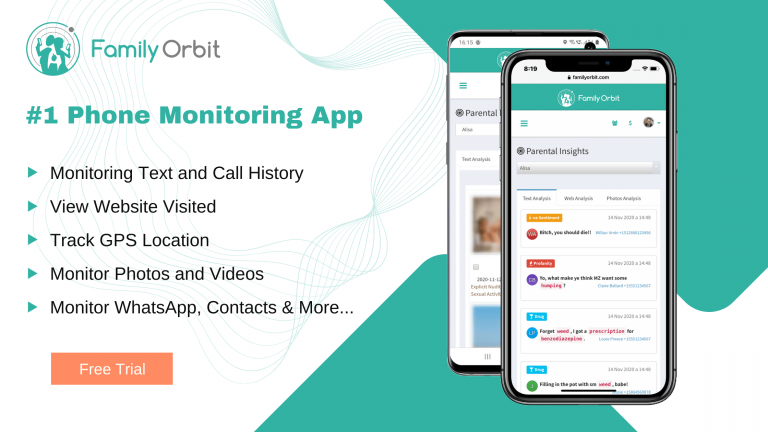 Family Orbit- an SMS Tracking App
Family Orbit is a parental app that is compatible with iOS and Android. You can monitor your child's activities with ease, and you can also view their call, website, and even text history. This gives you the chance to see what kind of content they have been viewing. The great thing about this app is that you can monitor everything while also being able to see where they are at the time, using the live map feature.
Features
This app has a number of features, some of which can be found below:
· Text and call logger
· Website activity
· Activity timeline
· Real-time alerts
· And more
Pros and Cons of Family Orbit
Family Orbit has a number of pros and cons. If you want to find out more about them, then take a look below.
Pros
· Can be used across three devices
· Comes with a free trial
· A huge range of fantastic features
· Great customer support
Cons
Some of the cons include:
· Very limited for social media
· Installation process can be confusing
· No app blocker for iOS
Cost
This app comes with a free trial. After this, you will pay $19.95 a month, or you can pay $89.95 a year.
Auto Forward Text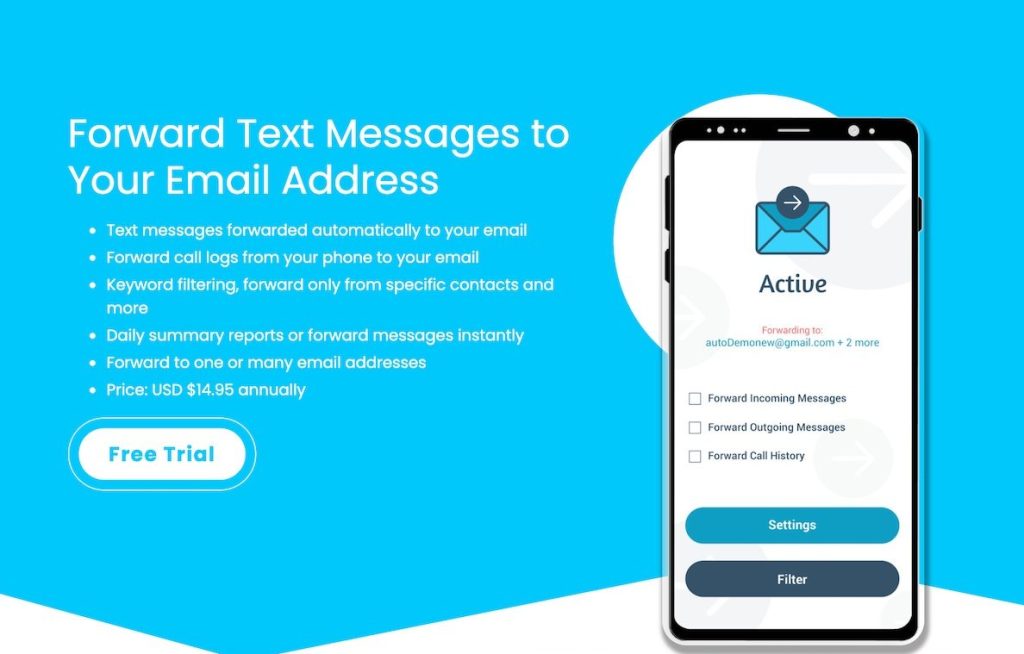 If you want to forward messages to your email address, then you will be glad to know that you can do this with ease thanks to Auto forward Text. You can forward call logs to your mobile phone, and you also have the option for keyword filtering. This means that you can forward messages from specific contacts, which is very useful, to say the least.
Features
Auto forward Text comes with some great features. If you want to know more about them then take a look below.
· Daily reports
· Forward messages to multiple emails
· Free downloads
· Keyword filtering
· Filter by contact
Pros and Cons of Auto Forward
Auto Forward Text has a number of pros and cons.
Pros
· Very easy to use with various features
· The option to forward messages to various emails
· Filtering by contact
· Very affordable
Cons
· Support team isn't great
· Limited in terms of social media
Cost
You will pay $14.95 per annum if you want to access this software.
Google Messages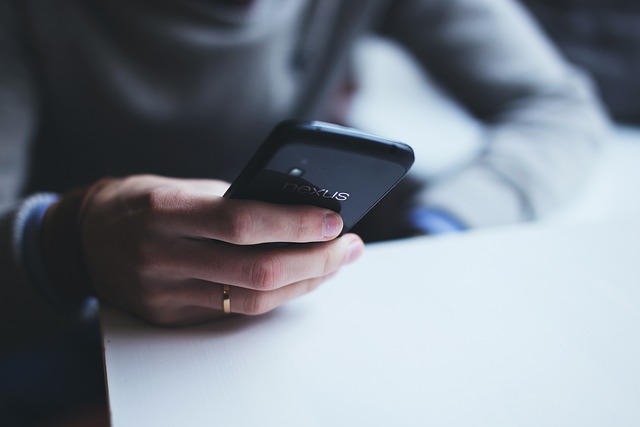 If you want to track what your kids are up to when you cannot monitor them in person, then Google Messages is a great option. One thing you need to know about this platform is that it supports all the features you may expect from a great messaging app. You have the option to text and chat from your phone and you can also do this over data and WiFi connections. You can also check messages from multiple devices, meaning you can keep an eye on what your kids are doing with ease.
How does it Work?
Google Messages supports all of the features you would want from a platform. You can also view text messages on your computer. If you want, you can even send text messages by using this device as well which is fantastic to say the least. If you want to use this platform, then you need the "Messages" app by Google. You can then set this up on your Android device.  If you have a PC that uses Chrome then you can easily view whatever you need across any device, while keeping your kids safe.
Pros and Cons of Google Messages
If you want to use this platform, you should know that there are a number of pros and cons. Some of these can be found below.
Pros
· Easy to syndicate with Google Chrome
· Check messages across various devices
· Easy to send messages online
· And more
Cons
· Not available on IOS
· Steep learning curve
· No social media support
Frequently Asked Questions about Messaging Apps
If you have any questions about using a messaging app then you will be glad to know that it is very easy for you to find out everything you need to know right here.
Can I Check my Messages Remotely?
Yes, with any of the messaging apps listed above, you will be able to check any messages you need remotely. One good thing about this is that you can feel confident knowing that you can keep an eye on your kids and their location in some instances, even when you are working away. This is a great way for you to ensure that you are giving them a high level of protection against the aforementioned threats.
Is there an App to Receive Someone Else's Texts?
Yes, there are numerous apps on the market which give you the chance to receive texts from someone else's phone. You may need to link the phone first, however, so if you are the parent of a child and you want to make sure that they are safe, then you can do this with ease.
Can I Track Calls and Messages for Free?
Yes, you can track calls and messages for free with Family Orbit. With Family Orbit, you can take advantage of a free trial so be mindful of that if you can.
Can I track a Cell Phone with a Number?
Yes, it's very easy for you to track a cell phone by using the number alone. You can find out a person's name as well as their location by using a reverse phone lookup app.
Conclusion
So, if you want to view text messages sent and received on Android, then this is very easy. Overall, Family Orbit is the best way for you to see where your kids are in real time, and you also have the option of being able to control everything you want with ease. If you want to try and make sure that you are keeping your kids safe then remember, you also have the option of tracking their activity across several devices. If you want to find out more then please feel free to send us a message today.