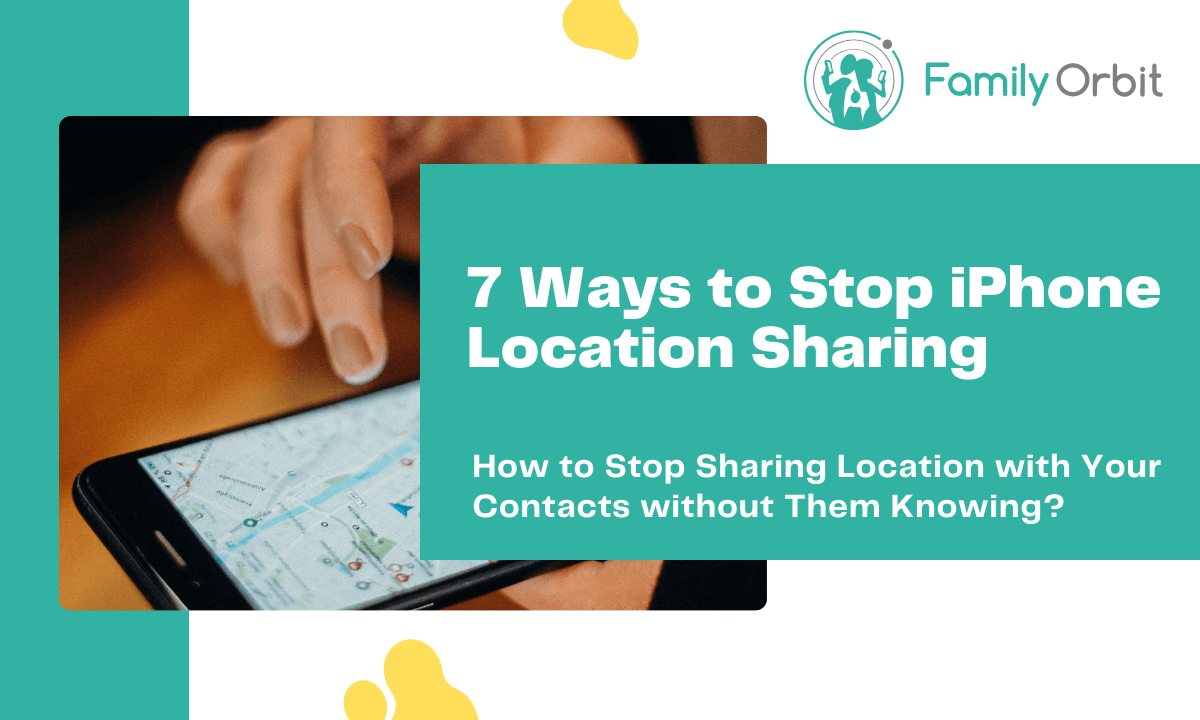 There will be times when you want to leave home without anybody noticing, whether you are running errands, going to the park, or simply driving into the country to have some alone time. You may stop sharing your location with friends and family by following a few simple steps on your iPhone. This article will show you how to stop sharing your location on iPhone without them knowing.
The iPhone constantly tracks your location, and the availability of Find My iPhone and Family Sharing means that your location is always shared with your contacts. When you stop sharing your location, a notification may be sent to your known emergency contacts, prompting them to feel uncomfortable or even suspicious. That is why you must learn how to cease sharing places without people knowing.
Here are the 7 Ways how to stop sharing locations on iPhone:
Continue reading if you choose to stop sharing your location without informing your family and friends. Turning off the "Share My Location" option on your iPhone is one method for stopping location without them knowing.
To entirely cease sharing your location with family members and friends, you must disable the Share My Location option on your iPhone. This is a quick way to stop sharing your location without them knowing. Most of the time, it's those closest to you who wish to snoop on your location. As a result, perform the following actions:
Go to your iPhone's settings app, scroll down, and you'll discover the "Privacy" option. Choose it.

After selecting the privacy setting, look for an option labeled "Location Services" and click it to proceed.

Following the selection of location services, you will see the "Share My Location" option. Tap it to activate it.

Now on the "Share my location" option, click the enable button to shut off location sharing.
Stop Sharing Your Location on "Find My" app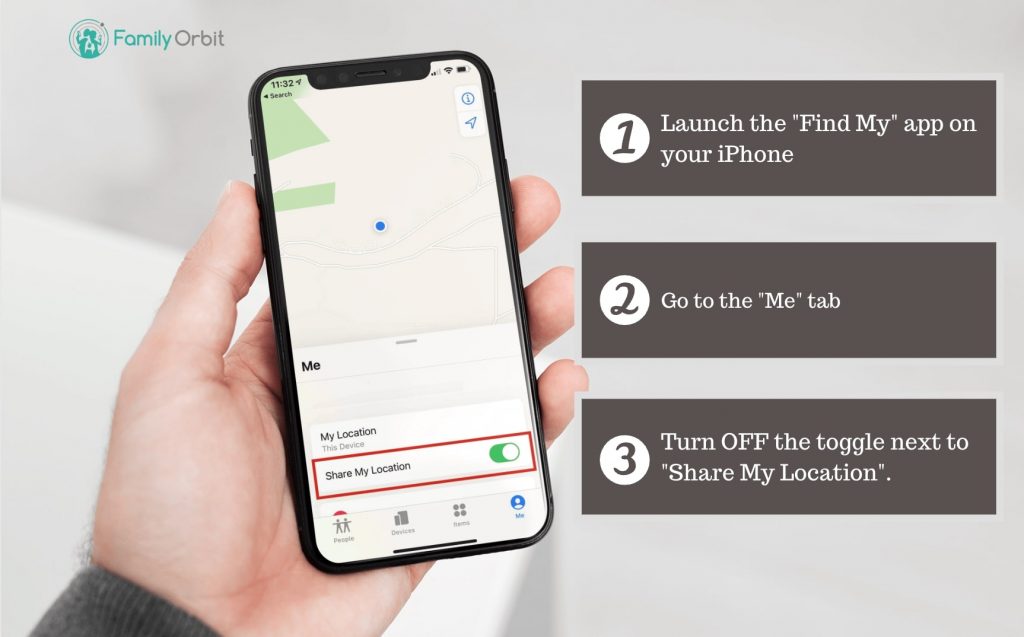 This "Find My" software is available on iOS devices for convenient location sharing between iOS devices. You can share your current location with other devices once you enable the option. This program can also be used to locate a misplaced smartphone. If you misplaced your iPhone, you can use another iOS device to locate it using the "Find My" app.
To stop sharing your location you need to : 
To begin, launch the "Find My" app from your home screen. This app is already installed on your iOS device.

When you launch the program, tap the "Me" option, which is usually situated in the bottom right corner of your screen. After you've selected "Me," you can toggle "Share My Location" off.

Furthermore, if you have numerous users on the program with whom you share your locations, you can choose to cease sharing your location with a certain member or user. You can choose the user from the list by tapping "People." An option will appear; select "Don't Share" or "Stop Sharing My Location."
Turn On Airplane Mode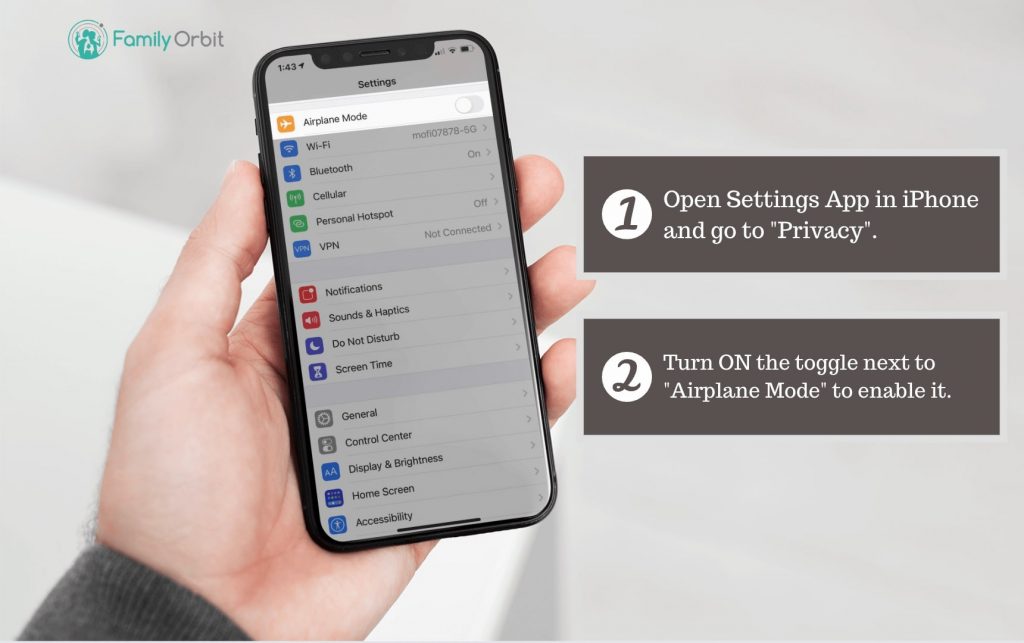 Switching your iPhone to Airplane Mode is the simplest approach to avoid sending and receiving notifications, as well as disconnecting from any devices in your vicinity. This is also one method for hiding your iPhone's position, provided that your GPS phone tracker is switched off. Your device will be silenced and no devices will be able to connect to it.
Airplane Mode is a standard function in practically all mobile cellphones, not only Apple devices. There are two methods for putting your phone into Airplane Mode.
You are able to activate Airplane Mode from the lock screen or the Home Screen. To access the Control Center, swipe down from the right side of your screen. Tap the Airplane mode icon in the upper left corner of the display. The Airplane mode is already activated when it turns orange or brighter.
Another option is to enable Airplane Mode by selecting "Settings" on your home screen. Switch the icon to the right to the Airplane Mode shown at the top of the block once it has been opened. It is then activated.
Disable Location Services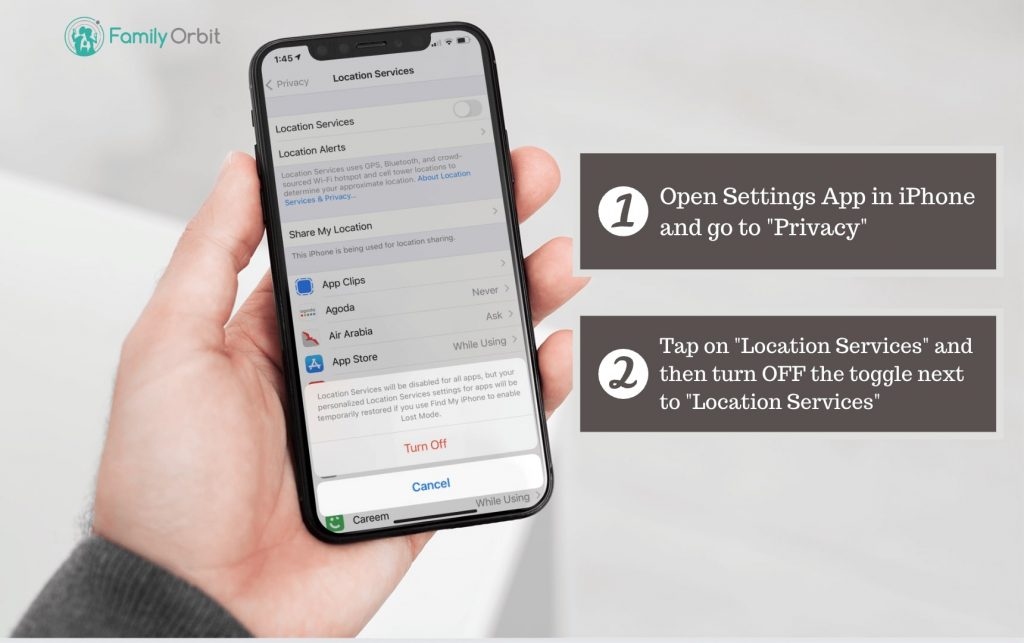 If you've gotten this far, you've already figured out how to use the location sharing feature on your iPhone. Continue to read if you chose to stop sharing your location without informing your family and friends. Turning off the "Location Services" option on your iPhone is one method for stopping location sharing without notification.
To begin, navigate to Settings and then scroll down the list. Find and tap on the Privacy feature as you scroll down.

Once in the Privacy settings, select Location Services. 

Under Location Services, press Share My Location again and then toggle left to disable sharing your location and right to enable.
Hide Precise Location and Show the Approximate Location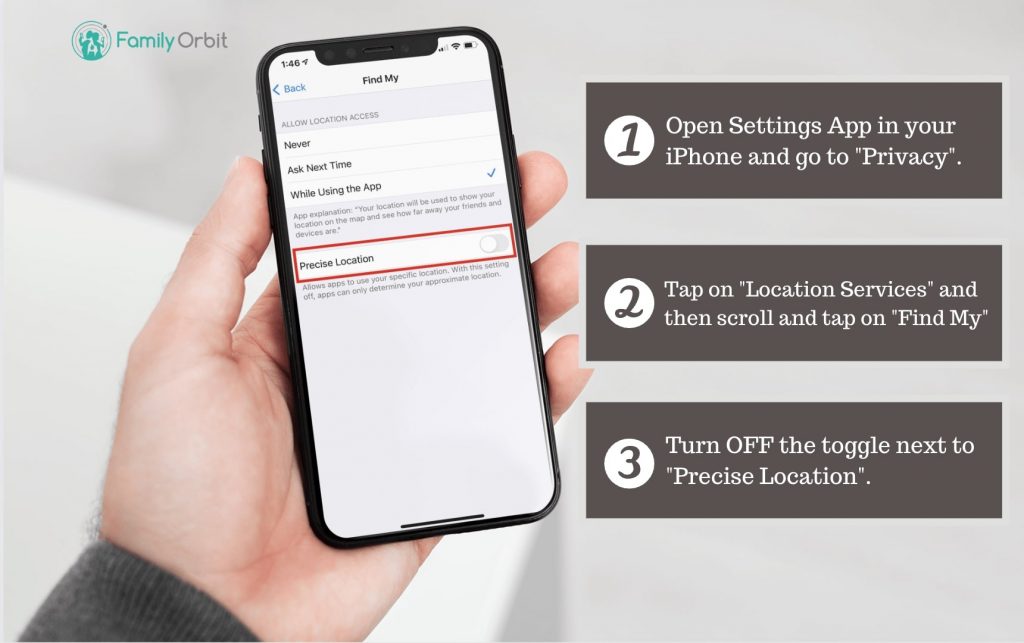 Turning off Precise Whereabouts in the Find My and Messages app will allow you to hide your iPhone location from everyone. If you don't have an additional iPhone or iPad to broadcast your location from, this is ideal. When you disable Precise Location, others will be allowed to see the city you're in but not the exact address.
For privacy, Apple implemented the Precise and Approximate location function in iOS 14. This enables apps to provide you with tailored content without knowing your exact location. For example, news apps may just need to know what city or town you're to give you relevant items. They don't need to know your exact location.
If you don't mind your friends and family knowing the city or neighborhood you're in, but want to hide location, take the following steps:
Open the Settings menu.

Choose Privacy.

Choose Location Services.

Select Find My.

Change the color of the icon next to "Precise Location" so it is no longer green.

Rep the preceding steps for the Messages app and any other apps.
When you deactivate Precise Location, your family and friends will only have a broad idea of where you are. This will hide your position between 0.5 and 12 miles away. This approach of disguising your whereabouts won't work if you're attempting to hide a trip out of town, but it will work if you're trying to hide the fact that you've left home to see a buddy in the same city
iOS devices provide useful, straightforward, and easy-to-use location functions to other iOS-powered devices. But first, you must establish and set up your iOS device's location sharing settings so that you can modify how you hide your location on iPhone devices.
First, go to your home screen and select "Settings." Turn on "Share My Location" after you've tapped your profile. To turn it on, make sure the button is flipped to the right.

You should also go through the same procedure with your other iOS device. Then, on another Apple device, use the "Find My" app. You will be able to create a label for your present location there.

You can then scroll down to see a list of users who have shared the location with you. When you tap the list, you can choose to send the location.
If All Else Fails
If you are in doubt and the above tips don't work for you, you should turn OFF your iPhone. You need to have privacy. Unfortunately, people don't always respect your wishes and can't help themselves when it comes to finding or stalking your location. 
Following the tips above you should be able to prevent yourself from being stalked and travel unfollowed. 

How does Location Sharing Work?
When you have location sharing turned ON, your location is automatically shared with family and friends in your group. Each person can choose whether they can share their location using the tips above. 
How to Keep Track of People Who Can See Your iPhone Location?
If you've given your friends or family location access, they can use the Find My app to find out where you are. Open the Find My app and select the "People" tab to discover who can track your whereabouts.
This list will include persons who have shared their location with you as well as people you are sharing your location with. A person who can see your location will be marked with the phrase "Can see your location."
If you tap on any of the people's names in the list, you'll be able to access settings that will allow you to discontinue sharing on an individual basis. 
People who can see your location may not have the "Can see your location" badge, so verify each name on the list.
Tap any name in the list to get a menu where you may turn off location sharing.
How Do I Know if Someone Stopped Sharing Their Location With Me?
If a member in your circle disabled location sharing, you'd see a notification or message below their name that said: "Location Paused." You can also go to the Find My app and look up the person's email address. If the email is missing, then they have stopped sharing their location. 
Can Someone Track Your Phone Without You Knowing on iPhone?
Yes, someone can track your iPhone with your knowledge if they have access to your Apple ID credentials through iCloud.com. It is very important that you keep your Apple ID credentials to yourself and never allow access to anyone else, especially if you want to keep your location hidden.  
Can I Track A Cell Phone With Just A Number?
Yes, it is possible to track a cell phone with just a number using Number Tracker Pro. It sends an SMS to the target phone with a special link. Once consented and tapped on the tracking link, you receive the precise location through your email. 
Can You Track a Family Member's Phone?
You can track a family member's phone using the Find My app. If you aren't an iPhone user and want to track an iPhone or other cross-platform tracking then you can easily track a family member's phone using Family Orbit. 
What is the Most Accurate Family Locator App?
If you are looking for the most accurate family locator app then Family Orbit is your best option. 
Why is Family Orbit better than Find My for Location Sharing?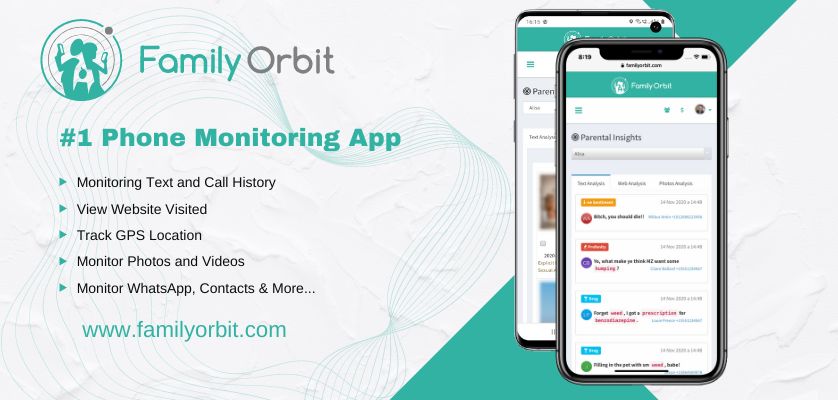 Family Orbit is a family locator and mobile phone parental control app that aims to improve on and outperform the capabilities presently available in other family locator apps. It is compatible with more devices and provides a wide range of functions that are useful for all members of the family, assisting in delivering what parents and families anticipate from the experience of using these types of apps.
If you want to read more about the Family Orbit app and learn about the features it can provide read this blog. 
Finally
In this article, we'll show you how to cease sharing your location without them knowing. You may conceal your position simply by configuring and navigating your iOS device. You can also use third-party programs to guide you through the stages of how to cease sharing your iPhone's location without them knowing. It is always a matter of personal preference. These approaches are always useful, and with so many possibilities available, you can experiment to see which ones work best for you.
It's simple to test out Family Orbit and see how it works for you. Everyone receives a free trial that they can sign up for whenever they want. This allows you to test out the app and its features to see if it's right for you and what you're searching for. Following that, Family Orbit's Premium package can be purchased on a monthly, semi-annually, or annual subscription basis.