There are several different reasons you might want to block a website on an iPhone. Perhaps you spend too much time procrastinating on certain sites and need to cut distractions, or maybe you would like to protect your children from the many dangers that lurk online by monitoring and restricting their internet use.
Thankfully, figuring out how to block websites on an iPhone doesn't have to be as difficult as you might expect, as there are many different routes that you can explore to put an end to your website woes in no time at all. If you'd like to find out more, simply read on.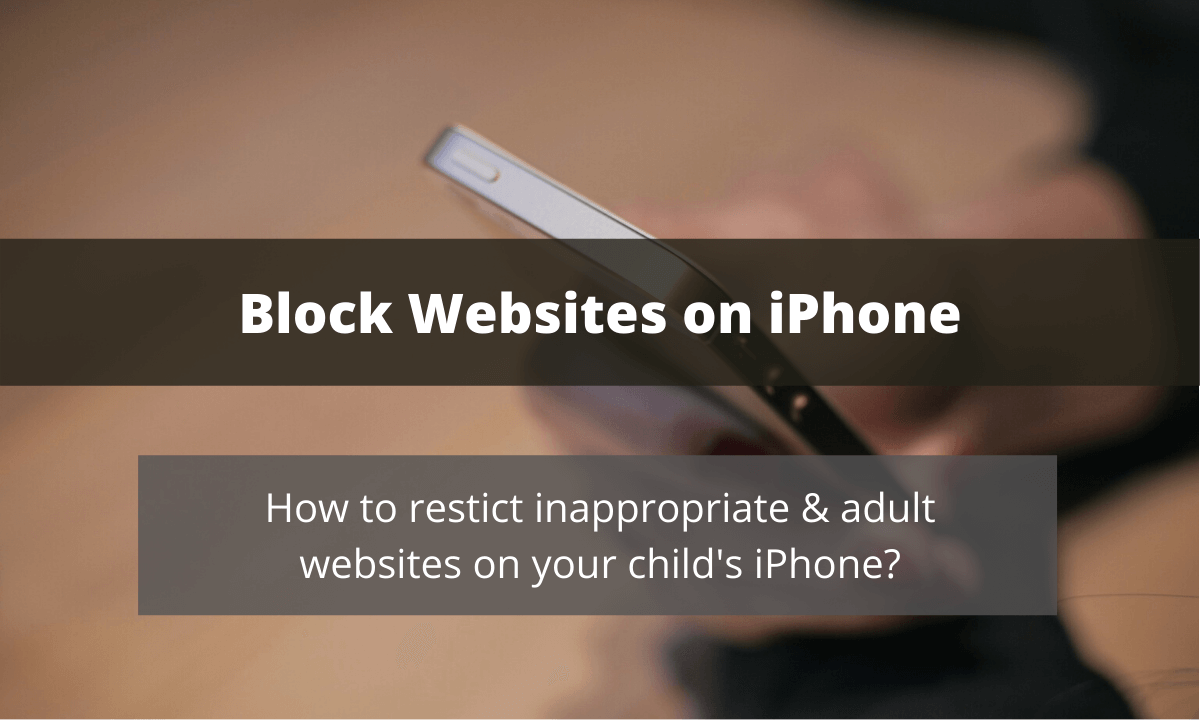 How can I Block Websites on an iPhone Using ScreenTime?
Fortunately, Apple devices boast some of the best privacy and security features which makes it easy and convenient to monitor and control all of your family's devices from just one account. You can use Screen Time to block a specific website, block spam websites, or allow the use of only a set few websites on your iPhone or iPad(s). You'll need to update to the latest operating system to benefit from Screen Time features, but once you do so it couldn't be simpler to begin benefiting. To find out how to block websites using Screen Time:
Step 1.) Open the 'Settings' application
Step 2.) Locate and tap 'Screen Time'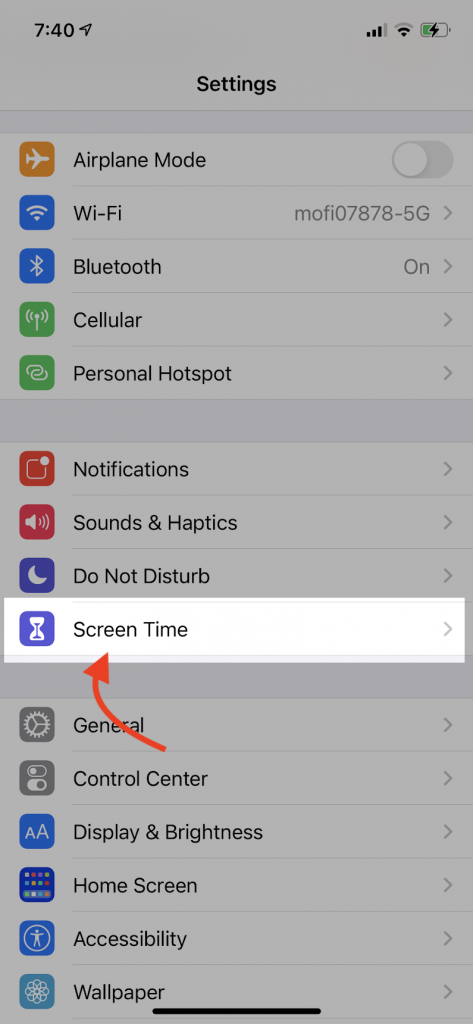 Step 3.) Tap 'Content & Privacy Restrictions', then choose 'Content Restrictions'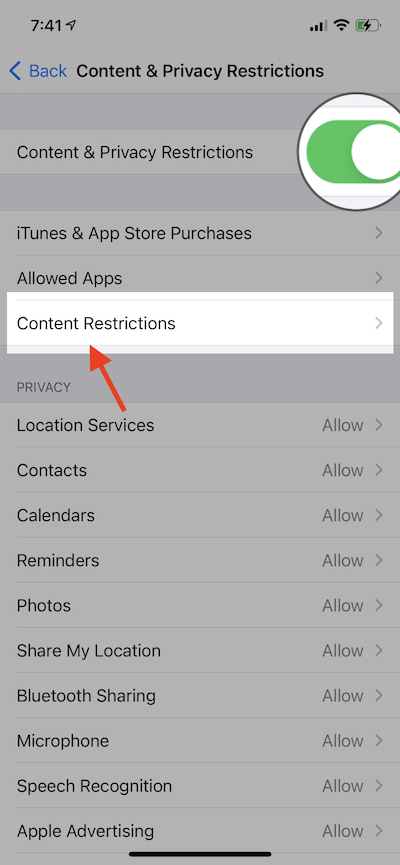 Step 4.) Tap 'Web Content', and scroll through your options.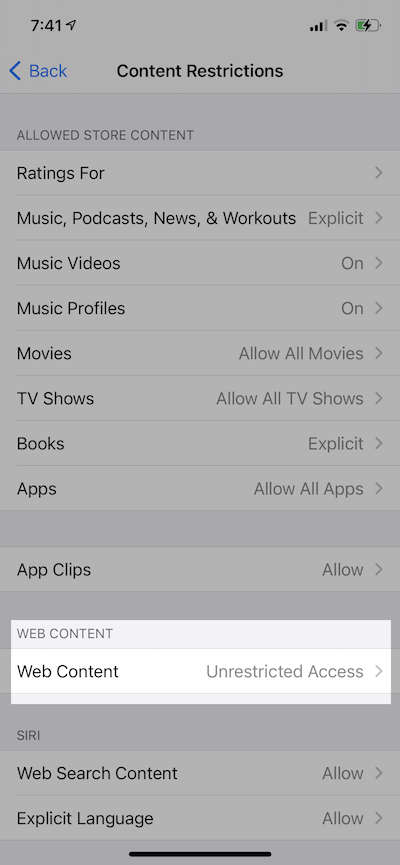 You can tap 'Limit Adult Websites' if you wish to automatically block adult websites, or you can choose to 'Never Allow' a specific website in order to block it. Add the URL of the website that you want to prevent yourself or your child from visiting under 'Never Allow'. If you want to take things one step further, you can choose to 'Always Allow' a set of specific websites that will be the only platforms the iPhone user will be able to visit.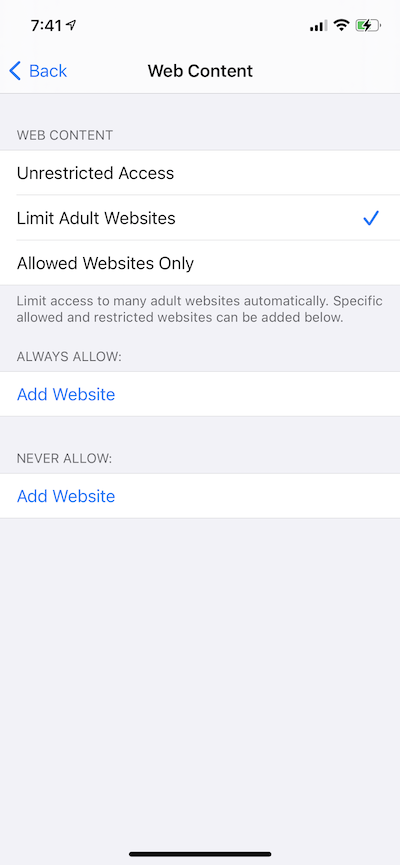 5 Best Apps to Block Websites on an iPhone without ScreenTime
KasperSky Safe Browser
Kaspersky Safe Browser has been specially designed to help safeguard smartphone users, protecting them from all manner of mobile threats whilst offering a vast array of parental controls to restrict children's internet use. Family sharing allows you to install and manage security features for your children from anywhere, and remote management makes it easy for you to stay in control. You'll be able to maintain ultimate peace of mind that websites can be blocked and monitored within just a few easy clicks. 
MobiCip
MobiCip hosts its own internet filter that scans through online content to search for risks, going beyond simple URLs & keywords. You can use the platform to supervise the videos that your children watch through streaming services and even set up age-appropriate filtering to make sure they don't get access to anything they aren't supposed to see. MobiCip also allows you to restrict distracting apps and games by disabling them, and you can create your own list of blocked apps to prevent your kids from being able to install them. This internet filter is perfect for anxious parents who want their children to feel safe on the web. 
SPIN
SPIN Safe Browser is a web filter that has been designed to block adult content in order to provide a safe internet environment for children. Not only does it filter out millions of explicit websites, but it also enforces totally safe searches through major search engines like Google and Yahoo. Parents can make use of a feature called Boomerang on their child's devices, which allows them to review past website history, block certain websites and customize the content categories that they want to either allow or block. 
Kidoz
Kidoz is one of the world's fastest-growing content platforms for children, which was started by a father whose aim was to create a better way for his daughter to play safely online. Kidoz helps millions of children to find risk-free content that they enjoy which has been handpicked to ensure ultimate precision, and it features powerful parental control, a super-safe 'child-lock' environment, advert & in-app purchase blockers, download controls and so much more. Blocking a website couldn't be simpler with Kidoz.
NetSpark Browser
Netspark's filtering is a content filtering tool that is focused on enabling access to safe content, rather than simply blocking that which poses a risk. It uses unique algorithms and machine learning engines in unison in an attempt to better understand web content and the value it offers our users before filtering out any inappropriate elements. Netspark offers a whole new approach to internet safety.
How can I Keep an Eye on the Websites that have been Visited on an iPhone?
With Screen Time, you can keep an eye on which apps have been used on an iPhone. However, you cannot use Screen Time to view the list of websites visited on the iPhone. If you want to find an application that allows you to take control over the websites that your little ones can visit without all of the faff, FamilyOrbit is the right choice for you.

You can maintain ultimate peace of mind by monitoring your child's activities whilst putting additional provisions in place to halt access to unsuitable content. FamilyOrbit also uses machine learning to better understand your child's behavior online, taking unique steps to protect them from browsing unsafe websites or adult content. Click here to sign up for a free trial. Use the coupon code FAMBIT25 to gain 25% off the subscription cost today!
Related: