Are you worried about what your child gets up to when you're not looking? Maybe they have quite a few friends and you're concerned they've fallen in with a bad crowd? Maybe you're just wondering what they get up to online, seeing as they spend so much time on their phone? 
All of these questions plague parents like you on a day-to-day basis, especially as your child gets older and wants to do more without you. But before you tear your hair out trying to figure out what your son or daughter is up to, it's possible to track your child's phone via the use of an app, and it's the best way to guarantee you peace of mind as a parent.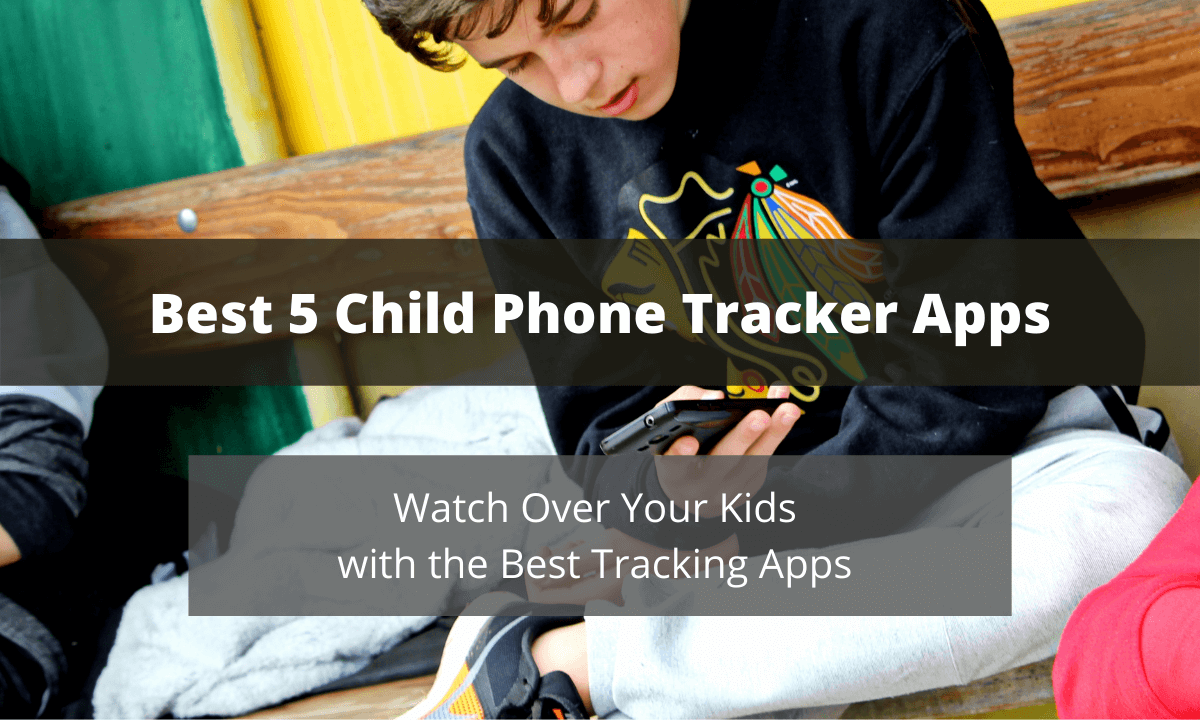 Why Track Your Child's Phone?
Of course, it can feel a bit weird to track your child's activity, but you're just trying to protect them. You want them to be safe, and you want to do your job as their Mom or Dad, and there are many different benefits to tracking your child's phone. 
Keep an Eye on Their Location
Most of all, a phone tracker on your child's mobile device will let you know where they are and how long they've been there. This is good for many reasons, such as if they walk home from school and you live in a dangerous area. You can also keep up with who they're hanging out with, and you'll be able to keep track of them if they break curfew or sneak out when they're grounded. 
Protect Them From Online Content
Most phone trackers keep a record of what sites your child has been visiting online, and if you notice any website you're not sure about, or you know for a fact has malicious or inappropriate content on, you can block your child from accessing them again. You can then sit them down and talk with them about what they've been doing online, and that they can always come to you if they see something upsetting. 
Find a Lost Phone
Last but not least, and as the simplest reason to track your child's phone, you'll be able to go out and get it if the device has been lost, dropped, or stolen. Kids lose things all the time, and both friends and bullies might find it funny to grab a phone out of your child's hand. But with a tracker app on, you'll be able to find the phone again in a matter of minutes. 
And with all of those benefits out of the way, it's time to get down to our top 5 rankings of the best child phone tracker apps to help you watch over your kids. Here's our countdown, starting from the top: 
Family Orbit 
Family Orbit is a tracking app available on iOS and Android devices and can be downloaded for past and current software patches. Available for free for the first 7 days, you can then pay $19.95 a month to use this app, or $89.95 a year. 
Offering both monitoring solutions and parental controls, Family Orbit allows you to monitor multiple devices with just one account. Whether your child has two portable devices, or you've got 2 kids to keep track of, your account can manage it all. If you and your children have a different OS, it can be used Cross-Platform, and any detected activity stays private between you and the devices you're monitoring.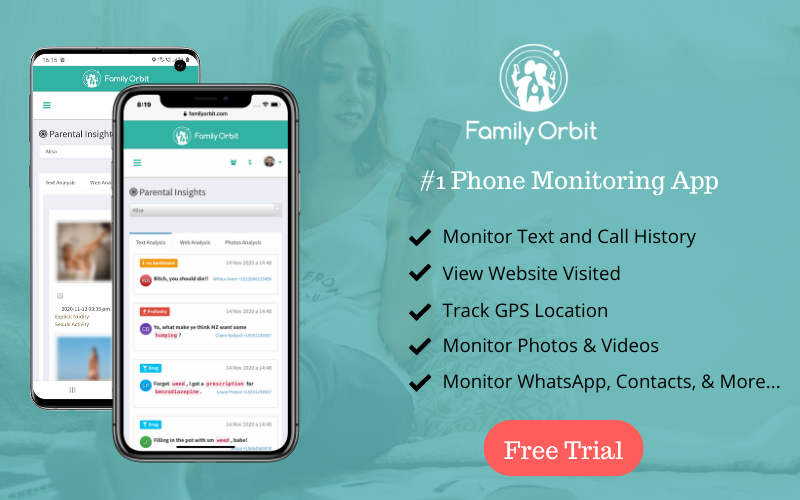 Indeed, many parents love the ease of use of Family Orbit, and the majority of them appreciate the call and message tracker features unique to the Family Orbit app.
TeenOrbit 
Available on iOS devices with iCloud, but not as the same app on Android devices, TeenOrbit allows you a deep and comprehensive look into your child's activity via their phone. Very simple to use, with an aesthetic UI layout, you won't find this a hard app to download and get started with. 
You can use your child's Apple ID details to check in with their mobile devices, and then keep track of their messages, photos, contacts, visited websites, and their current location. You can manage all of these from your 'Dashboard', acting as a portal into your child's world. This is kept up to date at all times and refreshes in real-time.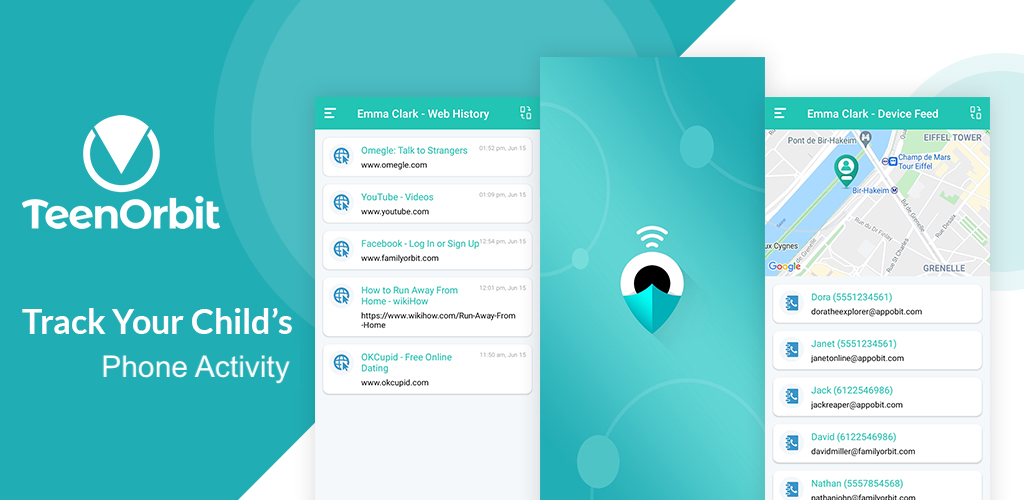 TeenOrbit is a great app for keeping track of your child in real-time if they're out with their friends a lot of the time. However, it can sometimes be slow to respond, based on multiple user reviews. 
The app runs a mandatory free trial period before charging you $19.99 a month for the privilege. However, this subscription can be turned off at any time and can be managed via Apple's Subscription tab in your phone's settings. 
mTracker for Android
mTracker is only available on Android and can be downloaded as an app on Google Play. A free-to-use app, mTracker allows you to track a person's real-time location and was made with businesses in mind. However, it can also be used as a tracker to keep an eye on where your child is and could be used as a way to monitor your child when running errands for you, thanks to the 'Pending Jobs' feature.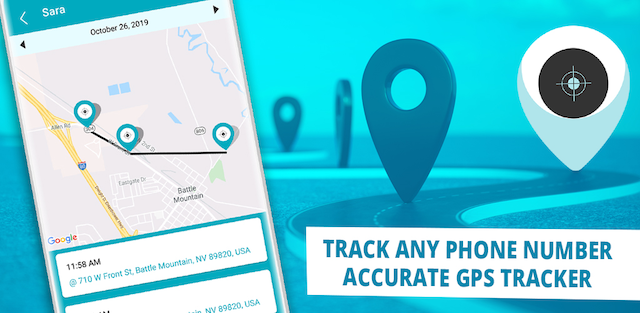 Alongside the above feature, you can also use this app to compile a full profile on your child's usual outdoor habits. However, you won't be able to use mTracker to keep a deeper eye on your child's texting and calling, and what website they'll use. This is simply a physical location app for when your child is out and about without you. 
Now, this could be a major con in our books, as we want to know how to keep our children safe at all levels. But if your child is older, and you have a real bond of trust with them, and they've had internet dangers explained to them multiple times in the past, this could be a good middle ground to simply know more about what they get up to. 
Bark.us
Available on both Android and iOS platforms, Bark.us is a very popular child phone tracker app, with over 5.6 million downloads since its first launch. Their Premium service costs $99 a year, and their Bark Jr program is priced at $49 annually. 
Bark.us allows parents to monitor, detect, alert, and manage their child's activity. You can connect to over 30 platforms to track messages, receive instant notifications when risk is detected, use alerts to help talk to your child about potential dangers, and prevent your child from accessing harmful websites, games, and apps.
Bark.us users report great features, and stellar customer service, with notes of dedicated Bark team members taking their time to answer all questions sent their way. Some parents, however, have found the app quite hard to use on certain platforms – iOS users often report that not all monitored websites and apps ping back when there is a problem.
Number Tracker Pro for Reverse Phone Lookup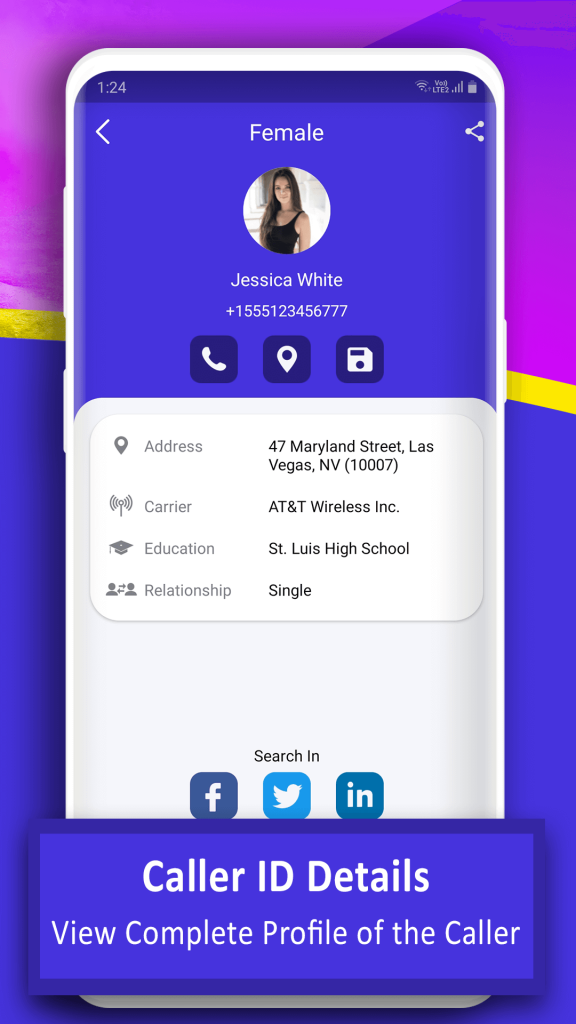 A 'geolocation' app, this service allows you to look up a phone number after it has called your child's phone. You'll be able to see where they live, who they know, where they work, and screen your child's calls in a much safer manner. 
Number Tracker Pro is available on both Android and iOS platforms, and their website can be found right here: www.numbertrackerpro.com. If you're curious about what they offer, be sure to give this a look through and see how versatile this app can be. 
Users often report that the app is very fast in finding and locating numbers. However, Number Tracker Pro has few 5-star reviews on the App Store and Google Play Store, and many users report not finding any relevant information about callers via the app's result page. 
Concerning the cost, Number Tracker Pro is a completely free application to sign up for and download. However, they do offer In-app Purchases in the form of 'Credits'. These must be used to search for any phone numbers within the app, to return any information on where the call is coming from and who makes it. Despite the claims of a 'subscription free' model, this isn't free to use the app. 
What Child Phone Tracker App is Best for Your Needs?
Based on the ranking above, Family Orbit is the best tracker to download if you wish to keep an eye on your child. Easy to use, and packing the largest amount of useful features, it's a good way to give yourself peace of mind as your child grows and explores the world on their own. You can use it monthly, say if you're on a vacation, but yearly use is very beneficial too. And if you like what you see, the yearly subscription fee will save you nearly $150 if you use it for a whole year!