Did you know that more than 300,000 cases of missing children have been reported to the FBI per year since 2018?
What if your child became one of those statistics?
Even if nothing too worrisome happened to your child, and they had just run away after an argument, wouldn't it give you peace of mind to at least know where they went? That's where GPS phone trackers can come in handy. Read on to find out more about how a tracking app like Family Orbit can help to keep your family safe.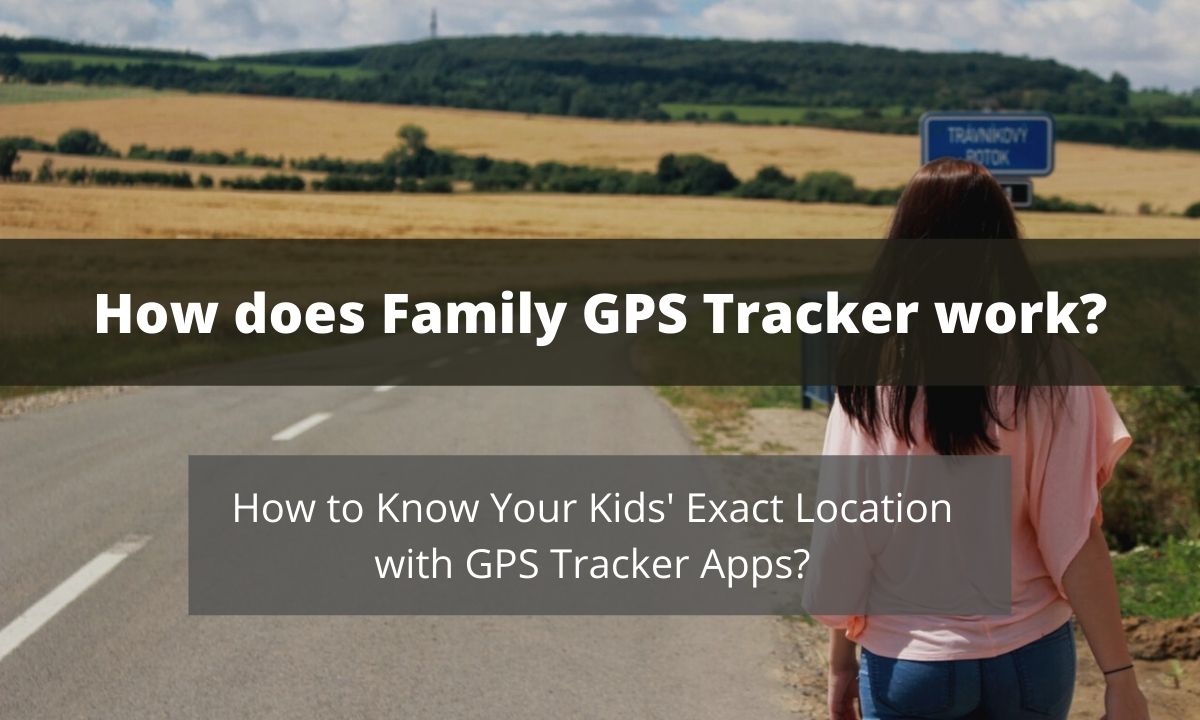 Tracking Kid's GPS and Mobile Activity Without Dedicated Apps
There are some apps built into phones that allow for tracking. While these can work, they are not cross-platform, can easily be turned off by the user, or cannot be accessed by other devices at times. They also don't offer the additional benefits that dedicated software may include:
Google Maps
According to official statistics launched by Google, around 154.4 million users around the globe use Google Maps for getting direction in everyday life. These statistics make Google Maps a perfect site for GPS tracker integration. Google uses location sharing, allowing kids to share their location with only their parents. You could also install a GPS car tracker (like a Garmin GPS) for your car to track its location history with Google Maps.
Apple Find My
Apple uses this software to track missing devices if more than one device has the same login info used. This can be great for kids that are signed into their iOS device under their parent's credentials. You can also set up "find my family", which allows you to track the location of a family member's device too. But, it still suffers from possibly being turned off by a disgruntled loved one.
Cellular Data Location
You can also track a user's location through cellular data activity. You can do this by using some specific software and applications. This method is also usually how law enforcement checks on missing person cases.
Using Dedicated Apps To Track GPS
Often, the best option for tracking is with a third-party app. These apps are more discreet if they have to be for stubborn teenagers and offer much more in terms of other types of mobile tracking (which we will also discuss), all in one neat little package. Using the Family Orbit application is the ultimate mode of tracking all sorts of mobile-based activities of your children, or among family members. The application is also integrated with a GPS tracker, which provides near real-time details of an individual.
Tracking Your Child's Location Safely
Worried your child might just turn a tracker off? That's a valid thought to have in mind.
Fortunately, there are indeed ways out there that will help you track the GPS and mobile activity without them noticing. This can be helpful when keeping an eye on teens and young children who don't take in the complete picture of the world.
Many tracking apps don't show that they are actively tracking and can be placed on devices before they're even given to the child in the first place.
Always On
Another benefit of using a third-party app is that it can be configured to always be on. Other methods would require your child to turn the tracker on themselves to ping their location.
Internet Tracking
A GPS tracker for kids often comes with an internet monitor as well.
We understand that you are the progressive kind of parents who think that their children must be given the independence to experience things on their own.
But we are talking about the internet here, guys. One wrong click is enough to make an everlasting impact on your child's mind.
Reasons to Track Your Child's Phone
Prevent Cyberbullying
Unfortunately, cyberbullying is increasing rapidly in today's world. Bullies love to taunt gentle souls through cyber pathways and platforms. An inclusive tracking suite will help you stay on top of any potential cyberbullying threats.
Address Health Concerns
If someone in your family has some kind of medical condition where constant monitoring is a must, getting a GPS tracker for a car or a GPS tracker for kids is one of the best options you can go with. This will allow you to monitor the person's real-time location and deliver immediate help in an emergency.
Keep an Eye on Stalkers
If you have daughters back at home, you'll understand the fear of unwanted attention from older men. A wise saying states that it is always better to nip the problem in the bud, and getting an early indication from a tracking app can help.
Adult Content Monitoring
This issue, in particular, is a real nuisance for parents around the globe. Many tracking apps come with an adult filter.
Yet, there's no failproof way of filtering adult content from the internet. The best way in this situation is to track the web content-based activity of your children and disable such activities manually for future prevention.
Features Included in the Family Orbit Suite
If you were looking for a GPS tracker for children or an app that offers an exceptional level of monitoring features for mobile devices, Family Orbit is the best option.
The application is completely compatible with Android and iOS-based mobile devices, offering similar features on both platforms. Here's a list of some fantastic features you will be enjoying using in Family Orbit: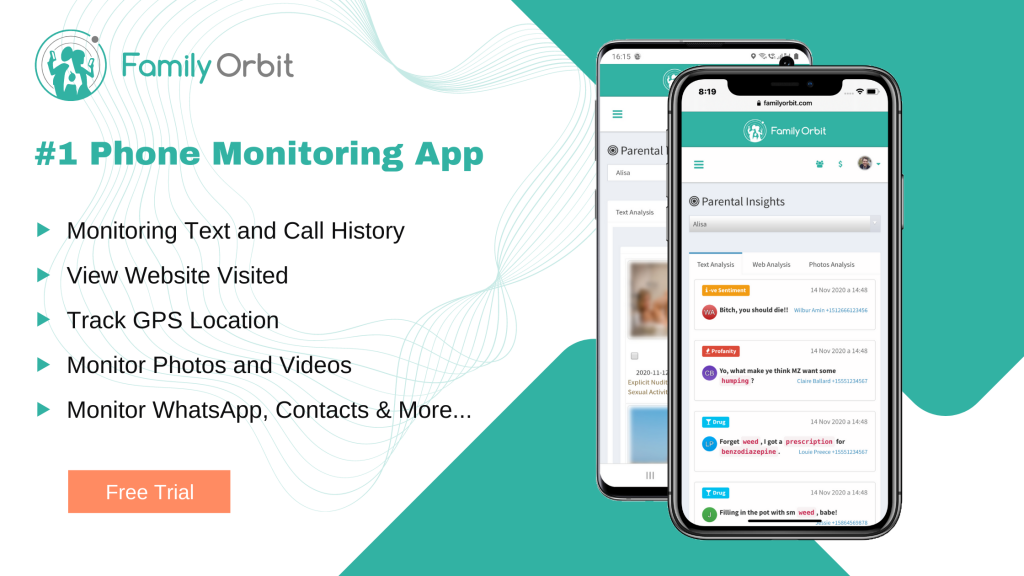 Family Location Locator
Once the family location locator is on, you don't need to worry at all about the location of a loved one. The powerful GPS tracker integrated within the setup will provide you with real-time data.
Call/Message Tracker
This is the perfect addition to a child's phone. As a parent, you will be getting a complete list of call and message details, including the sensitive content, and complete incoming and outgoing call-related data.
Observing Captured Photos
According to recent, verified statistics, capturing photos without one's consent or capturing pictures that can fall under the explicit category is the major cause of children getting into serious trouble in school. But with Family Orbit, you can finally keep an eye on the captured pictures as well.
Web History Monitoring
As a parent, you already know where your children will get the maximum exposure to content that will not suit their age limit. Yes, we are talking about the internet and how you can practically monitor every bit of the web history using Family Orbit.
Geofencing and Speeding Alerts
If you know someone who frequently causes trouble with the law, this feature will be a real treasure for you. The GPS tracker automatically alerts once the respective crosses a certain speed limit or area.
Installed Apps Record
Things are moving way faster than most of us would like. For instance, there are settings included in the mobile devices that allow your children to hide specific applications from their home screens. These apps will not be shown if you don't put a certain password.
But with Family Orbit, you will get a complete record of installed apps.
Website Filtering
Most Family Orbit alike applications will only offer you features that will help you get an idea of what your children are watching on the web. But Family Orbit even allows you to filter any content that you think is not suitable for your children to view yet.
Email Reporting
Even with a super powerful integrated GPS tracker, Family Orbit is quite focused on ensuring that the authorized personally knows every detail about the person under observation. For this, you will be getting regular email alerts.
Web Control Panel
You can practically control the complete web working dynamics of the mobile device in question through the web control panel. The web control panel allows you to manually filter and track activity, or even get a detailed report about the time your children are spending on the internet.
Regular Updates
If you ask us about the one feature that makes Family Orbit a complete rockstar, it will be its ability to offer updates quite regularly. The application is quite strict in its rules and regulations, and its duty to update mobile device activity daily or weekly.
App Locker
As discussed earlier, the newer mobile devices are known for adding additional features in the name of privacy that can help your children hide data within certain apps. But with the Family Orbit suite and authorized access, you can bypass the app locker dynamics in case of an emergency. This feature, however, is not available for iOS devices.
Data Usage Monitoring
You might be surprised, but Family Orbit allows the authorized user to access data usage. The data usage monitoring feature even works with the GPS tracker.
Yes, you can get this data from the mobile data service provider. But Family Orbit offers a complete report in just one click.
Move Forward with Tracking Software
Technology has indeed changed the way we used to spend our time. As much as we hate to admit it, life without a mobile phone is practically not possible today. You need a mobile phone to stay connected to the world.
With the rise in the number of mobile sets around the globe, the cases of negative impacts and outcomes of mobile phones have also increased.
Unfortunately, most of these cases are linked to children having a muddy idea about what is right and wrong.
A GPS tracker with a complete tracking suite like Family Orbit can help to keep your kids safe online and in the outside world. Start a free trial today!