The little pocket rockets we have in our well, pockets, are capable of so many amazing things. We can find our exact location in the world, right down to the coordinates and decimal points. We can consume news from anywhere in the world about any country in the world. We are almost limitless when we have a smartphone in our hands. That's a good and bad thing in parents' eyes. Children can search for things that would be harmful to their psyche and how they view the world. It can lead to coming into contact with complete strangers who don't have their best interests in mind. 
What is Cell Phone Parental Control Apps?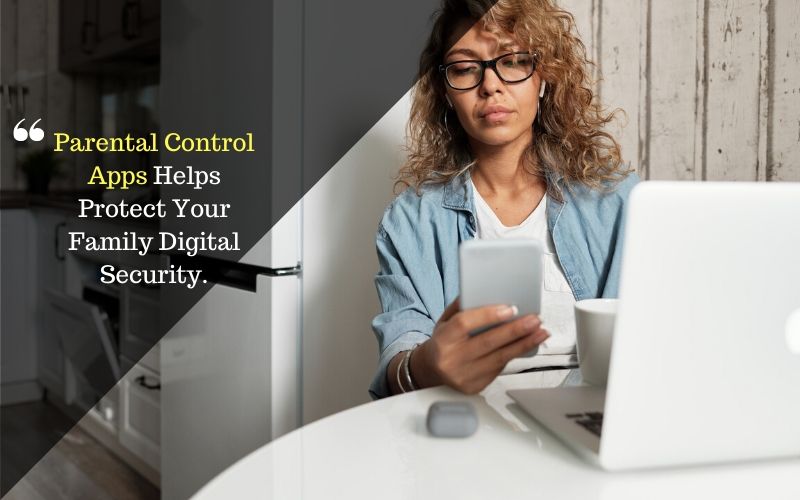 Cell phone parental control apps are designed to give the adult control of their child's phone, in a bid to limit what they can search for and what kind of websites they can visit. In short, you put a padlock over some features of the phone and also restrict some features of certain apps. Children may be getting up to things that they know would get them into trouble with you, so they may try to hide things from you. With parental control apps, you can access text messages, see phone records for who they called or received calls from, take a look at their gallery to see what photos they have taken, and a whole raft of other things.
When to Use Cell Phone Parental Control Apps? 
When should you be using such apps? Well, it's a difficult question because children are smart enough to understand the concept of trust. They may feel as if you don't trust them with their own smartphone and consequently, feel as if you're spying on them and invading their privacy. However, in this day and age, parents should be sitting their children down and explaining the dangers that are lurking all around them. It's important to explain to them that cybercrime and hackers pose a very real threat to their privacy.
Children are especially at threat as child predators often use smartphone communication to get closer to their intended victims. There are also financial predators out there that will prey on weaker smartphone users who are not as prudent when it comes to security. Most parents will have this talk with their kids but also, make parental control apps a mandatory obligation if they are to give their child a smartphone. It's a balanced trade-off and generally will not meet much opposition from your children.
5 Best Features of Cell Phone Parental Control Apps
Monitor Text & Call History

Children have their own group of friends and they get up to the usual stuff of talking about shows they like, video games they play, and general things about school. However, there are also moments when children are led astray by other kids that are up to no good. You can and should use cell phone parental control apps which allow you to monitor their text message and call history. This will allow you to see who they're talking to, what subject matter, and stop them from being with the wrong crowd.
Monitor Web searches & Social Media 

Children are under a lot of social pressure these days. It may not seem like it, but a smartphone can be one of the causes of social anxiety and peer pressure. Silly 'challenges' like eating, washing up tablets, and 'planking' on dangerous structures such as balconies are just a few of the past trends that were big on social media among the younger generation. With parental controls, you will be able to monitor your child's web searches and social media. You'll see what they have been curious about and what kind of things they're posting for their friends and the whole world to see.
Track GPS Location 
Perhaps most importantly, you will be able to track their GPS location, so you know exactly where they are at all times. This is helpful for when you think they are trying to skip school, if they're really over at their friend's house or out roaming the streets, etc. 
Block Apps & Website
You obviously don't want your child to be able to use certain apps such as adult content. Adult content websites and apps can be blocked by parental control apps. No matter what your child does, they will not be able to access any such content as long as you have been specific with the placing of restrictions.
Limit Screen Time
Smartphones are one of the items many children and adults take to bed with them. It has been clearly noted and studied, that children are more likely to become addicted to phone usage than adults. This is why limiting screen time is such a useful feature of parental control apps.
7 Best Parental Control Apps
Family Orbit
Parental control apps should not be more complex than they need to be. Family Orbit strikes a great balance between intricate features and ease of use. This is an app that parents should use to monitor their child's smartphone habits. It's also an app that should be utilized to protect them from bullying, harassment, and cyberstalking. You have access to phone records as well as Whatsapp messages. Many times children will use apps instead of the phone's in-built features to text and send photos or videos, but Family Orbit will find these apps so there's no stone left unturned.
PhoneSheriff
PhoneSheriff takes a stiffer approach which is what some parents feel they need for their children. You can choose to block specific numbers, which you may want to do if there's one friend that is having a negative influence on your child. The phone will also become locked at a time of your choosing. This is excellent for when you want your children to stop using their phones when it's bedtime.
Kaspersky Safe Kids 
There are many cell phone parental control apps that offer you the option to block harmful websites. However, Kaspersky Safe Kids allows you to also block certain YouTube searches. This is often left unchecked by parents but there are videos on YouTube about sex, alcohol, drugs, and other adult content. This app also reports to you on your child's Facebook activity, such as things they're posting to the public and new friends they've added. As a unique feature, it also shares helpful tips from child psychologists so you gain a better understanding of how your child may be thinking when using their mobile.
McAfee Safe Family
As you would expect from a large brand like McAfee, it's parental control app has all the common features. However, it also sends you personal updates on what's going on with your child. If your child has their GPS tracking mode on, the McAfee Safe Family app will tell you what locations they have visited. Just set the location and when your child arrives, the app will pair the two coordinates and let you know what time they arrived at school or their grandmother's house. If you don't want to do a lot of manual checking, receiving the automatic geofence updates is most reassuring.
Verizon Smart Family
When deciding on what kind of parental control app to get for your child, it's easy to come to the false conclusion, that they're all the same. Look a little closer and you'll find that many apps have features that you may not find anywhere else. The Verizon Smart Family gives you all the typical features such as GPS location tracking, screen on-time, and blocking of websites and apps. However, it also allows you to place a pause on the internet access your child's phone receives. This is great for children who can't stop browsing while in class or can be used as a punishment for chores that are yet to be done.
Google Family Link
Limiting screen time is one thing, but what if you could see exactly what apps were active and for how long your child used them? That's what Google Family Link provides in the form of an activity report. This presents a linear line of phone usage in which parents can study quickly to see if their child has been doing something they shouldn't. They will also be recommended apps from their teachers which is great for helping them learn.
Apple ScreenTime
If you have an Apple product or live in a purely Apple-product household, you will want to get Apple ScreenTime. No matter what platform you're on, be it a smartphone, tablet, or Mac desktop, you can monitor each and every app your child uses. You get a detailed report of how long an app was used for and how frequently as well. It just makes sense to add this to your already fluid Apple ecosystem.
Out of these top seven cell phone parental control apps, only Family Orbit ticks all the boxes. It's the most varied in features, has the most user-friendly design, and penetrates deeper into the device for broader protection. To use the service, you'll need a monthly subscription which is the most modern way to go. You're not tied down by a contract and you can cancel anytime. The app can be used across 3 devices. There is a FREE 7-Day Trial offered here. Sign up today!