Children are receiving cell phones at a younger age than ever before. In fact, research shows that the majority of parents opt to give their kids a phone between the ages of 12 and 13. However, the number of kids between the ages of 8 and 10 receiving cell phones has doubled since 2015.
A cell phone can be a great tool for kids to have. it can help them to stay connected to their parents while at extracurricular activities or at a friend's house. However, kids as young as 8 or even as old as 13 are often unaware of the dangers that lurk on the web.
Between March and April 2020 alone, instances of hate speech and bullying among teens and kids on the web increased by a whopping 70 percent. In a survey of kids in 30 countries, one in three reported having been the victim of online bullying in the past. One in five of those victims reported that they skipped school as a result of the bullying.
As a parent, if you want your child to have access to a phone, it's important to take measures to educate them and protect them against online threats. One great way to do this is with help from phone monitoring software. This software provides a variety of features that can help you control what your kids have access to, and track what they are using their phones for.
Two popular options are Bark and Family Orbit. Which is the best phone monitoring software? Keep reading as put them head-to-head.
Why You Need a Phone Monitoring Software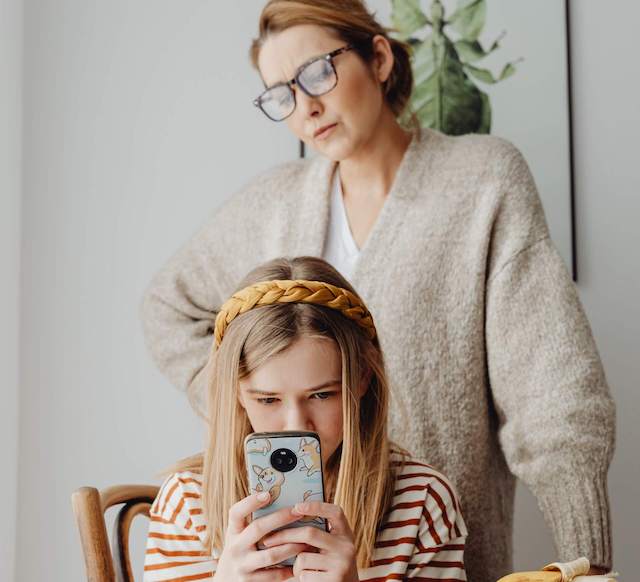 If you're a parent who often checks their child's cell phone to see what they have on it, you might think that you don't need phone monitoring software like Bark or Family Orbit. However, tech-savvy kids, tweens, and teenagers may be able to hide content that they don't want an adult to find.
There are a variety of ways that kids today are hiding their online activities. Decoy apps are available in all app stores. These apps look like regular apps you might find on a smartphone, like a calculator or an audio manager. However, when you open that app, you'll likely be prompted to enter a pin or password. After doing so, kids can then use the app to hide messages, photos, and videos, or even make covert calls. These calls, messages, and photos won't save or show up anywhere else on the phone.
Another popular way that young people are hiding their online activities is through Finstas. Instagram allows users to set their accounts to private. This prevents others from seeing the content that they are posting.
"Finstas" is the name used for fake Instagram accounts. Because you have to approve each new follower when an account is set to private, kids can keep parents out of their content, while allowing their friends or even strangers to see the content that they're posting.
Bark

Bark is a phone monitoring software available for use on iPhones, Androids, and Amazon Fire devices. Their monitoring software is designed with parents in mind and can help you see what your children are doing on their devices.
Parents can access Bark via their mobile app or on a desktop computer or laptop. The primary purpose of this family app is to allow parents to monitor the content that their kids are accessing on their cellphones, laptops, or apps. Bark has the ability to scan text messages, emails, and around 30 apps and social media platforms. The app does provide some recommendations and tips for parents from psychologists about their children's tech usage.
In addition to this primary purpose, parents can use Bark to block their kids from accessing certain websites or apps at all. Bark offers the option to set screen time limits for their kids.
While not the company's primary focus, Bark does offer some limited location services. Parents can set up the software to alert them when their child reaches a certain location, such as when they get home from school or arrive at a friend's house. They can also request a check-in from their child. This means that the child will be prompted to send their location to their parent at a certain time.
What Does Bark Cost?
Bark Premium, their standard plan option, costs $14 if billed monthly. If you choose to pay for one year in advance, you'll get a discount, bringing the total to $99.
They also offer a Bark Jr. plan. This option is super scaled back, with a fraction of the features offered in the Premium plan. Designed with younger kids in mind, for $5 per month, you'll have the ability to manage screen time, filter the websites your kids can access, and check in using location alerts.
Family Orbit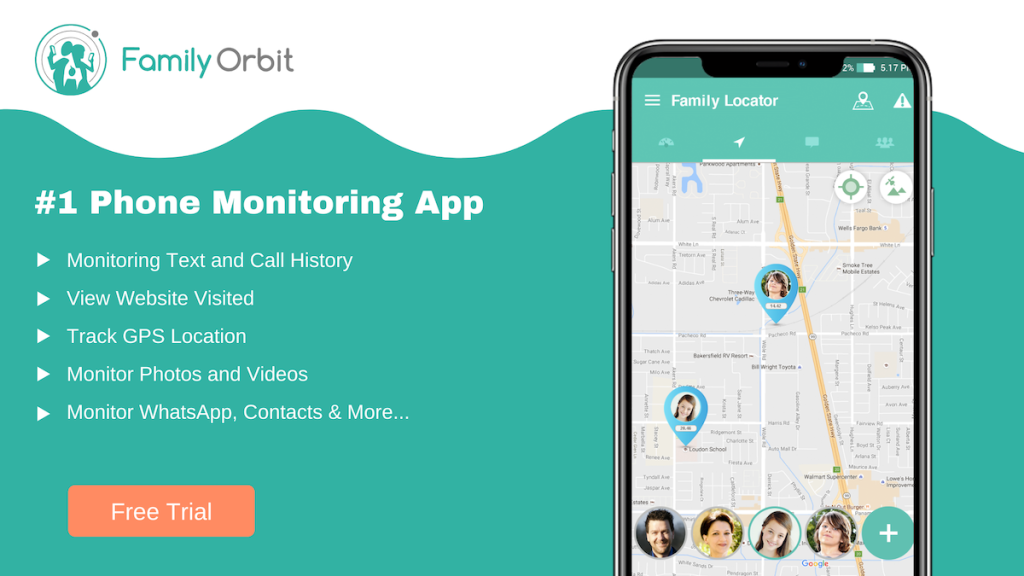 Family Orbit is another phone monitoring software. However, where Bark focuses primarily on monitoring and controlling content on children's devices, Family Orbit does the same, in addition to offering full GPS tracking and advanced, A.I.-powered insights.
Like Bark, Family Orbit allows parents to control what their kids are accessing on their devices. You can see the websites and apps that your kids have already downloaded or searched on their phones and tablets. Then, you can block any apps or content that you don't want them accessing.
Family Orbit's Parental Insights feature uses artificial intelligence to detect signs of sexting, cyberbullying, and other inappropriate content. The software scans both text and images and sends you instant alerts about inappropriate content.
The one big feature that sets Family Orbit apart is the GPS tracker. Instantly see where your child is at any time, straight from your own device. Never worry again about whether your child is where they are supposed to be, or where they say they are. This feature is a must for putting parents' minds' at ease.
Family Orbit offers an app that parents can download on their own smartphones. However, you can also access a web-based control panel. This means that you can access your child's device usage or check on them using GPS tracking from anywhere.
Another cool feature from Family Orbit is daily email reports. These offer a curated look at your child's internet and app usage, calls and messages, and any alarming details. This means that even if you aren't making it a point to check in with the app or web platform throughout the day, you'll still get an update on your child's activities.
What Does Family Orbit Cost?
If you opt to pay month-by-month, Family Orbit is slightly more than Bark, at $19.95 per month. However, in addition to the added features offered by Family Orbit, we also offer big savings when you sign up for an annual plan. For just $89.95, you'll get 12 months of protection for your children and 12 months of peace of mind for you!
With each of these plans, you can monitor up to three devices at once. If you have three kids, you can easily monitor each of their smartphones. Even with one child, this plan will allow you to monitor your child's cell phone, tablet, and laptop with just one Family Orbit subscription.
Compared to Bark's $99 annual rate, Family Orbit is the more cost-effective option.
Choosing the Best Phone Monitoring Software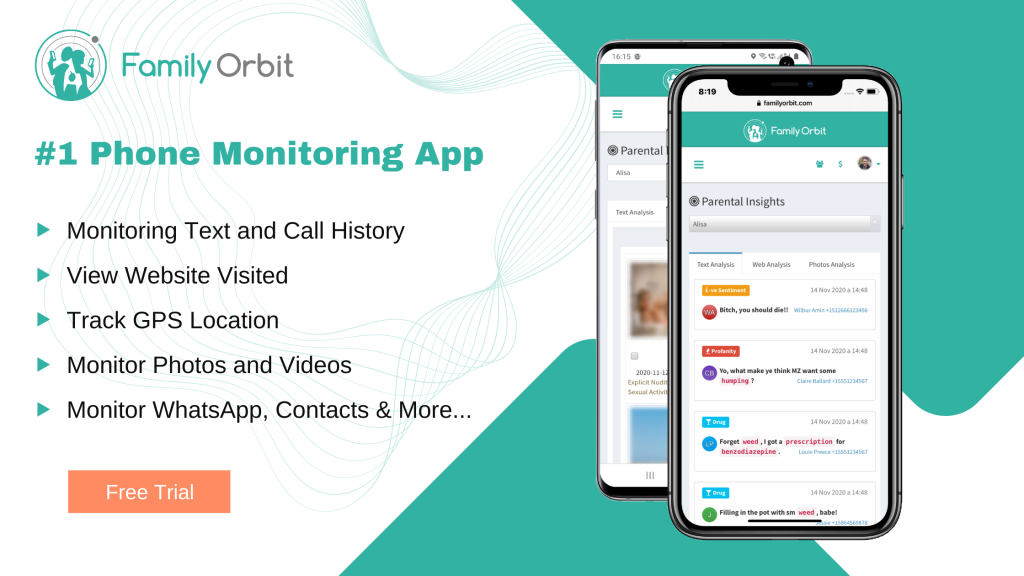 Both Bark and Family Orbit provide tools that parents can use to keep their kids safe while using their cell phones. However, with its advanced insights and GPS monitoring, as well as the discount on the annual plan, Family Orbit is the superior phone monitoring software option.
Family Orbit's GPS tracking, daily email reports, A.I.-powered monitoring, and a range of content-blocking tools make it a great resource for parents looking to protect their kids while still giving them the freedom of their own cell phone. Whether you want to check your child's web browsing history or see if they made it to their friend's house, Family Orbit can help. With just an internet connection, you can get a full picture of what your child is up to on their phone.
This phone monitoring software isn't just designed to prevent your kids from doing something they shouldn't. It's also an amazing tool for helping parents spot the early signs of cyberbullying and put a stop to it before it gets worse.
If you're still on the fence about whether you need a family app to track your children's phone usage, you're in luck. Family Orbit's free trial allows you to see how the many features work and how it can give you a better picture of your child's activities. Start your free trial today to see how it can help you keep your kids safe.