Smartphones are a Catch-22 situation for parents. On the one hand, you want your child to begin using a smartphone at some point in their development. Those little handheld devices are not going away anytime soon, and if your children don't have their device, then it's likely that they'll fall behind their peers from a technology point of view. 
Success in the modern world already depends on a person's ability to use technology, and that'll be even more true in the future. 
However, that doesn't mean that you can just give your children a cell phone without parental control and hope everything will be alright. There are, of course, negative aspects to smartphones and the internet in general. 
Not all of these negative aspects are especially malicious. Simply looking at a screen for long periods can have a detrimental impact on a child, even if what they're doing is wholesome. Smartphone addiction is on the rise among children, and it's something that all parents should keep in mind. 
Tech companies intentionally make apps and devices addictive by nature; if your child is going to enjoy "the real world" as well as the tech world, then it'll be important to put some parameters in place.
And then there's the matter of the negative aspects of cell phone usage. There's no shortage of inappropriate content online, as well as inappropriate ways to use smartphones. All parents should be keeping a watchful eye on their child's cell phone use to ensure that they're not engaging in harmful practices. 
In this blog, we'll look at the various tools and resources you have at your disposal that'll allow you to do just that. 
How to See What Someone is Doing on Their Phone with Screen Time?
Thankfully, you don't just have to guess what your children are doing on their phones or just take their word that they're telling the truth. 
The leading cell phone companies have become increasingly focused on making "tech wellness" a priority and have included features that allow people to view useful information about their smartphone use, including how much time they're spending looking at their screens and the apps/websites they're using when they're doing so.
You can do this on your cell phone, and you can do it on your child's target phone, too. All you need to do is make a few adjustments to the settings. We'll run through how to do these things on both Apple devices and Android devices.
Screen Time for iOS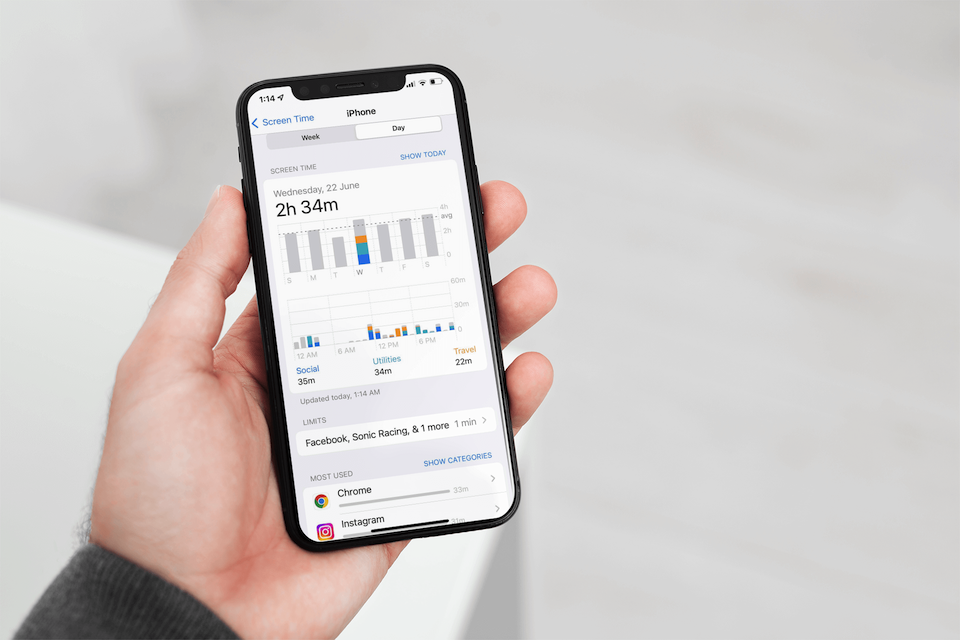 Screen Time is the iOS feature Apple included in the latest versions of their software. Once it has been turned on, you'll be able to see how much time your children are spending on websites, apps, and so forth. You can also set time limits if you like.
You'll need to activate this setting before you can use it. To do this, go to the screen time section on your child's iPhone and select 'this is my child's device.' That'll allow you to put limits on the device, such as how much time it can be used and what type of websites they can see.
You'll be able to get a general overview of how your child is using their device by looking at the screen time graphs that the phone produces. This will show you how much time they're spending on the device and how — the time will be broken down into apps, websites, and so forth.
This is, of course, a highly useful feature that all parents should be applying to their child's iPhone. However, there are some limitations. It won't show you exactly what your child is doing on their phone or give you access to some important factors, such as the conversations they're having on Whatsapp. 
But in terms of limiting the amount of time and broadly protecting their best interests, it's a highly efficient starting point. 
Digital Wellbeing App on Android Phone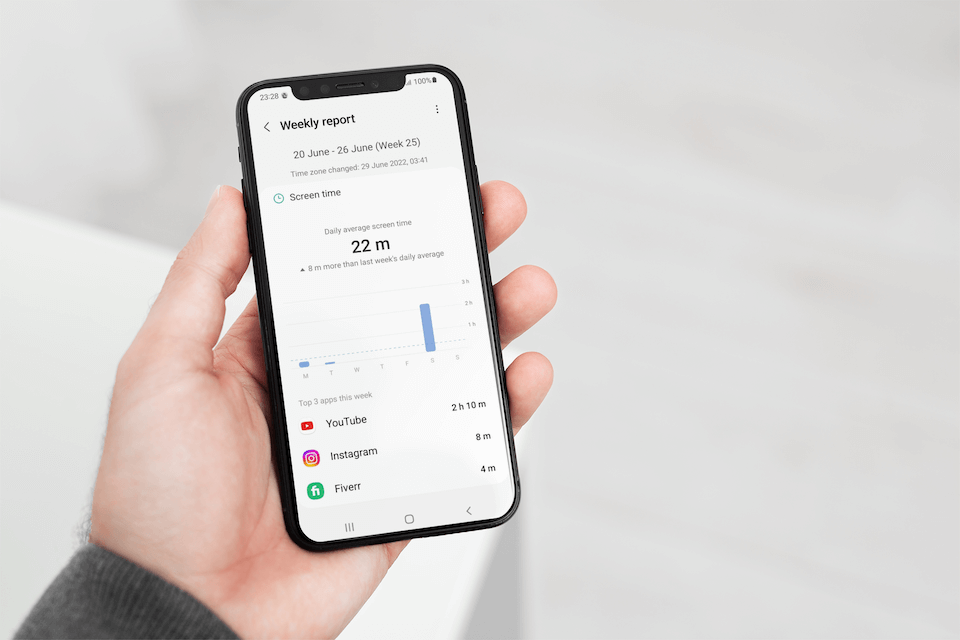 Digital Wellbeing is Android's equivalent of the Apple screen time feature. Once you've activated this feature, you'll be able to control how much time your child spends on their Android phone, select the apps that you want (or do not want) them to have on their devices, and limit the websites they can visit.
It works in much the same way as the Apple screen time feature. You can choose to lock the child's device remotely, if necessary — this is a nice touch when you want to punish them for misbehaving, among other things! If you so choose, you can set it so that you get a notification every time your child wants to download a new app or when they want to make an in-app purchase. You'll then decide whether to deny or approve the request.
As with the iOS version, the Digital Wellbeing app is a good start for controlling your child's smartphone use. But it doesn't go as far as many parents would like; it's not possible to see what exactly they're doing on their devices. 
You can only look at how they're spending their time in general terms. If you want to get an in-depth look at who they're messaging, their phone calls, and so on, then you'll need to get access to their phone. 
How to See What Someone is Doing on Their Phone Without Physical Access?
If you can get access to your child's phone, then you'll be able to see everything that they're doing on it. But the big word there is 'if.' If you've ever tried to get your children to do, well, anything that they didn't want to do, you'll understand how difficult this can be. It would be nice if they would just drop their phone in your lap whenever you asked for it, but also, that's not realistic. 
Plus, there's no denying that some trust between you and your child would be lost if you were going through their cell phone using a spy app. 
It's much better to have a solution that allows you to know what they're doing on their phone without actively accessing their device. Your child may know that you can see what they're doing, but they won't be as put out by this option as they would if you were rifling through their device. 
And in any case, if you did have to access the target device to see what they were doing, then there's no guarantee that what you would find would be a true representation of what they're doing on the device anyway. 
Your child may have a sixth sense for when you're going to look at their device, and that means they could erase anything that they don't want you to see before handing it over. 
So what can you do? There's an easy solution — you can use one of the many monitoring apps available. Once you've downloaded the monitoring app onto your device and the target device, you'll have access to a whole host of features that'll allow you to see what your child is doing on their cell phone. If you've been asking yourself how to see what someone is doing on their cell phone, then this is the solution.
Below, we'll run through three of the most popular parental control monitoring apps out there. 
Family Orbit – Android and iOS Monitoring App
Family Orbit is considered to be the best monitoring app for Android and iOS on the market. The software comes jam-packed with features that cover virtually everything that a parent would want their monitoring software to do. 
This isn't just about checking how much time they're spending on their devices or which apps they have on their device. This is a full-scale solution that offers information about, well, just about everything. 
Once you install the app and running, you'll be able to easily see which websites your child is visiting, the contents of their text messages and WhatsApp conversations, and see their photos and videos. 
And on top of that, there's also a handy tracking feature. With this, you'll be able to see exactly where your child is. So you won't just know what they're doing on their device, but where they're doing it. 
You can even set a geofence, and if your child goes beyond the boundary that you've set, then you'll receive a notification. When it comes to getting peace of mind as a parent, it doesn't get much more thorough than this. 
There are a host of other features, too; all in all, it's the end-to-end solution that many parents dream of. Some of the monitoring features are:
View Browsing History

View Call History

View Text Messages and iMessages

View Contacts / Calendar 

View Photos & Videos

Social Media Monitoring

GPS Location Tracking

Geofence Alerts

Parental Intelligence Report and More…
You can see for yourself how useful the app is by getting started with a free trial. After that, you can pay $19.95 a month or get a yearly subscription for $89.95. You can use the parental control app on up to three devices. 
HoverWatch – Android Phone Screen Recorder
Another option is HoverWatch. The main draw of this app is that it takes screenshots of the person's app unknowingly at regular intervals. Those photos are then sent into Cloud storage, which you'll be able to view later on. The downside is that this app is only available on Android, so if your son or daughter has an iPhone, then it'll be of no use.
The software isn't only intended for use by parents. Employers also use it to monitor the activities of their employees, too. This can mean that the interface and general features aren't suitable for every parent since it's more of "general" tracking software for monitoring someone's phone, rather than something that's only for use by parents. 
Still, there's no doubt that this option can be useful for parents who have the time to get used to the interface. The screenshot feature is especially beneficial, though, of course, it'll only be useful if the user being targeted is doing something interesting on their device. 
You can get a personal subscription for $24.99 a month or $99 for a year. The professional membership level can be obtained for $49.99 per device a month or $199.99 a year. A business subscription can be bought for $149.99 a month or $499.99 a year. 
EyeZy – Android and iOS Monitoring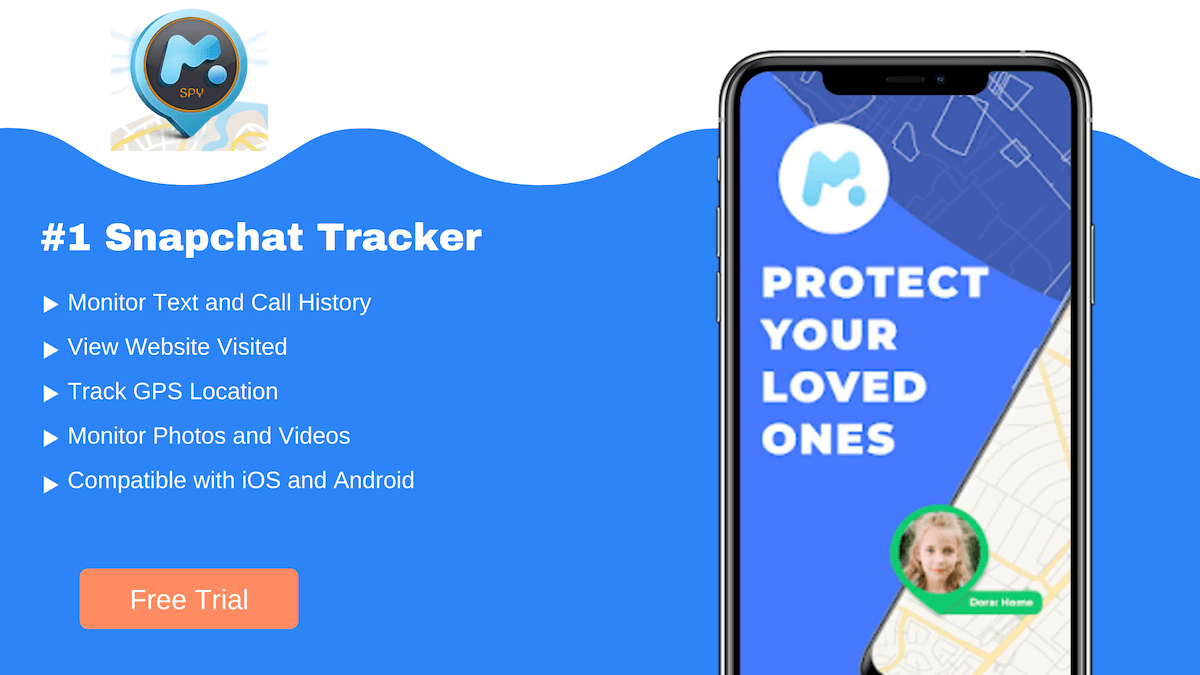 Finally, there's the EyeZy spy app, which claims to be the most powerful on the market. And it's hard to disagree with that assessment. They've made their name by understanding that technology is always in flux and by ensuring that they're always one step ahead of the curve. This gives parents peace of mind that, no matter what technological advancements take place, they'll have the software that'll allow them to ensure their kids are using the internet safely.
It's a full-scale piece of spy app that allows parents to do anything and everything, and they can do all that without being detected, should they so choose. In terms of what you can see on your child's device, the list is endless: you can look at photos, read SMS text messages, view call history, locate the person in real-time, look at their social media accounts, and much more.
They also incorporate advanced AI technology that'll give you a heads up if they do something you would not approve of. This helps parents because it means they don't have to constantly be monitoring their child's cell phone usage. They can go about their day, safe in the knowledge that the software's artificial intelligence will give them a heads up if there's something they need to know about. 
EyeZy gives parents a lot, but it doesn't ask for much in return. Indeed, you can get access to all of those features for less than $1 a day. That's a small price to pay for peace of mind, so if you're looking for an affordable way to keep an eye on your child's cell phone activity, give it a try.
Conclusion
Don't assume that your child is engaging in safe internet practices. Get one of the pieces of software that we've outlined above, and know for sure. You'll hope that they're using the internet safely, but if they're not, you'll know about it — and you'll be able to intervene before things get out of control, too. Sign up for the Family Orbit free account today.
The post contains affiliate links, I may earn a little commission if you buy from the above links. The cost to you remains the same. The site does not provide legal advice and please use your discretion or consult an attorney when in doubt.