Lots of call loggers apps for iPhone and Android may allow you to make a log of all incoming and outgoing calls on your device, which, as a parent is something that could certainly put your mind at ease. You want to know who your child is communicating with, where the numbers are from, and if they are recognized from your phone book or if there is something a little more suspicious ongoing that is giving you cause for concern. You want to ensure that they are not in any danger.
Logging calls is very important but in addition to this, you may also want to be sure to identify the caller ID and track any details for all calls received on your child's phone. Any numbers that do not look familiar or that are coming up as suspicious when you run a check, may want to be investigated further. Your child's safety is paramount and it all starts with safely and securely monitoring your child's cell phone activity on their iPhone and Android phones.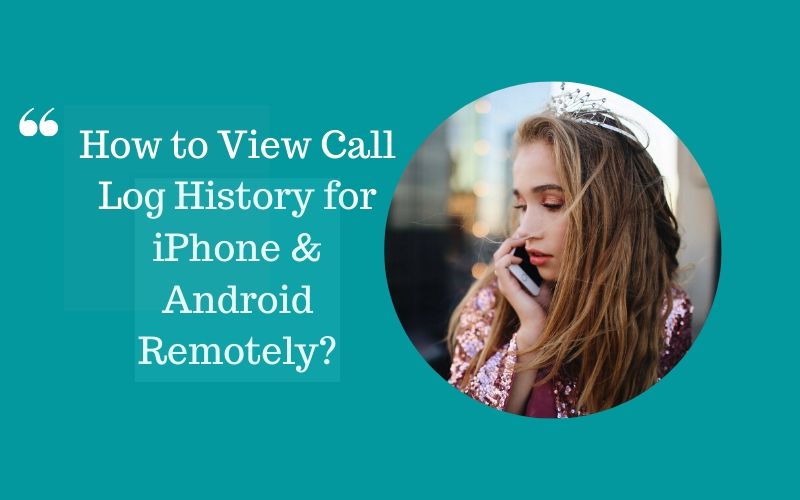 Is There An Answer To This?
Yes, as mentioned, there are call log monitoring apps, that do allow you to do this without having to have the phone in your hand and can be done remotely from your own laptop or smartphone. This allows you to secretly keep track of your child without them having to know and giving them time to change settings on the phone or even confront about not trusting them. It goes beyond trust. In today's world, there are lots of issues and problems that can arise from an online presence and this includes online bullying and more severe issues such as child trafficking, all of which could be avoided with a simple solution to keeping on top of your child's social habits. So what are some good apps to try out?
Call Logger Apps for iPhone & Android
Family Orbit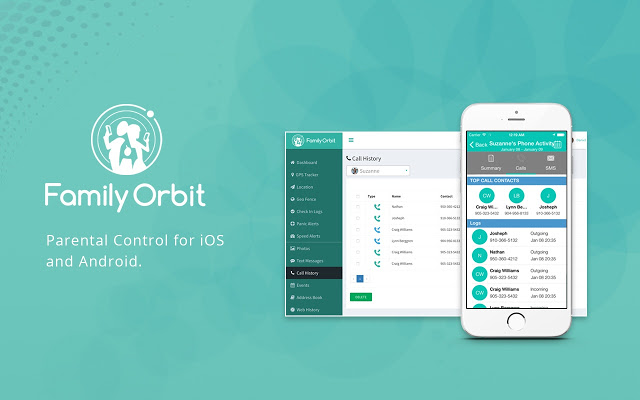 Family Orbit, available on both iPhone and Android, is a great Phone Tracker & Parental Control for the kids to ensure that they are safe and secure. This will track the iPhone using special technology which is accessed remotely without installing any app and you will have access to their data usage, what they share, where they go, and what they have been doing on social media apps. It is a very important app and can help keep your child safe. 
Family Orbit offers a variety of logging features besides monitoring the call records of your child's phone. Here is a list of few unique features of Family Orbit app:-
You can monitor both text messages and iMessages,
You can track the location of your child's phone throughout the day,
You can monitor photos and videos from your child's phone,
Receive instant notification when your child arrives or leaves specific locations,
You can view the web history and searches performed on your child's smartphone or tablet,
And many more…
Sign up today for a free 7-day trial to try the application first hand.
TeenOrbit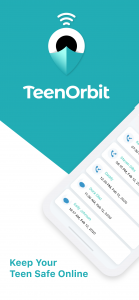 TeenOrbit is a user-friendly way to monitor your child's whereabouts, with savvy software for monitoring the iPhone. You can easily download the app from the AppStore on your own phone and sign up for the services which unlock the features. Once logged in, all you need to do is provide the Apple ID credentials of your child's iOS device in the app. This will receive information from the iCloud backups without even installing any app on your child's phone.
You can monitor the following activities, their call history, text messages, photos they've taken, websites they have visited, their contacts, GPS location, and more. You also receive daily updates and see what is going on in near to real-time. The cost is $19.95/month with a 3-day Free Trial which is definitely best to take advantage of. It is easy to use, available on the app store and you do not need to install anything on the child's phone at all. 
PhoneSheriff 
PhoneSheriff is the next generation of parental control software and it can monitor both mobile phones and tablets. You can see what your child has accessed and what you want them to have access to. You could monitor how they use their phone and block and filter things that are potentially dangerous to them. Install the program onto the device your child uses to begin monitoring today.
Web Watcher
This is a phone tracking system that allows you to keep up to date with your child's phone activity. You have the option to view all Recorded Data as well as access the Alert Log, which highlights behaviors that may be deemed risky or irresponsible and will allow you to track your child's activity as well as protect them against any online dangers. Easy to install and will give you access to a multitude of online platforms that your child may have access to and to see their activity logs. 
Mobile Spy
This is one of the next generations of smartphone monitoring software apps which is easy to install. You can install the tamper-proof app directly onto the compatible smartphone you own and the one that you want to monitor. Device notifications can allow your child to know that they are being monitored which will give them a reason to be more cautious with where they go and what they do. It can be done discreetly also but it monitors and obtains information from phones and any numbers that the phone has been into contact with.
How Do You Find Details Of The Caller?
There is an app that can assist you with this, Number Tracker Pro which allows the tracking of phone numbers. 
Be sure that you are keeping on top of your child's call logs. It is vital to know who they are talking to and that it is something that you know and trust. It is easy to get access to people's information, most of which can be found on social media and through mailing lists, so be sure that you are tracking their calls to ensure nothing suspicious or worrisome is happening. Keep track of everything monitored with easy to navigate sites and apps that will allow you to keep a comprehensive record and stop any unwanted activity and anything potentially damaging or dangerous to your child. It's best to be armed and to make the best decisions when choosing the right app for you which will give you peace of mind and security.