Text messages provide a fast and efficient way to communicate with your contacts. There are many benefits to sending an SMS or MMS message, and they are especially useful for people that prefer to communicate offline. Being able to send a text rather than call someone is an excellent way to communicate if you do not want people to overhear your conversation, or you are short of time and need to pass on a message quickly. This quick, simple, and hassle-free way of communicating is especially popular with older children and teenagers.
Although text messages are incredibly convenient and make communication easy, there may be times when you receive text messages you do not want. If you have an iPhone, you may have wondered how you can take action and block text messages when needed. It is always helpful to know the different features that your phone has so you can take action to protect your privacy and security whenever required.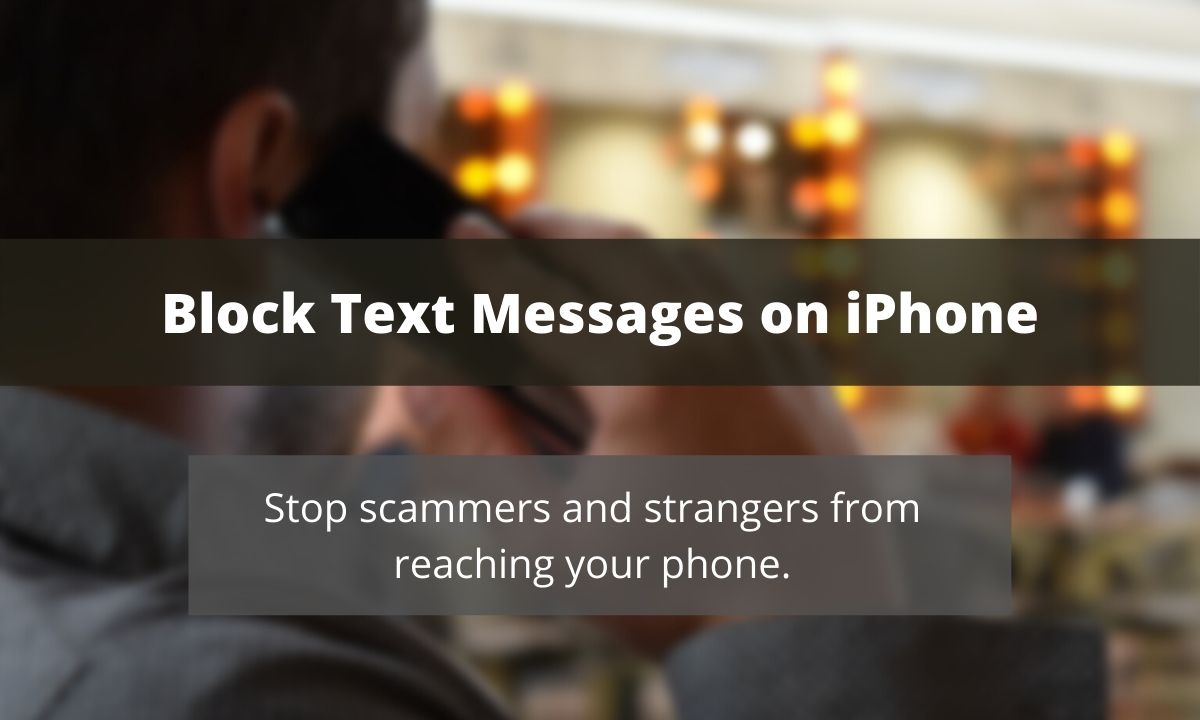 There are many reasons you may want to block text messages on your iPhone. You may be receiving messages that are not meant for you or perhaps texts from someone you do not wish to communicate with. Sometimes, you may receive spam texts which can become frustrating, and may clog up your Messages with information that is not relevant to you. 
If you have children, they are likely to enjoy the freedom of being able to communicate directly with their friends and to stay connected wherever they may be. Unfortunately, cyberbullying is a regular occurrence among children and young people. Cyberbullying can be incredibly distressing for young people, as they are unable to escape the bullies even when they are in their own homes. No parent wants to think of their child receiving abusive or hurtful text messages, so it is crucial to make yourself aware of what you need to do if your child is targeted by cyberbullies.
Knowing how to block messages on iPhone can be a great help when trying to deal with cyberbullying or other unpleasant situations occurring on your child's iPhone. Blocking the messages will mean your child stops seeing the text messages and gives you time to take action to resolve the situation without your child having to continue reading unkind messages.
Whether you are trying to deal with a cyberbullying situation or want to put an end to spam text messages, there is no doubt that unwanted communication via text message can be upsetting and frustrating. Whatever your reason for wanting to block messages on your iPhone, having the knowledge to do this quickly and efficiently is invaluable and can make your life so much easier.
How to Block Text Messages on iPhone?
If you have been receiving text messages from a person or number that you want to block, then it is possible to do this in the Messages app; here is how: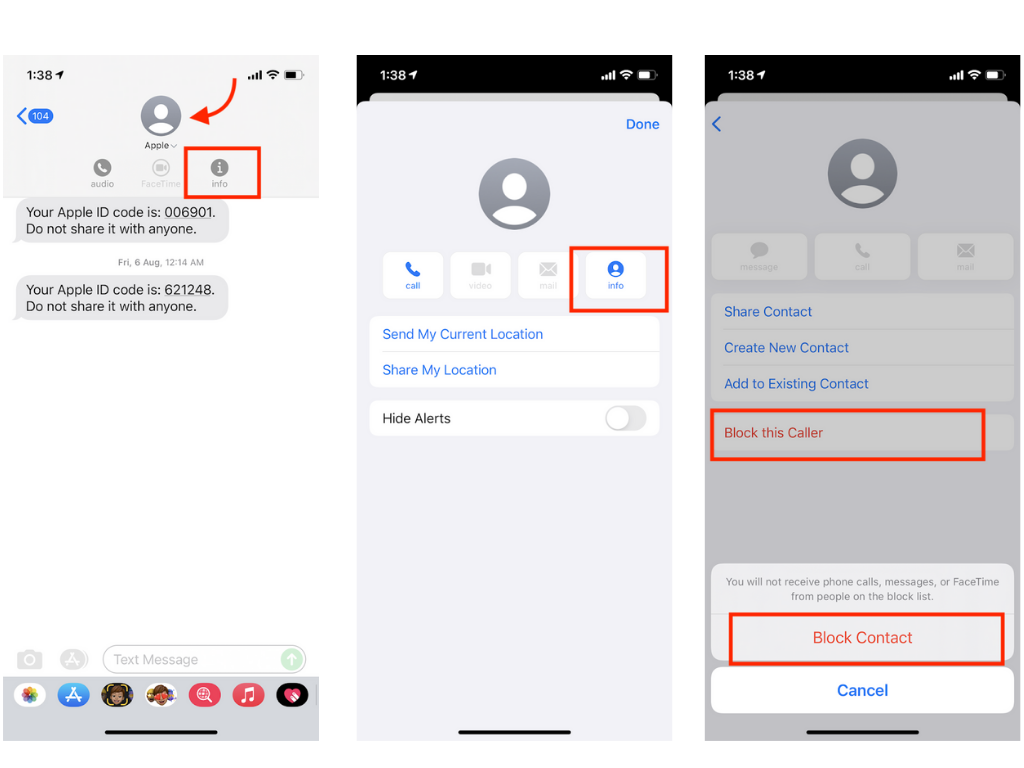 Go into the Messages conversation from the sender you would like to block.

Tap the name or number that appears at the top of the conversation.

Next, tap the 'i' icon at the top right.

Now tap Info and scroll down and tap Block This Caller.
After doing this, you can check that you have successfully blocked the number from sending you text messages. Go to Settings, select Messages, and then tap Blocked Contacts, and the number you want to block should appear here.
How to Report Spam Text Messages on iPhone?
Spam text messages can be a real pain, and you would probably like to stop receiving them. If you are growing tired of receiving spam text messages on your iPhone, it is possible to report these messages to Apple. Reporting the spam messages to Apple will not stop you from receiving them; to block messages from a number that is sending you spam texts, you will need to follow the steps above.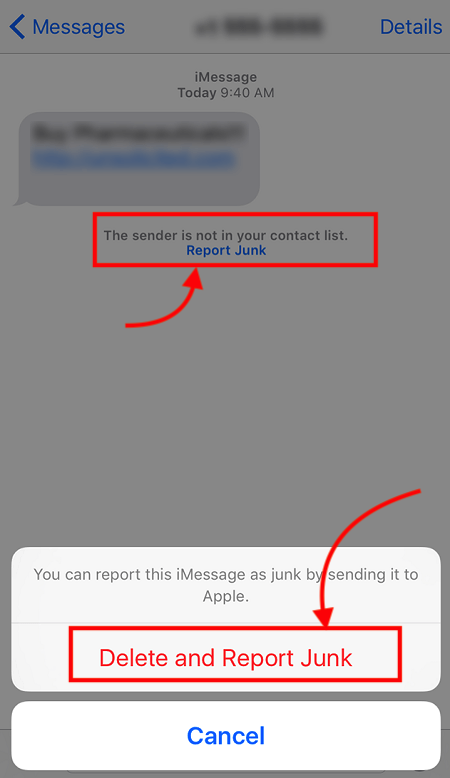 Reporting spam or junk text messages to Apple is really easy. Simply go into the spam message and tap Report Junk. Next, tap Delete and Report Junk.
Following these steps will ensure that the text is deleted from your device, and the message and sender information will be reported to Apple. 
How to Forward Text Messages on iPhone to Another Phone?
There may be times when you receive a text message and want to forward this from your iPhone onto a different phone. But, it can be difficult to figure out how to forward SMS and MMS over to another phone from your iPhone; here are the simple steps to take to do this: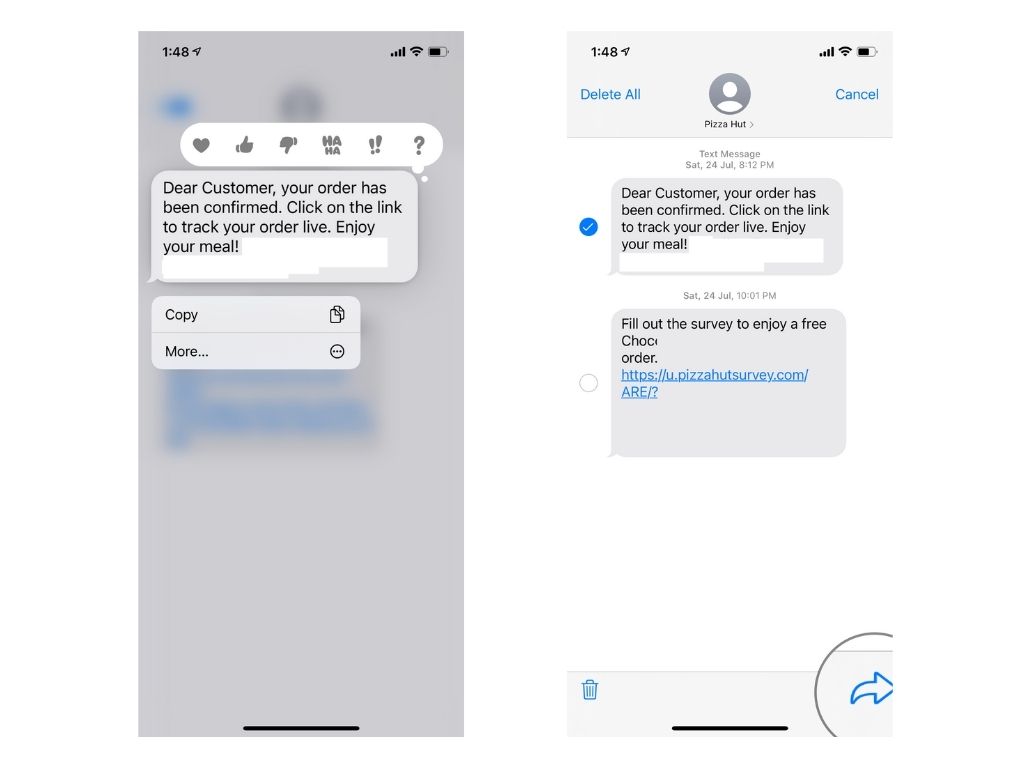 Start by pressing and holding the message bubble that you would like to forward.

Next, tap More and select all the text messages that you want to forward.

Tap the Forward button and then select the recipient.

All you need to do now is hit Send to forward the messages to your chosen number.
Related: How to Automatically Forward Text Messages to Another Phone?
How to Find Who Sent the Text Message with Reverse Phone Lookup
Receiving text messages from an unknown number can be confusing, but it isn't always appropriate to ask the recipient who they are. If you are in this situation, you may want to use a reverse phone lookup system to discover a bit more about the person sending you the messages.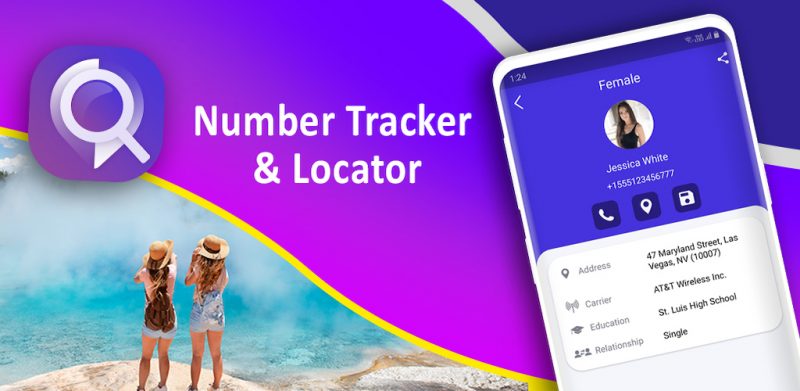 The Number Tracker Pro app is an excellent tool that will help provide you with the information you need. The Number Tracker Pro app will help you find out the name of the person sending you the message, plus helpful information such as their location, the name of their carrier, and their job or place of education. The app is for Apple and Android devices, so it is ideal for everyone.
How to Retrieve Deleted Text Messages on iPhone?
Have you accidentally deleted an important text message that you wanted to keep, or perhaps your phone has crashed, and your text messages have disappeared? Losing your messages can be a big problem and create a lot of hassle. If you have sentimental messages or texts containing important information, it can be even more upsetting to realize that they have disappeared. Retrieving your deleted text messages may seem impossible, but it is something you can do relatively quickly when you know-how.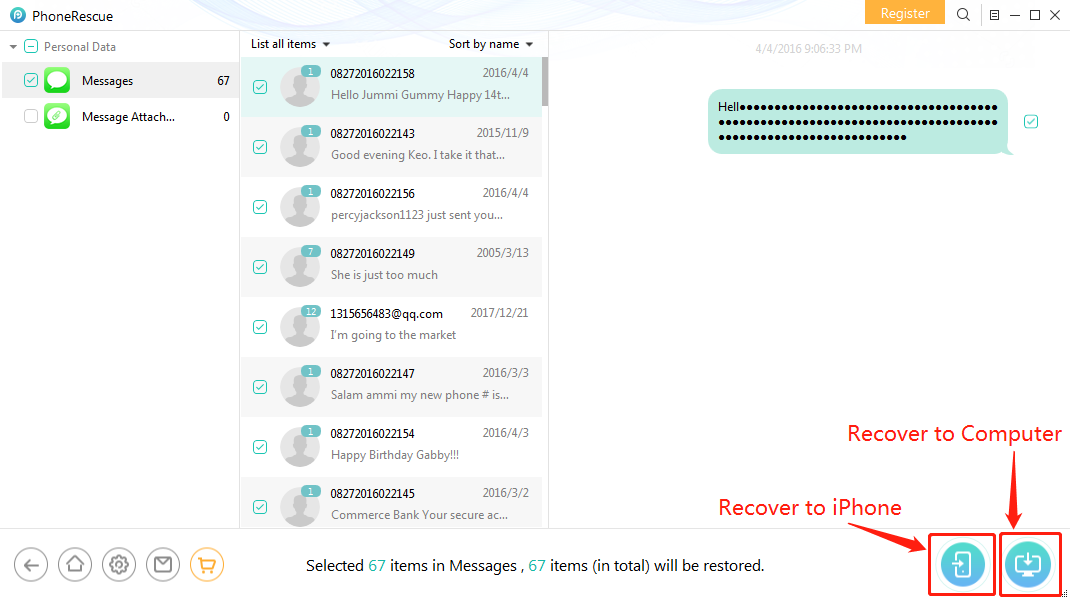 Knowing how to retrieve your text messages is a massive relief, and it is possible when using an app such as PhoneRescue. PhoneRescue can help to recover data, including text messages that have been deleted from your iPhone. One of the most useful features of PhoneRescue is that you are able to recover and keep just the files you want rather than needing to recover everything.
(We are affiliated with PhoneRescue, if you choose to purchase it from the link here, we may earn a little commission. The cost to you remains the same.)
How to Monitor Text Messages on iPhone?
Keeping track of how your child uses their phone is crucial to ensure that they stay safe. It would be impossible to detect if your child is receiving bullying messages or being sent inappropriate content without careful monitoring. To protect your child from problem text messages, it is essential to monitor the texts they send and receive on their iPhone. Family Orbit is the ideal tool to monitor your child's cell phone activity and quickly detect any issues before they become a more significant problem. 
The Family Orbit app features AI technology that can detect content that may be inappropriate. The app will scan your child's text messages and will use AI to identify possible bullying, sexting, the use of profanities, or other potential concerns. You will then have the information needed to deal with the issues raised and take the appropriate action.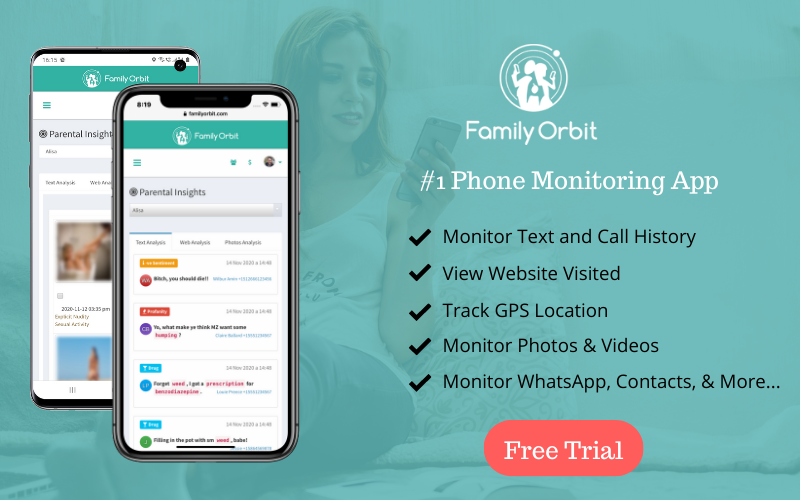 Conclusion 
As you can see, text messages can provide a simple yet effective way for your child to stay connected and keep communicating. But, unfortunately, issues with text messages can arise, and you may find that you need to step in to resolve the problem. Text messages can be especially challenging for parents to monitor without directly accessing their child's phone. But, the need to keep kids safe when using their cell phones is more crucial than ever. So, having a cell phone monitoring app that can flag up potential problems so that they can be dealt with promptly is vital. 
Without appropriate monitoring, your child's text messages can contain content of concern without you even realizing it. Texts containing bullying content, adult content, or inappropriate language can all go undetected if you don't have the tools to scan the content and bring it to your attention. 
Are you keen to keep your child safe while using their cell phone? Do you also want to keep track of the kinds of messages that they are sending and receiving? If so, the Family Orbit parental control app is the tool that can help you do this. Keeping track of your child's text messages and their content will ensure you can act fast at the first signs of inappropriate language or behavior. Why not download the Family Orbit app now to discover its benefits for your family?