A lot of good can come from giving your child an iPhone, but it's important to remember that some dangers are lurking online that your children need to be protected from.
You wouldn't let your child explore an unknown city without adult supervision, and the same principle applies to digital space too. The internet can be a wonderful tool for your children to use, but only if there are safeguards in place.
Fortunately, parents don't need to fight the risks that the internet poses all on their own. In this day and age, there are plenty of software, apps, and other tools that allow for extensive parental control. However, you will need to know what these are to make use of them!
In this blog, we'll run through everything you need to know about using a parental control app to monitor your kid's iPhone activity.
With the right monitoring app, you'll be able to keep an eye on your child's internet activity, block websites, and use location tracking features to see exactly where they are.
If you'd rather skip the information and go straight to the app that you need, be sure to check out the Family Orbit app.
After you're set-up, you'll be able to see exactly what your child is doing online, read their text messages and other digital communications, see their photos and videos, and much more. It's the perfect solution for parents who want peace of mind that their children are using their devices appropriately.
Difference Between Monitoring Apps and Parental control apps?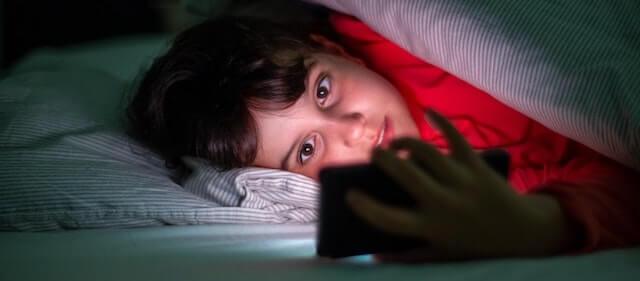 At first glance, you might think there is no difference between monitoring apps and parental control apps. But this isn't the case. While they may share the same broad goal — to keep your children safe online — there are some significant differences.
Mostly, it comes down to what the two kinds can do. Parental control software sets limits, such as restricting adult content or limiting screen time. You can set parental controls on your iPhone with Screen Time.
The reach of monitoring apps is much more extensive. They give parents a thorough overview of their child's activities, including access to their photos and videos, social media accounts, private conversations, web history, and much more.
While parental control apps are useful, they're only intended as a basic safety measure. They can't provide any significant insight into your child's internet use.
Both Android and iOS devices have an in-built parental control app. It's worth checking out what they can do for yourself, but in all likelihood, you'll find that, for true peace of mind, you'll need a monitoring app like Family Orbit.
Best Methods to Monitor Kid's iPhone Devices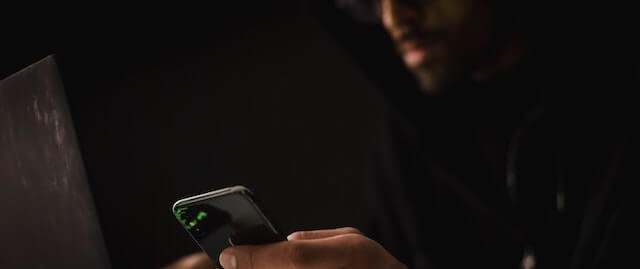 You'll have your valid reasons for wanting to monitor your kid's iPhone device. You'll want to see what apps they're downloading from the AppStore, who they're talking to on the phone, the websites they're visiting, photos they're sending and receiving, and so on.
However, the maker of the iPhone, Apple, has its interests in mind. They have historically made it difficult to spy on other people's phones, citing privacy concerns.
This is a good thing in some regards (a stranger can't spy on your device, or, for that matter, your child's device), but it does create issues for parents who want to have a way to make sure that their child is using their device in an age-appropriate way.
There are ways to get around these restrictions, however, just by having some basic information about your child's device. We'll run through these three methods below.
Monitor Kids iPhone with Apple ID and Password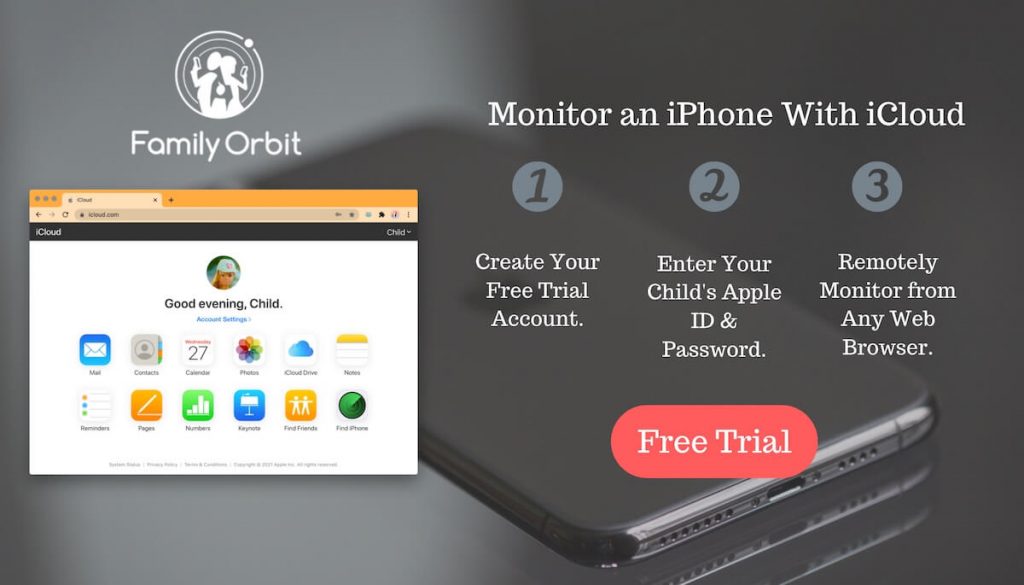 If you have access to the Apple ID and password that your child uses for their device, you can get access to a fair amount of information about their digital activities.
To get set up, you'll just need to input your child's Apple credentials into the web browser for iCloud. You may need to go through the two-step authentication process, in which case you'll need to verify the access on the chosen device.
Once you have access, you'll be able to see data that is backed up in iCloud; these include GPS location, photos and videos, notes, email, and contacts.
Of course, this isn't as extensive as other options, but it's a good starting point for keeping an eye on your child's phone usage.
Be aware of any spy app that uses the iCloud method that says it offers a complete monitoring service. Many of them will say that you can monitor things like Whatsapp conversations, text messages, call history, web history, and more of the activity of your child.
This used to be the case years ago when that information could be accessed via iCloud, but it hasn't been possible since Apple increased its security measures.
You should be especially wary if the software provider does not provide a free trial, either; that'll mean they're probably making promises that they know they can't keep, but by the time you've figured that out, they'll already have pocketed your money.
Find the step-by-step guide to setting up the iCloud-based monitoring with Family Orbit here:
Step 1: How to configure the iPhone for iCloud-based monitoring?
Step 2: How to Add the iCloud credentials to the Family Orbit Dashboard?
Monitor Kids iPhone with WiFi Sync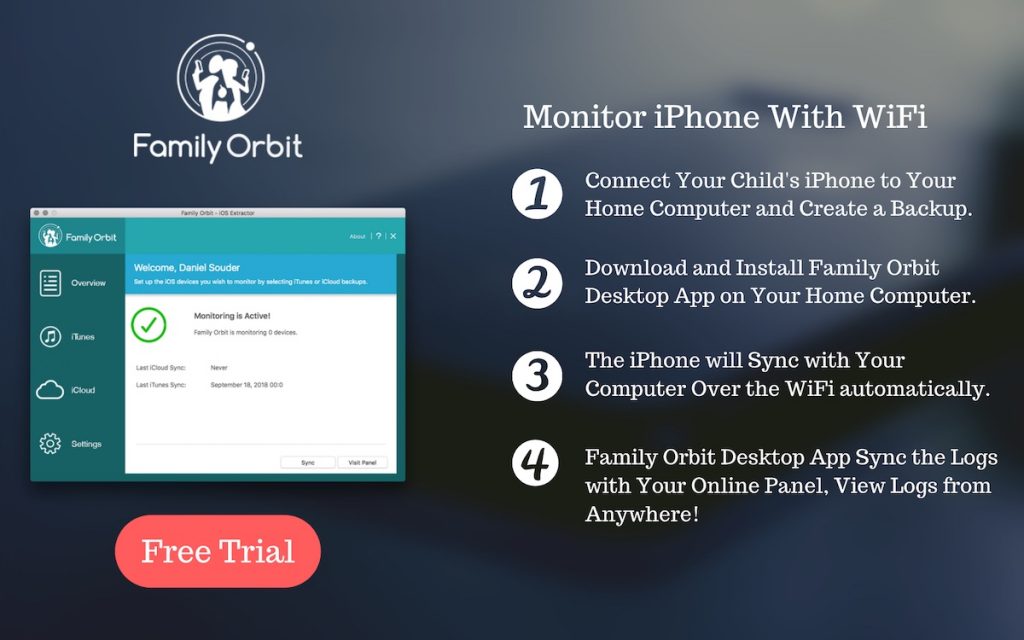 Another option is to keep tabs on your child's iPhone usage using iTunes and WiFi sync. To do this, you'll need to first connect your child's phone to your computer.
Once you've done that, you'll need to select the automatic sync option. This will periodically send your child's information from their iPhone to your computer.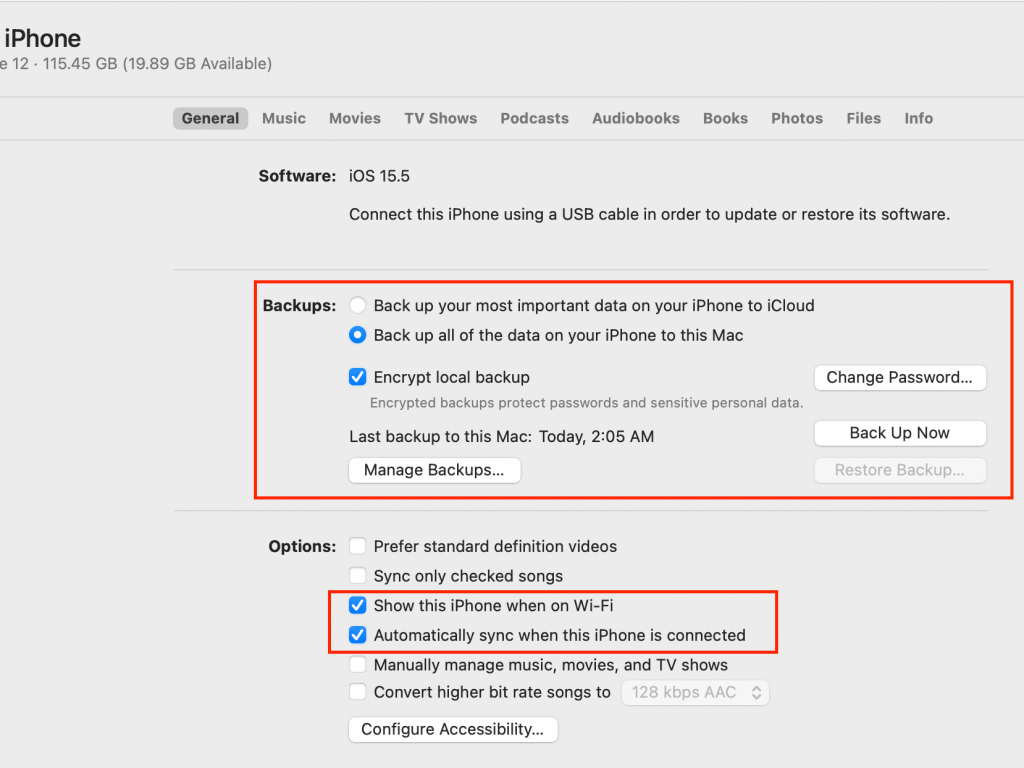 Of course, to do this, you'll need to have access to a computer that can run iTunes; but don't worry, because the vast majority of computers can. You can also monitor your child's phone usage using WiFi sync via your computer.
With this, you'll have access to all the benefits of using the features of an app like Family Orbit, with which you can see a whole host of valuable information, including social media use, photos, and videos, and the apps that have been installed, read text messages and WhatsApp conversations, and much more.
Track Kid's iPhone Location With Family Tracker App
Parents can't rest easy if they don't know where their children are — or if they suspect that they might be somewhere other than they ought to be.
While many parents choose to download a parental control app as a way to read messages, view photos, reduce screen time, and so forth, they also like being able to see where their children are.
In an age when GPS is more prevalent than ever before, this couldn't be easier with family tracker apps.
You can track your child's whereabouts if you have their iCloud login information by using the 'Find My iPhone' feature. This will instantly track your child's phone, providing it is turned on.
An app like Family Orbit allows you to not only see where your child is located in real-time but also gives an overview of their location history, too.
The app is also useful because you're able to use it with multiple devices, so if your child doesn't have their main device with them, you can use their secondary device without losing any of the valuable information that you need.
Best iPhone Monitoring App – Family Orbit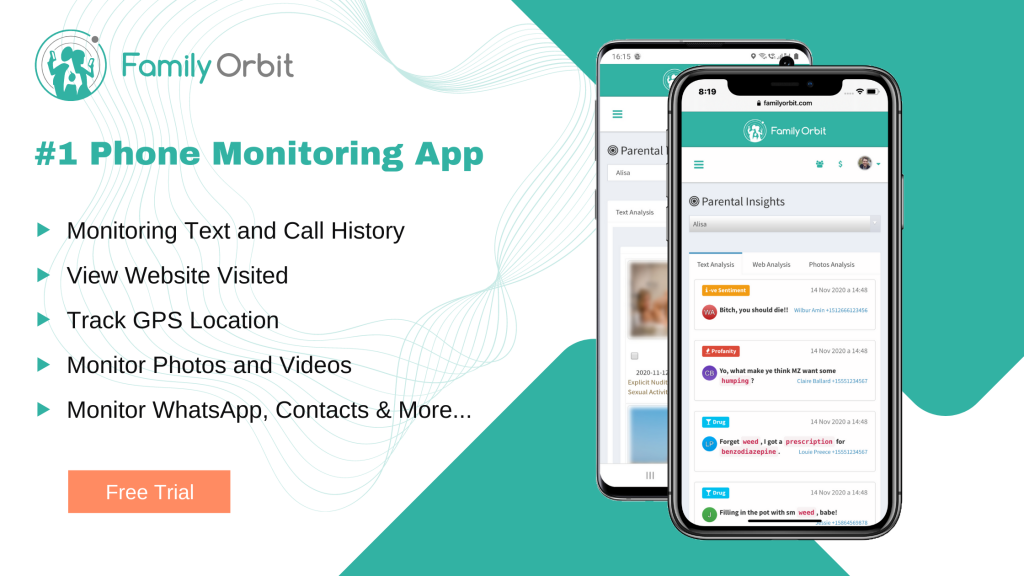 If you're looking for an app that can do everything that the three methods outlined above can do, then be sure to check out Family Orbit.
This is considered to be the best parental monitoring app on the market, and with good reason: it comes with a mountain of features that can do just about everything you'd want from such an app.
Once you're up and running, you'll be able to keep track of a wide range of your child's internet activities, including limiting the type of content they can see, monitoring all of their conversations and content, finding their location, and much more. Check out the features below for more information.
Features
Family Orbit is considered the best parental control service on the market because of its sheer range of features.
This is a powerful tool that gives parents more or less a complete overview of their child's phone usage.
So what can you expect from the monitoring app? You'll be able to see all incoming and outgoing text messages, WhatsApp conversations, and call record history.
You'll also get a complete list of all the websites that your child has visited and have access to all of their photo and video content, as well as their contact book.
You'll also be able to see exactly where they are in real-time using the location tracking features of the app, so you can always know that your child is exactly where they need to be.
There's also a handy 'geofence' feature. With this, you can set an invisible boundary on the map, creating what is, in effect, a geographical safety zone. If your child crosses that boundary, you'll receive a location tracking notification via the app.
There are also powerful AI features, which can be extremely useful when it comes to getting an idea of any problematic issues at the first sign. The app software discreetly scans your child's phone for signs of cyberbullying, sexting, and other inappropriate content.
If the artificial intelligence discovers anything that you should know about, you'll receive an alert on your phone.
These types of features offer an additional dose of peace of mind because you'll know that even when you can't be actively monitoring your child's device, there's an advanced piece of software that is.
There are a host of features of the app, but what you need to know is: that this is a complete app for parents who want to make sure that their child is safe from harm online. We receive excellent reviews from parents, who say that it allows them to feel confident that their child was not subject to the less-welcome sides of the internet.
How does It work?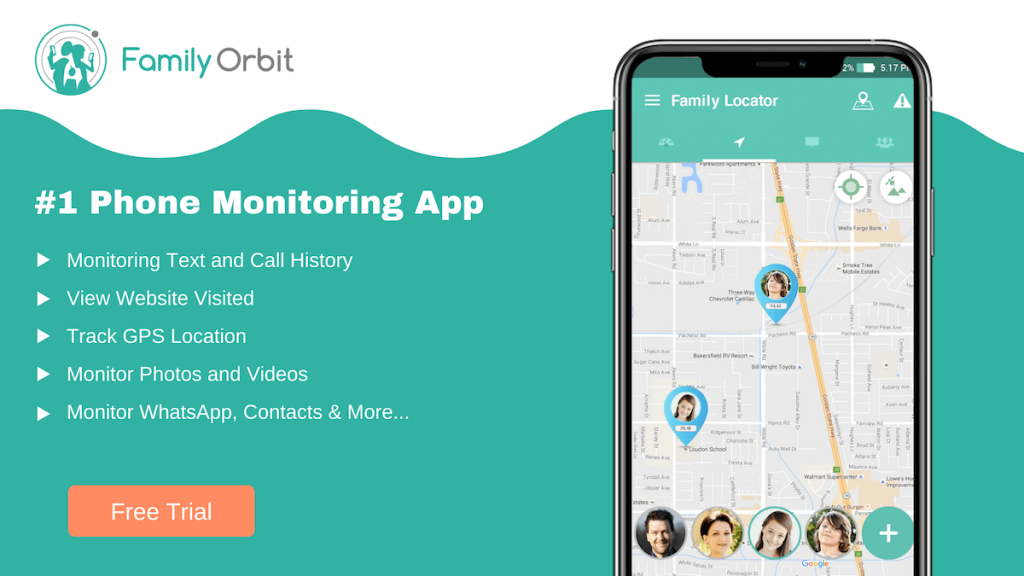 The Family Orbit app could not be simpler to use. To begin, you'll need to set up an account. Don't worry about paying for the full service just yet; we offer a free trial, so you can see all the benefits of using the service before you agree to sign up for a subscription.
Once you've created your account, you'll need to enter your child's iCloud credentials, which is just their iCloud login username and password. Alternatively, you can connect your child's phone to your home computer and set up automatic sync.
Once you've entered that information, all you'll need to do is login into your account, and you'll see all the information that you need right there in the control panel. The service can be accessed via any web browser, so you can monitor your child's activities wherever you happen to be.
Pricing
There are two pricing options available to you. But remember, you can also get a free trial of our service, so you can see just what Family Orbit offers before you commit to a subscription.
If you like what you see — and we're sure you will! — then you can choose to pay by the month or by the year.
The cost for a one-month subscription is $19.95.
The cost for a twelve-month subscription is $89.95.
You can monitor up to three devices using your membership. We've spoken in this article about monitoring your kid's iPhone activity, but don't worry if your child has an Android device — our service is compatible with that software, too.
FAQs
How can I monitor my child's iPhone without them knowing?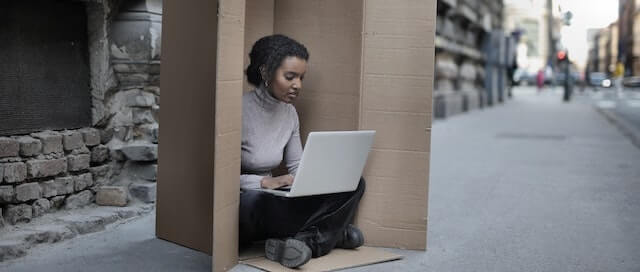 Your child may consent to have you monitor their iPhone. However, there could be scenarios when they don't approve. At that time, you may wish to monitor your child's iPhone without them knowing.
If you need to do that, it's best to select the iTunes/WiFi backup method. This is because you won't need to install any apps on their device, and you also won't have to continually verify access to the data, as can happen with other methods.
This will allow you to keep an eye on your child's iPhone without them knowing; all the data that you could wish to have will be sent securely via automatic WiFi backup.
To get started, simply get your child's phone and plug it into your home computer. From there, you'll need to set up a local backup. Once you've done that, when your child's iPhone creates a backup, the information will be sent to your computer.
The Family Orbit Desktop app will work its magic with the information contained in the backup and upload them in an easy-to-navigate way to your secure online panel.
Can I monitor the child's iPhone remotely?
If your child isn't, for whatever reason, not at your home and thus you are unable to make the most of the iTunes/WiFi system (which requires them to be in the vicinity of your computer), you can use the iCloud method.
This approach works using a different system. Essentially, it gives you access to all the data that is backed up during an iCloud backup. You won't need to install anything on the device you're monitoring, and it'll work just the same as when they're in another part of the country as when they're at home.
This method is good but a little bit limited. Once you're set-up, you'll be able to keep tabs on things like their phone contact list, their notes, their location, and their photos and videos that get added to iCloud. However, because of Apple's privacy restrictions, there will be some things that you're unable to see.
For example, you won't be able to read your child's text messages, Whatsapp conversations, social media activity, or view their call history. With that being said, it is a good option for parents who cannot use the iTunes/WiFi sync method.
How do I see my child's text messages on an iPhone?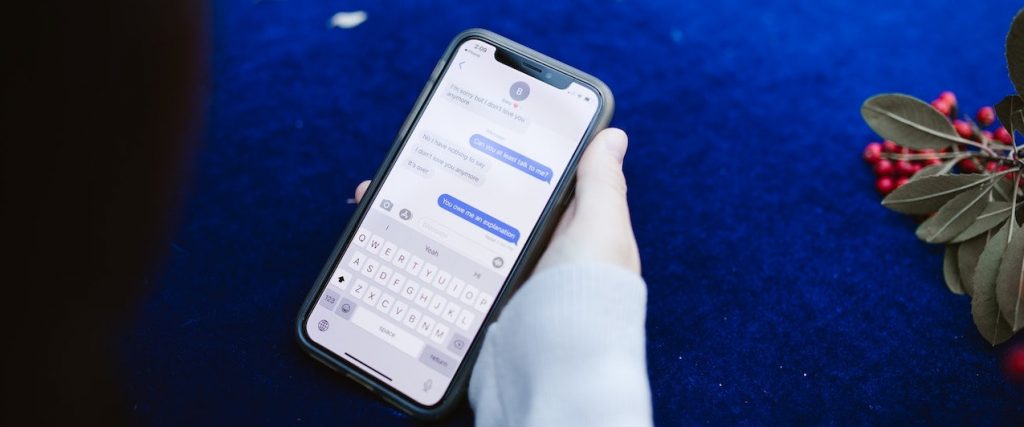 Reading your child's text messages will be an important part of your monitoring process. You'll want to check that they're having age-appropriate conversations with the right people. To do this, you'll need to use the home computer/WiFi sync method since iCloud no longer retrieves text messages.
The process is straightforward. Simply plug your child's iPhone into your home computer and create a local backup. Once you've set it up, the phone's data will automatically be sent to your computer using WiFi. The Family Orbit desktop app will then take over, putting your child's information into your user panel, so you can easily view it as and when you like.
Final Thoughts
Every parent worries about their child's iPhone use. They fear that they may be subject to cyberbullying or that they're viewing things that they shouldn't.
Family Orbit understands these concerns, and that's why we've gone to great lengths to put together a parental control service that will give parents the peace of mind that they're looking for. Apple may have made it more difficult for parents to keep tabs on their child's iPhone activity, but thankfully, we're there to fill the gap.
If you're ready to get started, then sign up for a free trial with Family Orbit. To do this, simply click the 'Free Trial' button at the top of this page. You'll soon find why we're consistently mentioned as the world's best parental monitoring app.