Are you wanting to find an iPhone tracker that will help you to find a phone, just by having the number? Maybe you are curious about who called your child last night, or you've seen a strange number on your child's phone and want to make sure that you have nothing to be concerned about. Either way, in this guide, we are going to explore three different methods that will help you to track an iPhone by using the phone number alone. You can do this for free in some cases, or if you download a third-party app then you will be able to get access to tons more neat features.
Using a Phone Number Tracker App
If you were to use a phone number tracking app then this would help you to reverse-lookup a phone number. The best app to do this would be Number Tracker Pro. When you download this application, you will be able to find out the name, the location, and even the details of any given phone number. You just need to download the app from the Google Play store or even the App Store. It's available for Android and iPhone and it's super easy to use as well. You just need to enter the number that you would like to track and press the button. When you have done this, the app will then search for the number on the database.
Moms and Dads around the world, who might have an issue maintaining the welfare of their child can easily use apps like this to guarantee their safety. The great thing about phone number tracker apps is that they come with a huge range of great features. Some of them give you an idea of your child's whereabouts and by knowing this, you can then find out how far they are away from school. You can also get real-time updates on their location. If you have a teenager, then being able to track text messages is a very easy task. You can find out who your child is communicating with and who they are seeing. Spy apps have received a lot of contributions over the last few years and the progress that has been made really is the ultimate gift to parents. Spy apps like this often function in the background and you won't see any kind of evidence either.
Reverse Phone Lookup
Get the Owner's Name, Address & More!
Using iCloud to Find Your iPhone
If your entire family is using Apple devices, then you can easily add your kids' iPhones to your Apple ID. This is very easy to do, and you would be surprised at how beneficial it can be. If you want to take things that next step further, then consider signing into iCloud when you are setting their phone up for them. This gives you the chance to find their device by using the Find my iPhone function and they can't sign out without having your password. This stops them from creating their own account and it also means that you can watch out for them.
Step 1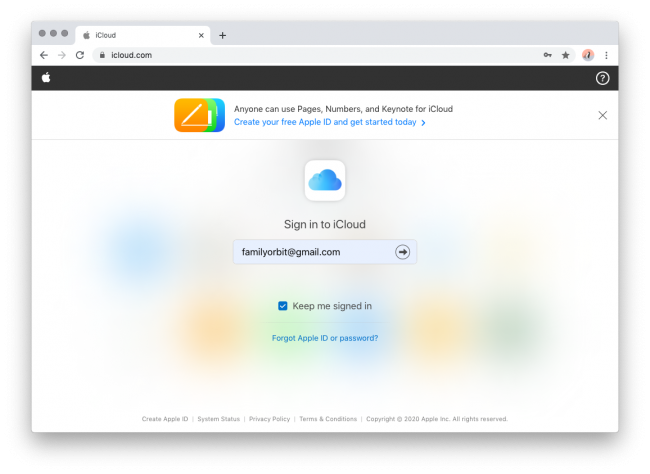 Login to www.iCloud.com
Step 2
Go to Find My iPhone Option
Did you know that it is also possible for you to find your child on a map as well? If you want to enable neat features like this then you have to make sure that your child's iPhone is sharing its location. They will also need to be carrying the iPhone in a space that has access to the internet. If you want to be able to do this then you need to go to the settings app and then tap on your child's name at the top of the screen. You then need to tap on Family Sharing- and then Location Sharing.
Track iPhone Location by Phone Number Without Installing an App
It's very easy for you to track an iPhone by number without having to install any app. If you want to do this then you need to use Family Orbit. Here are some of the benefits that you should know about.
When you download the app, you will be able to monitor call details. This includes the date, the number, and even the duration of the call. This gives you complete peace of mind you need to feel confident knowing that your child is safe. When you are tracking your child's call history, you know that your child is going to be safe from the digital world and you know that you can also step in if you are concerned about their behavior.
It's also possible for you to track any text messages and iMessages that might have been received. If your child happens to delete any SMS messages then they will be sent to a backup location before they are actually deleted, so you know that you will be able to keep track of them with ease. With everything you could ever need in your hand, you can easily track entire conversations, so if you know that your child is being bullied, then you can feel confident knowing that you can act accordingly without losing sleep over it.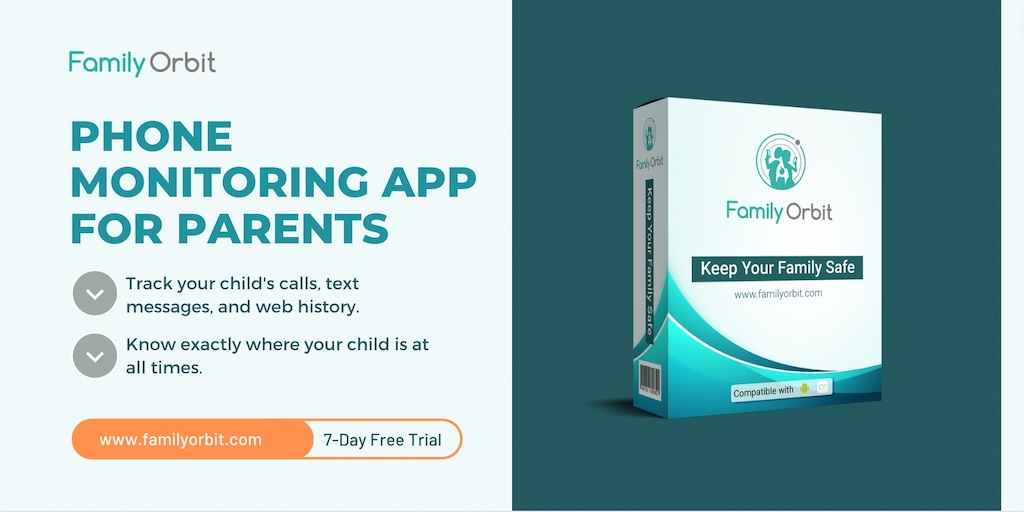 Of course, sometimes it's not just the texts and calls you have to worry about your child receiving. It's the photos as well. When you download Family Orbit you will be able to view any photos that have been taken by your child and you can also view the ones that they have downloaded onto their phone as well. Since you have access to all of this, you can keep an eye on their behavior much better and you can also make sure that they are not misusing their iPhones at all.
With Family Orbit, you can also track the places that your child has been to by using their phone. This app will give you the location history of the iPhone and even specific details. You will be able to see how long a child stayed at the location and you can even access an interactive map. If you are concerned that your child is lying to you or if you aren't sure if your child is visiting who they say they are then you can easily use this app to find out everything you want to know.
Lastly, you can also view the websites that your child has been visiting. This app gives you the chance to view the entire browsing history and you can also find out what online activities they have been accessing. At the end of the day, you cannot put a price on your child's safety so make sure that you are doing everything you can to track them and that you are also putting the effort in to keep them secure at all times. Spy apps like this make it so much easier and it's a great way for you to sleep at night knowing that they are not in harm's way.
How Does It work?
Using Family Orbit to track your child's iPhone activity without installing any app is easy. Simply follow the below three steps and you are ready to go.
Step 1
Get your free trial key here, and create your online account.
Enter your child's Apple ID credentials in the secure online panel.
Step 3
Select your child's iPhone from the list of devices associated with the given Apple ID.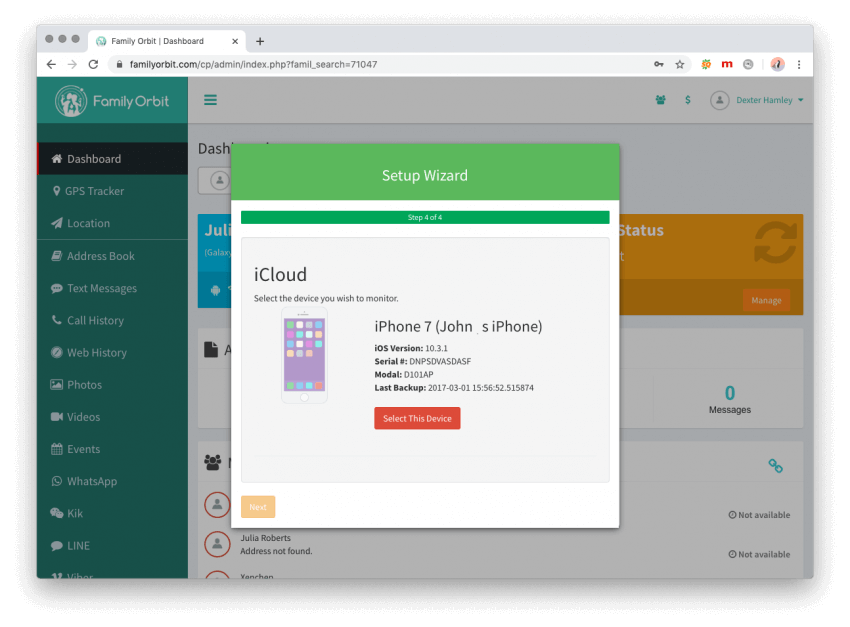 Step 4
Now you can track your child's iPhone remotely without the need to constantly provide the Apple ID credentials or to install an app on the child's phone. The logs are fetched directly from the iCloud at regular intervals.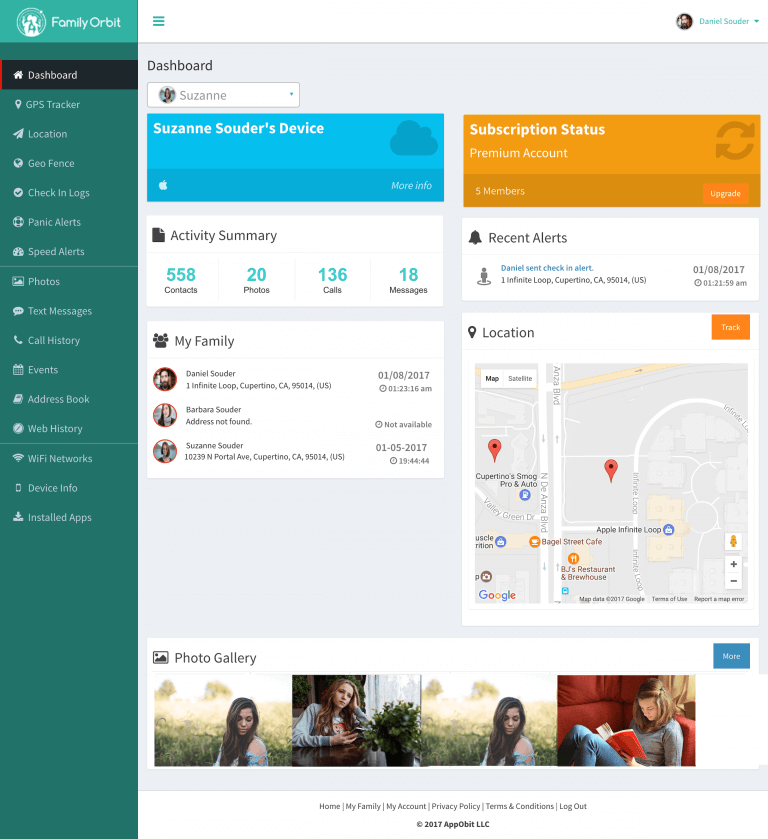 Why Should you Give your Child an iPhone?
A lot of parents often think that a smartphone can have a negative impact on their children. The truth is that you can't keep your kids away from phones forever. More than likely, during their teenage years, you will need to purchase a smartphone for them anyway. If you aren't sure if you should be giving your child an iPhone or not, then here are some of the benefits.
The first benefit is that you can check their real-time location. You can make sure that they are in school or even if they are staying at a friend's house.  When you have an iPhone tracking app, you can also view their location history. If your child decides to leave the house at a late hour then you can get a notification to tell you about this. An iPhone or any other smartphone for that matter can easily help your child to do their research for their homework and there are tons of apps that they can use to help them learn a new language. Most importantly, it gives them the chance to get in touch with you, should there ever be an emergency, so you need to try and keep this in mind when making the decision to purchase one. If the only thing holding you back is being concerned about them using it to access sites that aren't safe, or them texting people who they don't really know then there are apps that you can use to stop them from doing that. You can find out more below.
Conclusion- What Should You Use and Why?
So, it really is important that you use the right software to keep your child safe. It's recommended that you use Number Tracker Pro if you want to find the details of a specific phone number. If you want to monitor your child's activity, then Family Orbit is certainly the way to go. When you use apps like this you can feel confident knowing that they are safe and that you are doing everything you can to keep an eye on them.
Best Cell Phone Monitoring App
1,11,895 people have signed up.
Monitor Calls & Text Messages

View Photos and Videos

Location Tracking & Geofence

Monitor WhatsApp & Kik

Detect & Alert for Inappropriate Activities

Monitor Websites Visited

Compatible with Android and iOS