It's inevitable that your child will have their own smartphone at some point. Indeed, they should have their own device because, without one, they'll be unable to gain the technological literacy that the modern world demands.
However, giving your child an Android or iOS device does come with risks. The internet, after all, is not an entirely safe place. That's why it's recommended for parents to use a parental control app to monitor what their child is doing on their smartphone. With this, you can monitor conversations, app usage, web history, and much more, ensuring that your child only engages in appropriate web activity.
Not sure where to start when it comes to parental control software? In this blog, we'll run through some of the best parental apps, so you can find the one that's right for your needs.
How can I monitor my children's mobile devices?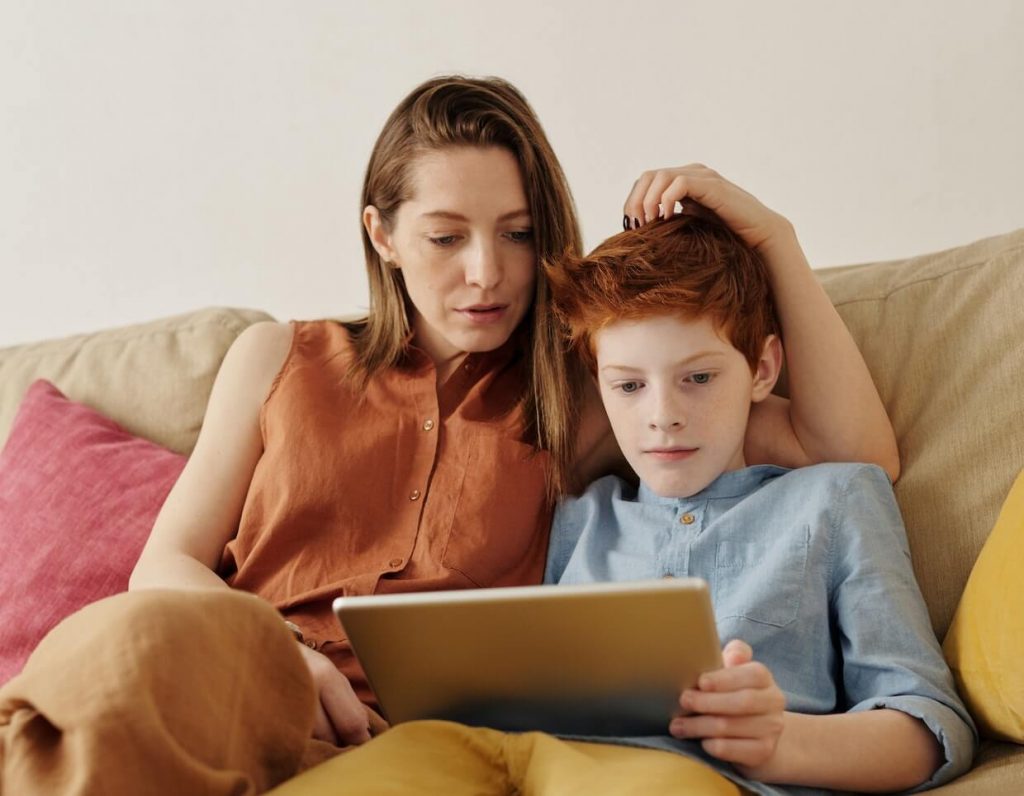 There are several ways to monitor your children's mobile devices. One method is to simply ask your child for their phone and look at it yourself. However, for one thing, they may not want you to look at their phone. Arguments could ensue. Another option is to look at their device while they're not there. But of course, to do this, you'll need to know their passcode and also ensure you don't accidentally delete anything.
The best, most effective method is to download the best parental control app on the market. With this, you won't need to ask your child's permission to see their phone. Indeed, their phone won't even need to be in the same room. You'll be able to take an in-depth look at their text messages, social media apps, and any inappropriate content on your child's devices. It's a powerful tool that's simple to use and which can both protect your child and bring you peace of mind.
Top Features to Look for in a Parental Monitoring App
A parental control app can be a powerful asset to any family. But that'll only be the case if you invest in the best parental control apps. As with most things in life, not all parental software is created equal. Some are better than others. So how can you discern the best parental monitoring app from the rest? It all comes down to features. The apps that have been well-thought-out and built with families in mind have a whole host of features. You may not need all of these features all of the time, but you'll at least want to have the option of using them. So, what type of features should you be looking for? We'll run through some of the most useful features you should look for.
SMS Tracker – Your child will use their device for many things, including talking with other people. While all of these interactions are likely to be nothing to worry about, you'd rather know for sure. The best parental monitoring apps will give the option to read the text conversations your child has on their phone, including via SMS text message and WhatsApp, which means you can always check that all the interactions your child has with other people are appropriate.
Location tracking – A great parental monitoring app doesn't just allow you to see what your son or daughter is doing on their phone. It'll also show you exactly where they are via location tracking. This allows parents to give their children some independence without compromising their safety. With a few clicks on your smartphone, you can know that they're exactly where they should be. The best apps will also have a location history feature, which will allow you to retrospectively see where they've been.
Call & Web History – You can't always be there to monitor your child's mobile activity in real-time. You'll have other responsibilities to take care of, after all! One useful feature that the best parental monitoring apps boast is the ability to see calls and web history. With this, you can see who your child has been speaking to on their phone, including when and for how long. You'll also have a clear snapshot of their internet history, so you can make sure that they're only accessing web content that's age-appropriate. Web filtering software will block access to particular websites.
Social Media Monitoring – The majority of social media websites allow children aged 13 and over to join their networks. However, that doesn't mean that all the content hosted on these sites is child-friendly. A good parental monitoring app will have a feature that lets parents see what their child is doing on their Instagram, TikTok, Facebook, and Twitter accounts, including who they're speaking to in their private messages. Creators of the best monitoring apps know the unique dangers that social media websites pose and have taken steps to put as much control in the hands of parents as possible.
Photos & Videos – The photos and videos that your child has on their device should be age-appropriate. The leading parental monitoring apps for iOS and Android allow parents to see the images that their child has on their device, both the content they've made themselves and the photos and videos that others have sent to them.
Alerts and Notifications – Every parent wants to take action when their child may be in danger. A good parental monitoring app will send an alert to your phone if your child is engaging in risky or dangerous behavior. Some apps, such as Family Orbit, also allow you to create a geofence where your child is allowed to go as part of location tracking; if they venture into a no-go zone, you'll receive a notification on your device.
Compatibility with iOS and Android devices – Not all smartphones are the same. Some run iOS software; others run Android software. The iOS and Android matter should not influence your ability to monitor your child, however. The best monitoring apps offer cross-device support, so you can keep track of your child regardless of what device they have.
Best 5 Parental Monitoring Apps
As we mentioned earlier, there are plenty of parental monitoring apps to choose from. Indeed, trying to make a selection can be a bewildering experience. That's why we thought it would be a good idea to put together a list of the top 5 parental monitoring apps, outlining the pros and cons of each. Let's take a look.
Family Orbit – Android & iPhone Monitoring App
Family Orbit is an Android and iOS monitoring app that rightly comes with a big reputation. It's considered to be the leading monitoring app on the market because of the extensive number of features that it includes. Indeed, it would be difficult to ask for a monitoring app to do more than what Family Orbit offers. But if there ever is something, you can rest assured that future versions will include it. The app is extremely good at minimizing risk to your child, but it also promotes general digital wellness, too. You can see how much screen time your child gets, for instance, and if it's too much, then put limits in place.
To put it simply: this app puts control and peace of mind in the hands of parents.
Wondering just what you'll get from your free trial?
Key Features:
Parents can monitor their child's text messages, Whatsapp, and internet history.
Can view all of the photos and videos stored on their device.
Powerful AI detects signs of cyberbullying, adult content, and other unwanted internet activities.
Parents can get real-time alerts that notify them of anything potentially harmful.
Parents can limit access to apps and websites with web filtering.
GPS location tracking feature allows you to track your kid's location.
Works on both iOS and Android devices.
Works on a number of devices; up to 3.
Cons:
Won't work on "alternative" phones that run software other than iOS or Android.
Pricing:
free trial, and then:
$19.95 per month.
$89.95 per year.
EyeZy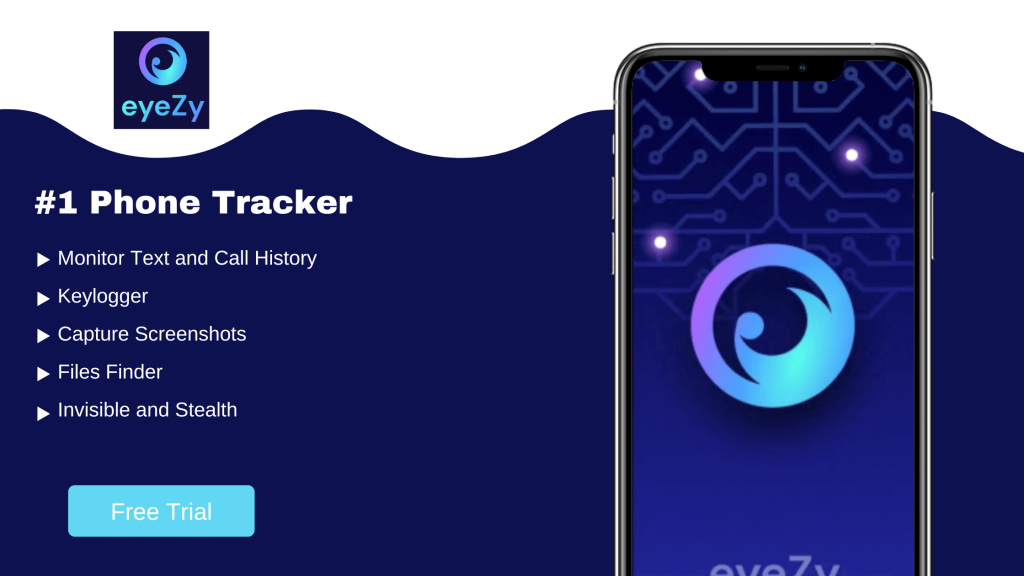 EyeZy offers a big promise to parents: it claims to be the most powerful monitoring software on the market. They're not entirely wrong with that assessment! This is indeed an impressive piece of software that comes with a whole host of useful features for parents to keep an eye on their kids' internet activity.
There's essentially nothing that this app can't do. You'll see all your kids' private stuff, including text messages and their photos and videos, and their artificial intelligence technology will also ping alerts in your direction if it suspects that your child is doing something that they shouldn't.
If there's anything that you can't see with the app, the 24/7 customer care team will be there to help.
Another reason why EyeZy is receiving such acclaim is because of the company's general approach. They know that in order to stop on top of phone monitoring for kids, the app must stay one step ahead of emerging technology. When you invest in this software, you'll know that you're keeping up with tomorrow's technology.
Key Features:
See all of your kid's private messages, including conversations they've deleted.
Works with Whatsapp, Kik, Facebook, Snapchat, Instagram, and more.
See exactly where your kids are, as well as where they've been, with the location tracking feature.
The File Finder feature shows you all the photos and videos on their own in one convenient spot.
Allows parents to block access to particular websites and apps for their kids using web filtering.
Comes with invisibility software, so you can look at your child's phone without them knowing that you're doing so.
Can log in from any browser.
Cons:
The sheer volume of information presented can be overwhelming at first.
Pricing:
There are three pricing plans available:
A one-month subscription costs $47.
A three-month plan translates to $27.99 a month.
A twelve-month plan translates to $9.99 a month.
Bark – Parental Intelligence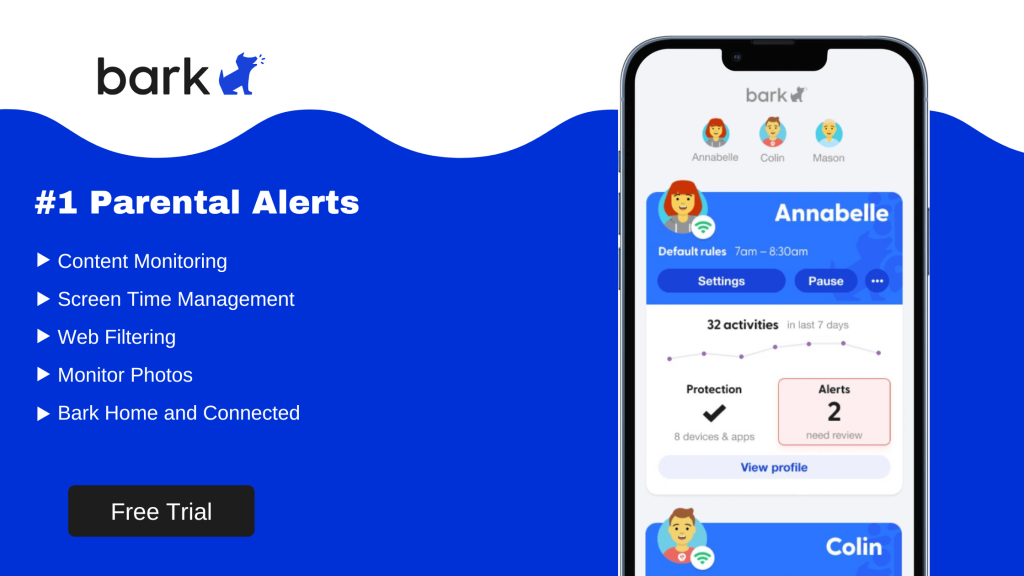 Bark is another big player in the kid's monitoring sector. This app focuses on all-around digital wellness for children. There are plenty of monitoring features, including location tracking, but there are also features that allow you to control your child's screen time. It's not as subtle as other options; while you can technically set up Bark without your kid's consent, the company encourages you to speak with your child. This can make it a little difficult if you're trying to monitor your child's internet usage without them knowing.
It's an app that encourages responsible internet usage and digital wellness for kids.
It monitors a wide range of websites and apps, including all the big hitters (such as Instagram, TikTok, etc.), as well as email websites, YouTube, and more. They use artificial intelligence to look for any signs that something might not be right with your kids and will send alerts to your phone if they find anything.
Key Features:
Offers parents a lot of control over how their child uses their device and for how long. You can block access to any website you like using web filtering and also set screen time limits; after that time has passed, your child will not be able to use their device.
Has a user-friendly location tracking and sharing service, which allows parents to see where their kids are with just a few clicks of their device.
Good at social media monitoring.
Works on a host of devices, including iOS, Android, tablets, and laptops.
Cons:
The app does not monitor as much as other apps and generally comes with fewer features.
Pricing:
There are two pricing plans available:
Bark JR.: $5 a month.
Bark Premium: $14 a month.
mSpy – Discreet Spy Software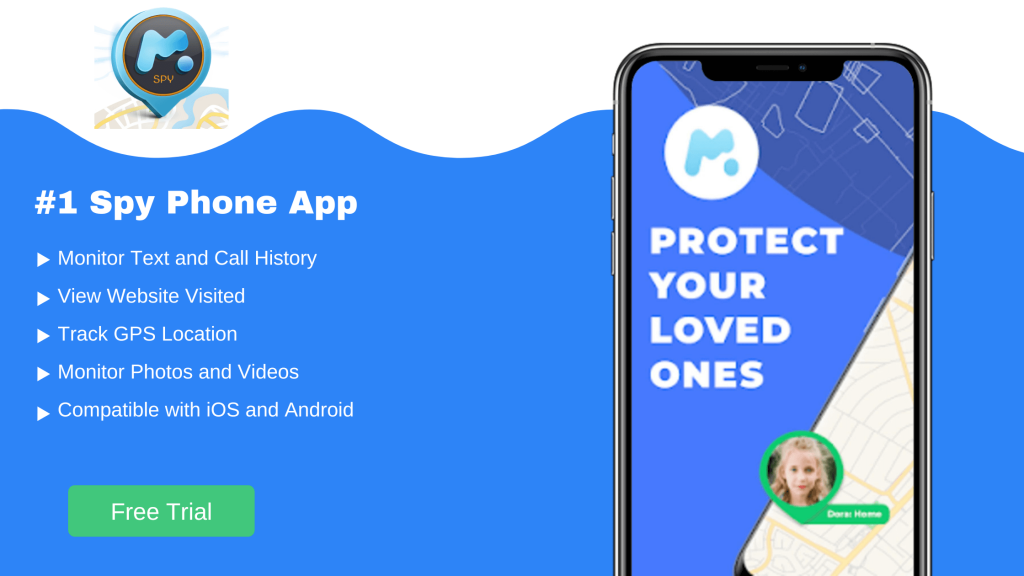 If you're looking for a way to monitor your kid's phone usage without them knowing it, then mSpy is an excellent option. That's because this monitoring software works exclusively "behind the scenes," or, in other words, in the background. Your child will have no idea that it's on their phone unless you tell them.
This app makes it easier to uncover the truth.
There is a wide range of features included in the software, some of which you won't find in any of the other similar apps. With this app, you can monitor every keystroke and look at every message (including deleted ones). This is all on top of all the other features that other apps provide, including looking at their internet history, seeing who they've called, and so on.
Key Features:
Comes with 36 parental control features to monitor your kid's internet activity, including location tracking and web filtering.
Can be installed without telling your child that it'll be on their phone.
Allows you to record their screens.
Has a keylogger feature.
Fast set up and easy to use.
Affordable
Outstanding customer service
Secure networks keep your data safe.
Cons:
May not be suitable for people who only want minimal levels of information about their kid's phone usage.
Pricing:
There are three pricing plans available:
A one-month subscription costs $48.99.
A three-month subscription translates to $27.99 a month.
A twelve-month subscription translates to $11.66 a month.
TeenOrbit – iPhone Monitoring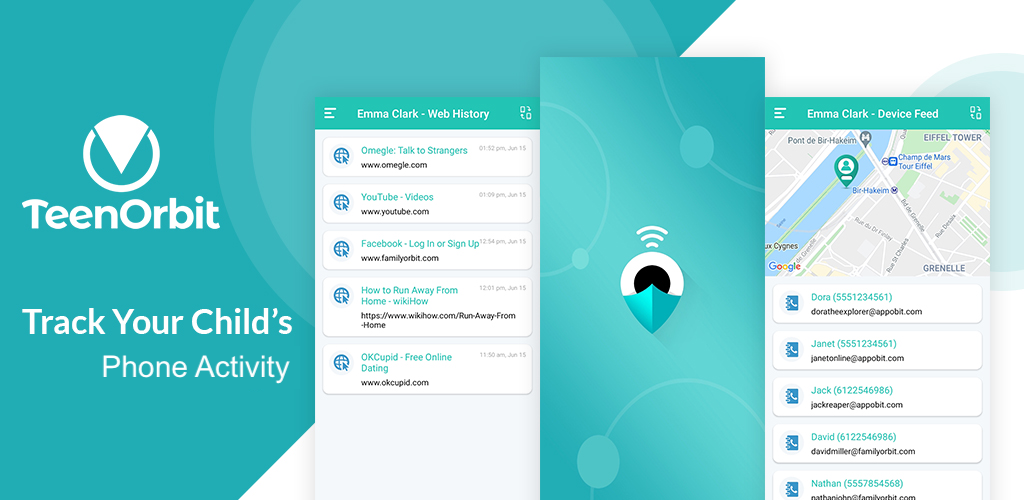 TeenOrbit is an excellent, easy-to-use parental controls app that can be set up within minutes. Once you've got it installed, you'll be able to see all of your child's content, including things like their text messages, photos, the websites they've visited, their location, and more.
Easy to set up, it's an ideal option for parents who want a simple way to monitor their child's activity.
To get started, you'll just need to download the app and then supply your child's iCloud credentials. Once it's up and running, you'll receive daily updates.
Key Features:
Fetches plenty of data from iCloud, including location history, photos and videos, and text messages.
Easy to set up.
Parents don't need to install any apps on their child's devices.
Discreet.
Cons:
Only available on iOS devices.
Pricing:
After a three-day free trial, the cost of a subscription is:
FAQs
What is the best app to monitor your child's phone without them knowing?
Family Orbit can be considered the best app for monitoring your child's phone. This is because of the extensive list of features that are included within the app. There's no other app that offers parents the same level of control over their child's internet usage, and with an easy-to-use interface and helpful technical support, you'll find incorporating it into your busy schedule could not be easier.
Is Family Orbit or Bark better?
Both Family Orbit and Bark have plenty of admirers because of how they monitor kids' phones. But which one is better? Both parental monitoring apps have plenty of features, and, in truth, there's a lot of overlap — in terms of what they offer, at least — between the two. But on balance, Family Orbit is the better of the two for people with kids because it provides slightly more control to parents and boasts a superior user interface.
Conclusion
The increasing ubiquity of the internet can be a little overwhelming for everyone, especially parents, who will rightly have concerns that their kids are seeing or engaging in digital activities that they do not approve of. But as we've seen, parents don't just have to accept this aspect of the modern world. The best parental monitoring apps allow parents to wrestle back control and ensure that their child is protected as much as possible.
If you're ready to begin your journey towards greater peace of mind, sign up for a free trial of Family Orbit, the best parental app for monitoring kids. We're confident that you'll find this is the solution that you've been looking for.
The post contains affiliate links, I may earn a little commission if you buy from the above links. The cost to you remains the same. The site does not provide legal advice and please use your personal discretion or consult an attorney when in doubt.